We Love You, Hugless Douglas!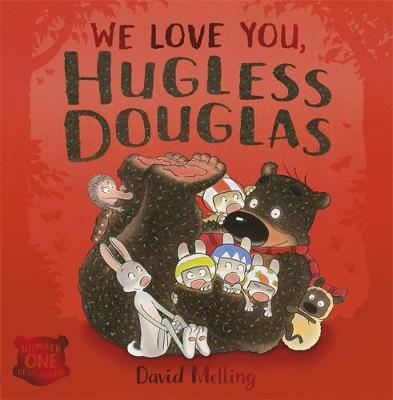 By Author / Illustrator
David Melling
Genre
Adventure
Age range(s)
3+
Publisher
Hachette Children's Group
ISBN
9781444908305
Format
Paperback / softback
Published
09-02-2017
Synopsis
Hugless Douglas is looking for a best friend in this fourth adventure in the hugely popular series.

When Hugless Douglas goes on a best friend hunt with Flossie the sheep, everyone seems to have a best friend except him! Perhaps what Douglas is looking for is right under his nose...

This is the fourth adventure in the hugely popular series, which has sold over 1.4 million copies in 26 languages to date. David Melling is one of the UK's best-loved author-illustrators and his stories combine brilliantly imaginative illustrations with an endearing sense of what it is like to be a small child learning about the world.

Hello, Hugless Douglas! was a World Book Day picture book in 2014 and a number one bestseller, selling over 450,000 copies.

'A new Hugless Douglas book is always a cause for celebration.' Daily Mail
Reviews
Sue
Who doesn't love Hugless Douglas? In this adventure, Douglas helps Flossie find her best friend, Little Sheep. In doing so, he realises that everyone has a best friend - except him. Fortunately, things are soon sorted out! There is something so charming and endearing about Hugless Douglas- he is impossible to resist! The illustrations are wonderful; full of humour and character, they add to the story perfectly. I read this to a very lively class of year ones and they were completely captivated, laughing at the cows, giggling at the bunnies and giving a big 'Ahhh!' when Douglas finds himself alone. According to their teacher, they spent the rest of the afternoon giving each other 'Douglas Hugs'! The success of the stories comes from their seeming simplicity. They explore the worries and concerns held by many children and allow them a character to empathise with and a way of talking about their concerns. An excellent series of stories, full of adorable characters, Hugless Douglas is a must for every child, both at school and at home. Picture book / Ages 3+ / Reviewed by Sue Wilsher, teacher.
Suggested Reading Age 3+
Other titles