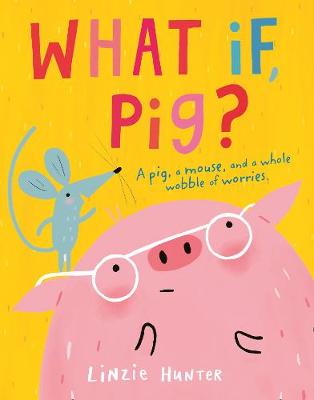 By Author / Illustrator
Linzie Hunter
Genre
Mental Health & Wellbeing
Age range(s)
3+
Publisher
HarperCollins Publishers
ISBN
9780008409500
Format
Paperback / softback
Published
10-06-2021
Synopsis
You're not going to find a more heartwarming and dynamic duo than Pig and Mouse! Join Pig as he learns how to turn his "what if" worries from anxiety to optimism, all with the help of his loving friend Mouse.
Mouse has never had a friend quite like Pig. Pig is so incredibly kind, endlessly thoughtful and fabulously fun, but he also has a big secret... he's a tremendous worrier!  When Pig gets the brilliant idea to throw a party for Mouse and their friends, he can't help but think of everything that could possibly go wrong. After all, what if a lion eats all the invitations? What if nobody comes? Or worse, what if everyone comes and has an awful time?
In this adorable story, Linzie Hunter's charming, bright illustrations pair perfectly with her sweet and funny story about friendship and the endless wonder of "what if" that readers of all ages can relate to. This picture book is a great conversation starter in the home or classroom and a great way to talk to your children about worries or anxieties. Perfect for boys, girls, families and anyone who has ever had a worry or a wobble!
Reviews
Jacqueline
Pig is kind and popular and especially thoughtful. The trouble is that Pig has a secret; he is a terrible worrier. One day, Pig organises a party for his friends and then catastrophises about everything that could go wrong (including the guests being eaten by a lion). But it turns out that all his friends have worries and that they are eased by talking about them.
This is a wonderful book - it combines humour with serious issues about anxiety in an entirely child friendly way. It also helps the reader see how important friendship is and that it can help to talk and confess worries. The illustrations are bright and humorous with plenty to look at on each page. I particularly liked the horse's comment at the end- just enough humour for adults too!
This book would be perfect for young children who may themselves be worrying about whether people like them and fearing failure. I can see how much discussion could be generated around this story, even with slightly older children. You may be insecure, but Pig will help you see that you are far from alone.
Picture book / Reviewed by Jacqueline Harris, teacher
Suggested Reading Age 3+
Other titles