When Fishes Flew: The Story of Elena's War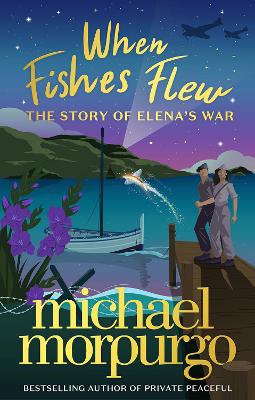 By Author / Illustrator
Michael Morpurgo
Genre
Historical Fiction
Age range(s)
9+
Publisher
HarperCollins Publishers
ISBN
9780008352189
Format
Hardback
Published
30-09-2021
Synopsis
This first new novel in two years from the Nation's Favourite Storyteller is a sweeping story of love and rescue - an unforgettable journey to the Greek island of Ithaca, and back in time to World War Two...
Australian-Greek girl Nandi travels to her ancestors' home in Ithaca, and discovers - through a friendship with an extremely unusual flying fish - the extraordinary story of her great-aunt Elena; of how she fell in love, in the hardest of times, and how of how she became an unsung hero of World War Two.  But Elena has gone missing, and Nandi has to find her. In her search, she will discover that Elena was an even greater hero than she thought - and still is...
Nandi's story is a beautiful and inspiring tale of personal discovery, of love and place and belonging, threaded through with the quiet heroism of everyday people. Stunningly illustrated throughout by George Butler, and full of magic, myth and mystery, it is a classic Morpurgo novel that will move and thrill every reader who loved Private Peaceful and War Horse, and combines all the hallmarks of this beloved master storyteller.
Reviews
Jo
When Fishes Flew is a journey tale from continent to continent and from modern day to World War 2 and then to ancient Greece. Written as a mixture of narrative and diary entry, the story has a personal feel to it as told through the eyes of Nandi, the main character. Starting in Australia, the action really begins when Nandi catches sight of a fish, flying over the river. This inspires and motivates her and when, after years of dreaming and saving, she makes the trip to Greece, the birthplace of her beloved Great Aunt Elena. Upon arriving on Elena's homeland, the island of Ithaca, Nandi discovers that her aunt has disappeared and that there are secrets to uncover.
Making a re-appearance, the flying fish calls to Nandi and so begins the most unusual of friendships. It is through the conversations that Nandi has with her new found friend that she discovers the truth of Elena's life and her amazing bravery during the Second World War. Nandi's determination and Elena's courage are the heartbeats to this story. The strength of these two female protagonists is inspiring and captivating.
The bond between time and place is forged by the flying fish, a creature from Greek mythology with the power to be in any place at any time and whose story telling is spellbinding and adds an element of magic to a unique tale. Whilst there are references to the legends of Greek history, readers will not need to be overly familiar with the characters from Greek legend, indeed, after reading When Fishes Flew, young readers may be inspired to find out more about the tales of the Ancient Greeks.
192 pages / Reviewed by Jo Clarke
Suggested Reading Age 7+
Donna
Nandi has always had a special relationship with her Great Aunt Ellie. She has loved her stories and the very essence that makes her so special. When Ellie becomes too old to travel from her home in Ithaca to visit Nandi in Australia, Nandi vows to work hard and save the money to do the journey herself. On arriving at Ithaca, Nandi discovers that her Aunt is not at home and nobody knows where she has gone or how long she will be gone, but they know she will be back. Nandi, settles into life on the island and learns, bit by bit, of the extraordinary life that Aunt Ellie has led and the place she holds in so many hearts.
The retelling of Nandi's story through her diary entries creates a raw and emotional journey for the reader. Michael Morpurgo squeezes a depth of feeling from every single entry as he also weaves the historical significance of this story from one person's perspective. When Fishes Flew is brilliantly told. Curriculum links to: heritage, roots, family, love, respect, hope and perseverance all wrapped up in Greek mythology, historical reference and geographical observation.
192 pages / Reviewed by Donna Burkert
Suggested Reading Age 9+
Other titles