When Hitler Stole Pink Rabbit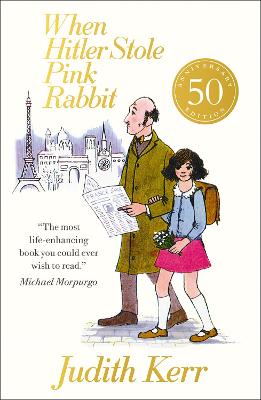 By Author / Illustrator
Judith Kerr
Genre
Historical Fiction
Age range(s)
9+
Publisher
HarperCollins Publishers
ISBN
9780008496609
Format
Hardback
Published
30-09-2021
Synopsis
This semi-autobiographical classic, written by the beloved Judith Kerr, tells the story of a Jewish family escaping Germany in the days before the Second World War.  This beautiful new hardback celebrates fifty years of an unforgettable adventure that Michael Morpurgo called "The most life-enhancing book you could ever wish to read."
Suppose your country began to change. Suppose that without your noticing, it became dangerous for some people to live in it any longer, and you found, to your surprise, that your own father was one of those people. This is what happened to Anna in 1933.  Anna is too busy with her schoolwork and tobogganing to listen to the talk of Hitler. But one day she and her brother Max are rushed out of Germany in alarming secrecy, away from everything they know. Their father is wanted by the Nazis. This is the start of a huge adventure, sometimes frightening, very often funny and always exciting.
Judith Kerr wrote When Hitler Stole Pink Rabbit 50 years ago, based on her own journey, so that her own children would know where she came from and the lengths to which her parents went to keep her and her brother safe. It has gone on to become a beloved classic that is required reading for many children all over the world and is an unforgettable introduction to the real-life impact of the Second World War.
This commemorative hardback celebrates 50 years of this extraordinary story.
Reviews
Donna
Almost overnight, Anna and her family decide to flee their home. She has to leave behind her friends, all her things (including her beloved pink rabbit) and the life that she knew and loved. The dangers she faces and the difficulties her family endure as they fled Germany for Switzerland, France and England are told beautifully through the eyes of a child. She tells of the friends she makes, the joy of going to school, of the difficulties in learning a new language, and the peace she finds in the strength of their family unit.
Judith Kerr creates a beautifully haunting adventure that details the challenges she faced as a young girl when being Jewish meant persecution in her own country. The positivity despite those challenges, the love she feels from her family, and the drive to survive in what must have been terrifying times shines throughout this book. It is a real privilege to have such an insight into a child's perspective of such a devastating time in history.
304 pages / Reviewed by Donna Burkert, teacher
Suggested Reading Age 9+
Other titles