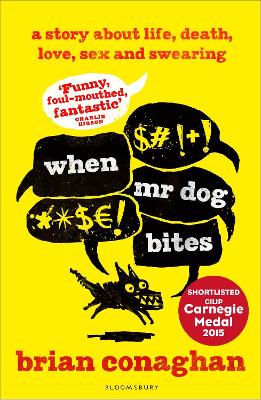 By Author / Illustrator
Brian Conaghan
Genre
Representation & Inclusion
Age range(s)
14+
Publisher
Bloomsbury Publishing PLC
ISBN
9781408843017
Format
Paperback / softback
Published
12-03-2015
Synopsis
Dylan Mint has Tourette's. His life is a constant battle to keep the bad stuff in - the swearing, the tics, the howling dog that seems to escape whenever he gets stressed. But a routine visit to the hospital changes everything. Overhearing a hushed conversation between the doctor and his mum, Dylan discovers that he's going to die in March. So he makes a list of things he must do before he dies: first, he wants to have real sex with gorgeous Michelle Malloy; second, he's got to find his autistic best friend Amir a new best bud; third, he's got to get his dad back home from the army so they can say goodbye properly. It's not a long list, but it's ambitious, and he doesn't have much time. Sometimes you've just got to go for it - no holding back - and see what happens . . .Brian Conaghan makes you travel every step of the way in Dylan's shoes, laughing and crying - often at the same time - as Dylan faces the twists and turns of an unfair world with glorious optimism and wit, raising important questions of inclusion, marginalisation and neurodiversity with sensitivity and insight. This barnstorming debut was shortlisted for the prestigious Carnegie Medal, and Brian has gone on to write many stunning, award-winning novels for teens and younger readers, including the Costa-winning The Bombs that Brought Us Together.
Reviews
Carol
When Mr Dog Bites is a Carnegie-shortlisted book, with Dylan, a Tourette's sufferer, as the main character. Dylan struggles all the time to keep the 'bad stuff' inside, with varying success; when 'Mr Dog' comes out, at moments of stress, he loses control, growls and swears, but this is not the real him. He lives with his Mum, absent Dad being supposedly away in the Special Forces (we learn more about this later in the book, the reader often being a step ahead of the narrator). When he overhears a doctor saying that he will die in six months' time, he starts a list of things to do before then. First on the list is having sex with a girl, preferably Michelle Malloy from his special school.
I felt divided about this book. Dylan is a likeable character, and the book presents his Tourette's sympathetically: he tries his best, loves his Mum, is a loyal best friend to Amir, and is in many ways a typical teenager. My main issue is with the swearing in the book, not so much when Dylan has his Tourette's episodes, but it is incessant throughout from many of the characters around Dylan. There is also a lot of sexual banter and bullying going on. The other language I found quite irritating after a while, was the colloquialisms used - the rhyming slang, the made up words ('a-mayonnaise-ing', 'utterly butterly', etc).
The story is quite heart-warming, and has a nice happy ending, so the book is a contradiction in some ways. Parts of it are really funny, and it is an interesting portrayal of someone with a condition that is frequently misunderstood, and certainly not much covered in fiction. It scores highly in the diversity stakes! It is just the language used, and not just occasionally, that makes me reluctant to recommend it for schools.
384 pages / Reviewed by Carol Williams, school librarian.
Suggested Reading Age 14+
Other titles