When The World Was Ours: A book about finding hope in the darkest of times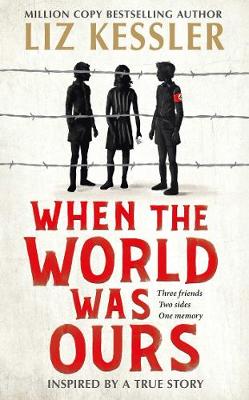 By Author / Illustrator
Liz Kessler
Genre
Historical Fiction
Age range(s)
11+
Publisher
Simon & Schuster Ltd
ISBN
9781471196805
Format
Hardback
Published
21-01-2021
Synopsis
A powerful and heart-breaking novel about three childhood friends living during the Second World War whose fates are closely intertwined, even when their lives take very different courses. A Sunday Times Children's Book of the Week, this is the perfect story for readers of Private Peaceful, The Book Thief and Anne Frank's The Diary of a Young Girl.

Three friends. Two sides. One memory.  Vienna. 1936. Three young friends - Leo, Elsa and Max - spend a perfect day together, unaware that around them Europe is descending into a growing darkness, and that events soon mean that they will be cruelly ripped apart from each other. With their lives taking them across Europe - to Germany, England, Prague and Poland - will they ever find their way back to each other? Will they want to?

Inspired by a true story, WHEN THE WORLD WAS OURS is an extraordinary novel that is as powerful as it is heartbreaking, and shows how the bonds of love, family and friendship allow glimmers of hope to flourish, even in the most hopeless of times.
Reviews
Susan
High above Vienna on the Riesenrad (Vienna's Ferris wheel), Leo and his best friends, Max and Elsa, feel as if they are kings of the world. It is 1936 and the children are celebrating Leo's birthday. They are oblivious to the horrors on the horizon which will see them divided.
Told from the differing perspectives of the three children - Leo and Elsa in the first person, Max in the third - When the World was Ours is an incredibly poignant account of events during the Second World War. From three lives intertwined by the bonds of friendship, the children are divided by cruel and senseless politics and there are heart-breaking consequences.
Each child has a unique voice, but the sense of bewilderment and horror experienced by each in different ways is powerfully drawn, allowing the reader a glimpse of the ugliness and brutality of the Nazi regime. Without wishing to give too much away for those yet to read the book, Max's story is chillingly powerful and thought -provoking.
Inspired by the true story of her father's escape from the Nazis, Liz Kessler has written nothing short of a masterpiece. Deeply emotional, it offers glimmers of hope for the power of love and friendship at the darkest times. Simply brilliant.
300 pages / Ages 14+ / Reviewed by Susan Wilsher, teacher
Suggested Reading Age 14+
Other titles