When Women Were Dragons: an enduring, feminist novel from New York Times bestselling author, Kelly Barnhill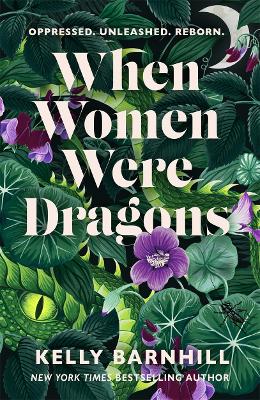 By Author / Illustrator
Kelly Barnhill
Genre
Personal Growth
Age range(s)
11+
Publisher
Hot Key Books
ISBN
9781471412226
Format
Paperback / softback
Published
08-06-2023
Synopsis
'A soaring coming-of-age novel.'  - THE OBSERVER.   'Completely fierce, unmistakably feminist, and subversively funny. When Women Were Dragons brings the heat to misogyny with glorious imagination and talon-sharp prose.' - Bonnie Garmus, author of LESSONS IN CHEMISTRY

In a world where girls and women are taught to be quiet, the dragons inside them are about to be set free...  In this timely and timeless speculative novel, set in 1950s America, Kelly Barnhill exposes a world that wants to keep girls and women small - and examines what happens when they rise up.

Alex Green is four years old when she first sees a dragon in her next-door neighbour's garden, in the spot where the old lady usually sits. The huge dragon, an astonished expression on its face, opens its wings and soars away across the rooftops.  And Alex doesn't see the little old lady after that. No one mentions her. It's as if she's never existed.

Then Alex's mother disappears, and reappears a week later, with no explanation as to where she has been. But she is a ghostly shadow of her former self, and with scars across her body - wide, deep burns, as though she had been attacked by a monster who breathed fire.  Alex, growing from young girl to fiercely independent teenager, is desperate for answers, but doesn't get any. Whether anyone likes it or not, the Mass Dragoning is coming. Everything is about to change, forever.  And when it does, this, too, will be unmentionable ...

Perfect for fans of THE HANDMAID'S TALE, VOX, and THE POWER.
Reviews
Clare
In an alternative 1950's America a 'Mass Dragoning' occurs. Hundreds of thousands of women spontaneously sprout wings and talons and fly away, leaving fire and devastation in their wake. As a young girl, Alex Green is aware of the extraordinary events that unfolded in her town but a sustained campaign of Government suppression of the facts and an unwillingness to talk from the men and women left behind means that the 'dragoning' becomes a subject to be avoided and forgotten. But Alex is unable to forget and as her own family suffers devastating consequences, she knows the events of that fateful year will determine her own future.
When I started reading this book, I wanted to press it into the hand of every teenage girl. It reflects a time when women had no agency or voice and were trapped by domesticity and the patriarchy. Whilst it can be read as a metaphor for all suppressed people - it references the burgeoning Civil Rights movement and those who were 'women by choice' - it's essentially about control and choice - two things denied women of the time. Alex is a quiet and thoughtful character - she knows her role is to study, inform and observe, a testimony to her mother's brilliance and untapped potential.
The ending may divide readers as the idea of the dragons heading into the mythical unknown takes on a more subdued, domestic note, but perhaps that reflects womanhood at the time - the desire for freedom balanced against the pull of family and home.
This is an incredibly powerful and thought-provoking read. It is also (delightfully!) an ode to librarians and the power of libraries as beacons of knowledge and thought. A reminder that quiet people can also change the world. 
352 pages / Ages 12+ / Reviewed by Clare Wilkins, school librarian. 
Suggested Reading Age 14+
Other titles