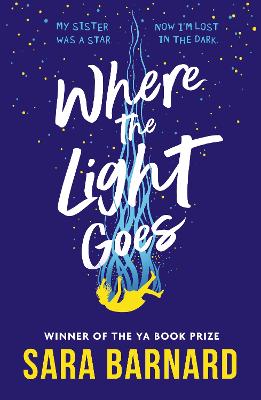 By Author / Illustrator
Sara Barnard
Genre
Mental Health & Wellbeing
Age range(s)
14+
Publisher
Walker Books Ltd
ISBN
9781529509137
Format
Paperback / softback
Published
04-05-2023
Synopsis
A heart-wrenching exploration of grief from a bestselling YA author, set in a landscape corrupted by fame and the scrutiny that comes from living in the shadow of a star.

To the world, Lizzie Beck is a superstar: famous, talented and beloved.
To Emmy, she is simply Beth: her brilliant older sister, her idol.
But then Beth takes her own life, and all the light in the world disappears. Now Emmy is lost. Amidst the media storm and overwhelming public grief, she must fight to save her own memories of her sister - and find out who she is without her.
Find out more from author Sara Barnard
Reviews
Lorraine
Emmy's left devastated and confused when her famous sister, Lizzie Beck, takes her own life. Faced with hostile media, distant parents, and her own overwhelming grief, Emmy struggles to understand her place in the world without her sister.
Where the Light Goes is certainly a book for our times. Although it centres on Emmy's grief, it encompasses the vitriol and bullying of social media, as well as the untruths and assumptions of the media at large. Written about the music industry, it highlights the pressures on young people, both in and out of the limelight, including their characters and image, impacting their self-worth.
The book swings between lists, newspaper clippings, and voice recordings, with social media communications such as tweets and texts, interspersed with formulated text. In another book it may seem problematic to veer between such changes, but for this topic and its scenarios, it makes perfect sense and makes for an interchangeable reading experience.
The main focus of the book is grief and I applaud Sara Barnard for her insightful and delicate handling of such an emotional subject. This book particularly resonated for me, having lost my dear older sister some years ago, so I may be biased, but Barnard's understanding of a life lost and a new one beginning for the remaining family members is exacting. The feelings of guilt, and loneliness, even when surrounded by people trying to help, are so accurate, and raw, along with the family's separation from one another as everyone deals with the loss individually.
The book also deals with the fracturing of friendships as Emmy struggles to understand the new life she will live without her sister. Watching friends change whilst she feels unable to participate will resonate with young people in many scenarios other than grief.
I highly recommend this book for teenagers as so much can relate to life as a young person living in today's modern world. It covers the need for honesty and communication within families and friendships, and the issues raised by life with social media. My only concern is the relative resolution of Emmy's relationships. Experiencing grief and working through its problems, like many of life's challenges, does not always conclude with a happy ending. Even so, highly recommended.
384 pages / Reviewed by Lorraine Ansell, school librarian
Suggested Reading Age 14+
Other titles