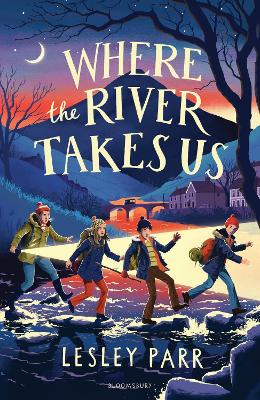 By Author / Illustrator
Lesley Parr
Genre
Historical Fiction
Age range(s)
9+
Publisher
Bloomsbury Publishing PLC
ISBN
9781526647771
Format
Paperback / softback
Published
16-03-2023
Synopsis
From the author of The Valley of Lost Secrets comes a thrilling historical adventure set against a backdrop of the 1970s miners' strikes, perfect for readers aged 9+.
It's February 1974 and working class families have been hit hard by the three-day week. The reduced power usage means less hours for people to work, and less money to get by on. 13-year-old Jason feels the struggle keenly. Ever since his parents died, it's just been him and his older brother Richie. Richie is doing his best, but since he can't make ends meet, he's been doing favours for the wrong people. Every day they fear they won't have enough and will have to be separated.
One thing that helps distract Jason is the urban legend about a beast in the valleys. A wild cat that roams the forest, far up the river from their bridge. When Jason's friends learn of a reward for proof of The Beast's existence, they convince Jason this is the answer to his and Richie's money problems. Richie can get himself out of trouble before it's too late and the brothers can stay together.  And so a quest begins... Starting at the bridge of their village and following the river north, the four friends soon find themselves on a journey that will change each of them...forever. 
With echoes of Stand By Me, this thrilling middle-grade adventure gives us the most exquisite characterisation and a page-turning plot with relatable themes, making this utterly timeless and one of the finest historical fiction stories in the market today.  'What a story. What a writer. Simply stunning' - Emma Carroll
Reviews
Jacqueline
There is a wild beast, possibly a big cat, that has been sighted in the mountains, and there is a reward promised for a photograph. Jason and his friends set off in search of the beast - and the reward. The year is 1974 and the country is in the grip of the miners' strikes and the three-day week. For Jason, the reward is more than just money, it's a way of helping his brother who is now his guardian as it would help them to keep the house they live in. As they set off, however, the four friends have no idea what will await them and how the journey will test their friendships.
I love Lesley Parr's previous books and I think each one is better than the last. Where The River Takes Us is so strong in setting and character, you cannot put it down. Books that create such strong images in your mind as you read are exactly what I want from a story. Even better, it evokes a period and place before the invention of mobile phones, so the children cannot get out of their predicaments by Googling it or phoning for help. This is something that modern children will never know about and it is vividly brought back from the past.
Anyone who likes historical fiction will enjoy Where The River Takes Us, although it is not just a piece of history, but more of an adventure, which explores friendship and grief. Jason has lost both parents and has not managed his grief at all and this adventure becomes the catalyst for him to finally deal with what has happened. I'd give this book six stars if there were six stars to give!
320 pages / Reviewed by Jacqueline Harris, teacher
Suggested Reading Age 9+
Ella Louise Hopley

- Age 12
It was a very good and exciting book, I would suggest to read it when you have time.
Suggested Reading Age 9+
Beverley
Since the death of their parents in an accident, 13-year-old Jason has been looked after by his older brother Richie in a small village in Wales. It's 1974, the country is in the midst of the miner's strikes; power cuts are in force so working-class families are forced to work a three-day-week. Still a teenager himself, Richie is struggling to survive on the money he earns, and in a desperate effort to keep things going, he becomes involved with the wrong people and is forced into breaking the law. Now he needs to find the money to pay the mortgage, or there is a chance they will lose their family home and have to go and live with their mother's godmother, Aunt Pearl, who Jason describes as being like a "grim old nana". Jason is worried that Richie may be arrested due to his activities and knows he needs to find a way to find some money. When a story emerges that a mysterious wild cat has been spotted in the valleys, Jason and his friends Catrin, Jinx and Tam set off on a quest to track it down and photograph the beast, in order to claim a reward offered by a newspaper.
In Where The River Takes Us, we are swept back to the 1970s, with glorious references to midget gems, Chopper bikes and a newspaper costing 3p! This is such a beautiful book, full of love and empathy and with a cast of characters the reader really cares about. Jason is brave and loyal, struggling with his grief over the loss of his parents and his worry over his brother's dangerous activities. He has lived next door to Catrin for years; clever and feisty, she is very close to Jason. Jinx doesn't care for her, feeling that she shouldn't be part of their little gang. However, they all come together in their desire to help Jason overcome his money problems. Even when they disagree, the children's loyalty to Jason is never in doubt and as they journey up the valley in search of the beast, they learn much more about each other. The first chapter of the book is titled 'The Three of Us' - Jason, Jinx and Tam; the last line is 'The four of us' - Catrin is now fully accepted into the group.
Having read Lesley Parr's previous books, I was really looking forward to this novel, and was definitely not disappointed. She writes beautifully and effortlessly, and has a brilliant way of getting inside the heads of her characters and bringing their thoughts and emotions to the page. I truly believe that her books will become modern classics. Where The River Takes Us, with its themes of family, friendship and living with grief, is a perfect novel, I cannot recommend it highly enough. And if I could have given it 10 stars, I would have done!
320 pages / Reviewed by Beverley, school librarian
Suggested Reading Age 9+
Other titles