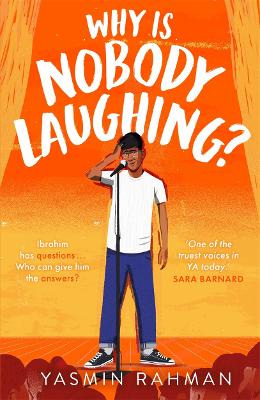 By Author / Illustrator
Yasmin Rahman
Genre
Mental Health & Wellbeing
Age range(s)
14+
Publisher
Hot Key Books
ISBN
9781471411342
Format
Paperback / softback
Published
07-07-2022
Synopsis
'A warm, sensitive and hopeful portrayal of a young person struggling with their mental health and family dynamics... it has depth and great heart as well as charming characters that you will grow to love'. Ciara Smyth, author of Not My Problem.
Will the real Ibrahim Malik please stand up? Ibrahim and Dexter have been best friends forever. While Dexter is always cool and confident, Ibrahim...well, Ibrahim's dealing with a lot. Hiding his passion for comedy from his family, dealing with the pressure of being the oldest child in an immigrant family, and now he's started having episodes he soon realises are panic attacks. When Ibrahim has a panic attack on stage at a local stand-up competition, he runs off to a deserted room. There he finds Sura. Sura is kind and helps him come to terms with his anxiety. He can open up to her in a way he's never been able to with Dexter. But there's also something strange about her - how much she knows about Ibrahim, and how she seems to disappear in an instant. Will Ibrahim crumble under the pressure, or will Sura's words be enough to help him? And what will happen when he no longer has her help? A powerful contemporary novel tackling teenage mental health in boys. Perfect for fans of John Green, Alice Oseman and Holly Bourne.
Reviews
Clair
Why is Nobody Laughing? is a powerful book which tackles the subject of teenage mental health in boys; a subject that should be talked about more openly so it is great to find a book written about mental health with male characters that students can relate to.
Ibrahim Malik wants to be a stand-up comedian but although he certainly has the talent he isn't as self-confident as his best friend Dexter.  When he gets heckled he runs off stage and has a full blown panic attack. He runs into a seemingly deserted room where he meets Sura who helps him deal with his anxiety. Sura seems to appear whenever Dexter needs her and he isn't sure whether she is real or a figment of his imagination and wonders whether he should be even more concerned about his mental health. Ibrahim's parents are Asian immigrants and they find it difficult coping with day to day life in a second language.
The burden has fallen upon Ibrahim, as the eldest, to help his parents make telephone calls to sort out the bills, doctor's appointments, parent's evenings etc. this is leaving him feeling overwhelmed and more like a third parent. I loved the genuine friendship between Ibrahim and Dexter and the contrast between their home lives. Their humour and banter meant that the topic of mental health didn't sit too heavily and would be relatable to teens.
It was interesting that Ibrahim didn't feel able to talk to Dexter about his mental health initially but felt more comfortable talking to Sura, perhaps because she was a stranger or was there at the right time but maybe because she was female and it is considered more acceptable to discuss mental health with females. It was good that when he did open up to Dexter he was sensitive to Ibrahim's feelings and they were able to support each other.
I loved the positive outcome and message held within the pages of this book and love, love, love that it was written by a fellow librarian. You can clearly see that she knows her target audience well.
Content of note: Strong language, Mental Health, Bereavement
272 Pages / Reviewed Clair, school librarian
Suggested Reading Age 14+
Other titles