Wonders of the World's Museums: Discover 50 amazing exhibits!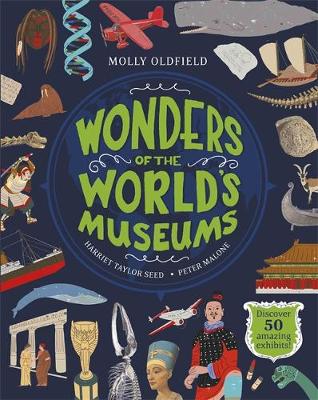 By Author / Illustrator
Molly Oldfield, Harriet Taylor Seed, Peter Malone
Genre
Adventure
Age range(s)
9+
Publisher
Hachette Children's Group
ISBN
9781526360281
Format
Hardback
Published
08-03-2018
Synopsis
Open up this treasure trove of wonders to visit 43 museums and 50 exhibits! Discover the most fascinating and mysterious objects found in museums, from star attractions to unsung exhibits. With Molly Oldfield, research elf of hit television show QI, unearth the astonishing stories of how these treasures were created, found and finally displayed. Travel back in time to discover an ancient Egyptian pharaoh, encounter China's mysterious Terracotta Army, sail the seas in a Viking ship, take flight in the world's first aeroplane, defend World War Two Britain in Churchill's siren suit, journey to the Moon with Neil Armstrong in the Apollo 11 Command Module and even play in a World Cup Final wearing Pele's victory shirt. Through stunning photography and glorious illustration, these wonders and many more will bring history, science and culture to life for readers aged 10+, as well as the whole family!
Other titles