You Are a Champion: How to Be the Best You Can Be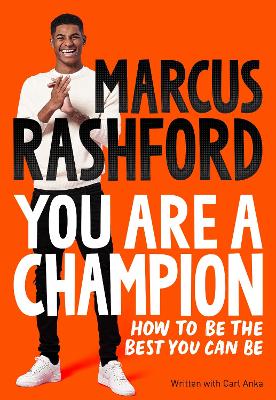 By Author / Illustrator
Marcus Rashford, Carl Anka
Genre
Personal Growth
Age range(s)
9+
Publisher
Pan Macmillan
ISBN
9781529068177
Format
Paperback / softback
Published
27-05-2021
Synopsis
I want to show you how you can be a champion in almost anything you put your mind to.

Marcus Rashford MBE is famous worldwide for his skills both on and off the pitch - but before he was a Manchester United and England footballer, and long before he started his inspiring campaign to end child food poverty, he was just an average kid from Wythenshawe, South Manchester. Now the nation's favourite footballer wants to show YOU how to achieve your dreams, in this positive and inspiring guide for life.

Written with journalist Carl Anka, You Are a Champion is packed full of stories from Marcus's own life, brilliant advice and top-tips from performance psychologist Katie Warriner. It will show you how to be the very BEST that you can be.

It shows kids how to:
- Be comfortable with who you are - you can't be a champion until you're happy being you!
- Dream big
- Practise like a champion
- Get out of your comfort zone and learn from your mistakes
- Navigate adversity in a positive way
- Find your team
- Use your voice and stand up for others
- Never stop learning

With an afterword by Tim S. Grover.

A book that unlocks the joy of reading:
From parents on social media:

'My 8 year old decided to finally read a book that wasn't school related.'
'Thank you for inspiring young readers.'
'Hates reading but bought his first book today.'
Reviews
Jennifer
You Are A Champion: How to be the best you can be is a totally engaging, fabulous inspirational self help guide and support from one of the country's most famous young footballlers, Marcus Rashford. Rashford is a true role model for today's youth as he continue to use his voice and status for very important causes. His book, written with Carl Anka and Katie Warriner, is an enthusiastic, positive read all about encouraging the young reader to celebrate themselves.
Rashford wants to promote self belief in our children and lift them up with his own stories of hard work and achievement. There are some lovely, endearing personal stories from Rashford throughout the book, about his family and teachers he remembers, that really bring his personality alive to the reader. The narrative voice is strong, confident, relatable and realistic in its honesty and friendly style. The layout of the book is excellent - each chapter has bold, clear soundbites as their titles and aim to catches the eye and the interest immediately; "Dare to Dream"… "Find your Team".
The chapters are powerful messages about the amazing journey Rashford has been on since being a child to where he is now as a hugely successful sportsman. You Are A Champion is a warm, pep talk of a book. The different fonts used, the illustrations and the enlarged quotes and phrases make the book visually appealing and dynamic. What stands out about Rashford's book, is that he focuses a great deal on the hard work, determination and resilience he needed to have to overcome obstacles - of his own personal circumstances and also the attitude of others. He doesn't shy away from telling the reader that this isn't always easy and that the individual has to make choices and be committed to working for the goal they want to achieve.
The strongest message of the book is the importance Rashford sets on his passion for lifelong learning as being a major reason he met and surpassed all he ever dreamt of. Each chapter ends with an Action Points section, where the reader is given questions to ask of themselves and advice to apply directly to their experiences. It feels very much like Rashford reaching out to his readers in a chatty, conversational way and this style is very appealing.
The book, as a whole, makes a powerful one to read alone as well as a really inspirational one to use in a classroom setting. I thought this was a brilliant book where celebrity status was used to in such an positive and passionate way, promoting the wealth of possibilities open to our children if they hope, dream and persevere.
224 pages / Reviewed by Jennifer Caddick, teacher
Suggested Reading Age 7+
Other titles