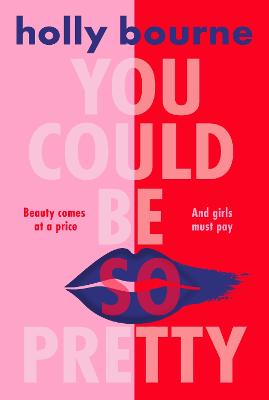 By Author / Illustrator
Holly Bourne
Genre
Dystopian
Age range(s)
14+
Publisher
Usborne Publishing Ltd
ISBN
9781474966832
Format
Paperback / softback
Published
28-09-2023
Synopsis
Uglies meets The Handmaid's Tale for the new YA generation in this mind-blowing novel from bestselling queen of YA Holly Bourne.  
BEAUTY COMES AT A PRICE. AND GIRLS MUST PAY.  In Belle and Joni's world there are two options for girls:
One, follow the rules of the Doctrine like Belle: apply your Mask, work hard to be crowned at the Ceremony, be a Pretty.
Or two, fight the rules like Joni: leave your face bare, work hard to escape to the Education, be an Objectionable.
But maybe there is a third option...  Change the rules. Reclaim your power. If you can...
What would you choose?
"Holly Bourne is a vital feminist voice of our generation." Samantha Shannon, author of The Bone Season
"Such a wild, gripping, smart, delicious read!" Jennifer Niven, author of All the Bright Places
"I devoured this - so compelling and with such a powerful message." Katherine Webber, co-author of Twin Crowns
Warning - this novel deals with issues that some readers may find upsetting, including references to pornography and sexual assault.
Reviews
Clare
What a fascinating, disturbing read. What initially appears to be a YA Handmaid's Tale is actually an only a slightly distorted snapshot of society today.
Belle and Joni are polar opposites, living either side of The Doctrine that governs insular communities like their own. Subjugated females are only deemed acceptable if they adhere to the rules - 'masking' their faces to show no signs of imperfection, accepting the male gaze even when lecherous and degrading, putting their 'Look' above all else, including education. Whilst Belle, steered by her mother aspires to be nothing more than the prettiest, Joni, guided by an equally dominant mother, rails against the unfairness and inequality. When the two girls are thrown together, they each begin to realise that their respective ideologies are not as clear-cut as they thought.
It's hard to place the time in which You Could Be So Pretty is set. Is it a sick, slick tech-savvy alternative future or an alternative present? The lack of a distinct time period and the use of very particular terminology creates a unique dystopia - it's our world, but not quite as we know it. There is something stomach-churning about the 'Just Right' years - as if once that time is passed, so has your usefulness and identity. Females are encouraged to reinforce the mantra 'It's Her Choice' when referencing whether someone masks or not, but it's clear that only certain choices are socially acceptable and not making them renders you 'Invisible'.
However, as much as the male characters are all misogynistic, deeply unpleasant and one-dimensional, the book also raises interesting questions about the female role in all this. Are the 'Prettys' of the title brainwashed or are they part of the problem? Belle and her friends mock those less physically blessed, often relish the overt attention they receive and enjoy creating heavily edited content.
I was a little wary about the book having no males with any redeeming characteristics whatsoever - this seems to demonise all boys, which I am not sure is helpful or representative. However, it certainly worked to reinforce the gender divide. Whilst many young (and older!) people are now wedded to their 'Devices' and 'Looks', I hope this book and others will encourage young people to value themselves, their abilities and their potential and have aspirations beyond the way they look.
This is such a sharp, incisive, feminist read and my (very!) over-long review is testament to the myriad of issues and questions it raises.
400 pages / Reviewed by Clare Wilkins, school librarian
Suggested Reading Age 14+
Other titles