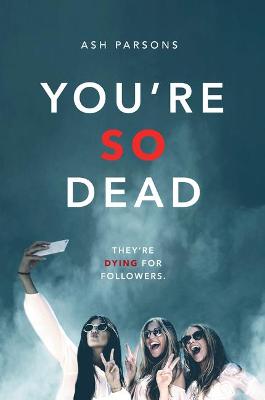 By Author / Illustrator
Ash Parsons
Genre
Suspense & Thrillers
Age range(s)
14+
Publisher
Scholastic
ISBN
9780702311291
Format
Paperback / softback
Published
01-07-2021
Synopsis
The trust no-one tension of One of Us is Lying meets legendary scam Fyre Festival. A high-energy, wildly entertaining, read-in-one-sitting YA thriller to get obsessed with. Plum Winter has always come in second to her sister, the unbelievably cool, famous influencer, Peach Winter. And when Peach is invited to an all-expenses-paid trip to a luxurious art-and-music festival for influencers on a private island in the Caribbean, Plum decides it's finally her time to shine. So she intercepts the invite - and asks her two best friends to come along to the fest with her. It'll be a spring break they'll never forget. But the island is run-down, creepy, and there doesn't even seem to be a festival - it's just seven other quasi-celebrities and influencers, and none of the glitz and glamour she expected. Then people start to die... Plum and her friends soon realize that someone has lured each of them to the "festival" to kill them. Someone has a vendetta against every person on the island - and no one is supposed to leave alive. A serial killer thriller with twists you won't see coming! A no-escape setting and characters you'll love-to-hate. Black comedy and edgy glam on every page.
Reviews
Clair
This book with its eye catching cover already has students talking about it. They loved the concept of influencers being lured to an uninhabited island to be picked off and murdered one by one.
The main character, Plum Winter, intercepts an invite to an exclusive, high-end festival for influencers on a private island in the Caribbean that was intended for her sister, Peach. However, feeling neglected by her parents and overshadowed by her sister's success, Plum wants to experience what it is like to be a 'Somebody' and have an adventure herself. She persuades her two best friends, Marlowe and Sofia, to go with her but when they and seven other social media stars arrive, it is clear that something is off. The island is run-down and there is a distinct lack of other, more famous, festival goers.
This was an enjoyable read. We all need a bit of escapism and You're So Dead certainly provides that. The Influencers, as you might expect, are just a bit over the top and in some cases, fairly obnoxious. There is an underlying message to be mindful of what you post or share online which was quite cleverly put across. It says some important things about influencers and their unintended impact on others. There is a small amount of romance between Plum and her best friend Marlowe but this is largely a murder mystery with the tension building as they wonder who will be killed next and how. The festival goers seem to be under the constant surveillance of Wadsworth, a virtual assistant/butler and their every word can be overheard. The murderer is, therefore, always one step ahead of them and is able to kill and leave their poetry notes without any witnesses. I also quite liked the dark book dividers which gave indicators such as "The First Two Will Die". I found that they helped to build the tension.
If you are looking for a fun, slightly tongue in cheek, murder mystery to recommend to teens that enjoyed "One of Us is Lying" - this is it.
400 pages / Ages 14+ / Reviewed by Clair Bossons, school librarian
Suggested Reading Age 14+
Other titles