You're the One that I Want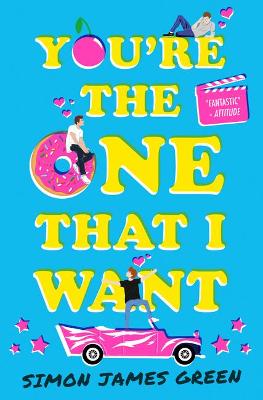 By Author / Illustrator
Simon James Green
Genre
Romance & Relationships
Age range(s)
14+
Publisher
Scholastic
ISBN
9780702303654
Format
Paperback / softback
Published
03-06-2021
Synopsis
Freddie is unremarkable - too unremarkable. He doesn't stand out in any way, and in fact teachers and fellow students keep forgetting who he is. Even his mum thinks he's a disappointment, and spends almost all her time at work, producing a TV show. After a particularly awful night when he embarrasses himself in front of Jasper Perry (the gorgeous teen star of his mum's new show), Freddie decides to follow a new, proactive philosophy designed to transform his social and romantic life: saying 'yes' to every opportunity. It works! Freddie finds himself auditioning for the school musical (Grease), actually going to parties, and flirting with hot new boy Zach! He's becoming a whole new Freddie - maybe even one that his mum might be proud of. But the path to love is never smooth, and sometimes getting things very wrong is an important part of figuring out what - and who - you really want.
A funny, heart-pulling read from one of the UK's leading writers of LGBTQ+ teen fiction. Simon James Green is the award-winning author of Heartbreak Boys, Alex in Wonderland, and the Noah Can't Even books. A perfect next read for fans of Heartstopper, Boyfriend Material, Casey McQuiston, and Adam Silvera.
Reviews
Dan
Freddie is an average, unremarkable, fall-between-the cracks kind of guy. As he enters sixth form, his classmates and teachers of five years barely know who he is, he is a constant disappointment to his TV producer mother, and his nervous awkwardness leaves him feeling completely undateable (never mind the fact that the boy he has fancied for years is depressingly straight). After a particularly embarrassingly awkward encounter with the extremely attractive star of his mum's latest TV programme, Freddie resolves to turn his life around - by saying yes to every opportunity life puts in his path.
Almost immediately, things start happening for him: he signs up for the school's production of Grease, starts getting invited to parties, and the hot new boy is showing an interest. But Freddie soon discovers that changing yourself to please others is not necessarily the best way to find love, happiness or yourself.
Simon James Green's You're The One That I Want is an all singing, all dancing queer YA coming-of-age rom-com, and an emotional roller coaster ride. There are some genuinely hilarious moments that had me laughing out loud, but Green didn't shy away from depicting heavier moments, too.
I really appreciated the use of humour to broach serious issues and themes, such as toxic relationships, self worth, dealing with failure and emotional wellbeing. Freddie is a likeable and relatable narrator, and almost all the characters feel believable and rounded (with the possible exception of some of the self-serving, two-faced Theatre Kids).
You're The One That I Want is definitely a YA novel, and contains frank discussions of sex. It's one I would recommend to more mature readers who enjoy their angsty relationship dramas with humour and heart.
364 pages, Reviewed by Dan Katz, school librarian
Suggested Reading Age 14+
Other titles