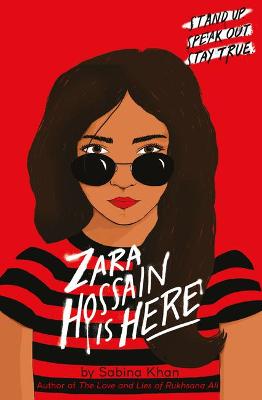 By Author / Illustrator
Sabina Khan
Genre
Representation & Inclusion
Age range(s)
14+
Publisher
Scholastic
ISBN
9780702308369
Format
Paperback / softback
Published
01-04-2021
Synopsis
A timely and honest coming-of-age story that explores the complicated relationship between identity, culture, family, and love. Seventeen-year-old Pakistani immigrant, Zara Hossain, has been leading a fairly typical life in Texas since her family moved there for her father's work. While dealing with the Islamophobia that she faces at school, Zara has to lay low, trying not to stir up any trouble and jeopardize their family's dependent visa status while they await their green card approval. But one day her tormentor, star football player Tyler Benson, takes things too far, leaving a threatening note in her locker, and gets suspended. As an act of revenge against her for speaking out, Tyler and his friends vandalize Zara's house with racist graffiti, leading to a violent crime that puts Zara's entire future at risk. Now she must pay the ultimate price and choose between fighting to stay in the only place she's ever called home or losing the life she loves and everyone in it.
Reviews
Stephen
'So...where do I belong?' says Zara in this new novel by author Sabina Khan. 17 year Zara Hussain has a lot to think about. She's the only Pakistani Muslim in a conservative high school in Texas, dealing with racist bullying at school from Tyler, isn't an America citizen (despite living in the USA since she was 3 years old) and has just met Chloe as Social Justice Club and isn't sure of her feelings towards her. After an altercation with Tyler at school while helping a new student, a series of events sees Tyler being excluded from school. But his subsequent revenge will have serious consequences for Zara's family and their American dream and green card application.
This is an insightful novel that gives a glimpse into the experience of families and teens caught up in the America immigration system and all the uncertainty that this can cause people. It was an eye opener for me. Also the book provided an insight into the American education system, giving UK students a chance to see how similar school is compared to the US system but also a chance to see the differences. Zara's cultural background also came through in the novel with frequent uses of Urdu and references to Pakistani food which sounds delicious (though a glossary explaining some of these words and phrases would have been a useful addition).
Zara's relationship with Chloe in the book was a real highlight for me and it was a delight to see this develop, and the different parents responses to their daughters sexuality also reminds the reader that not all teens have the support of their parents. And it's the personal lives of the characters where I feel the novels strength is. Whether following Zara and Chloe from first sight to first kiss, or feeling the emotions surround what happens to Zara's father and it's aftermath, the author makes this feel real, and made me care about what happened to the characters.
Belonging and identity are threads that run through the story and many readers will relate to Zara's feeling about this - growing up in a country your weren't born in, feeling different despite trying to fit in and standing out because your one of the few people from an ethnic background. This is a good novel that will give you an insight into a teen caught up in the American immigration system and the issues around this, and was certainly a window into a world I knew very little about.
336 pages / Reviewed by Stephen Leitch
Suggested Reading Age 14+
Other titles