Zeina Starborn and the Sky Whale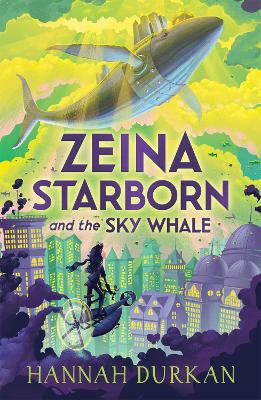 By Author / Illustrator
Hannah Durkan
Genre
Fantasy
Age range(s)
9+
Publisher
Hachette Children's Group
ISBN
9781510109599
Format
Paperback / softback
Published
12-05-2022
Synopsis
When Zeina Starborn's dream of exploring the skies becomes a reality, she finds herself in a daring adventure beyond her wildest imagination. Meet explorers, inventors, and mighty sky whales in this richly inventive fantasy, perfect for 9+ fans of Brightstorm and Orphans of the Tide.

Zeina Starborn spends her days dreaming of adventure in the sky and escaping the smog-filled city of Ravenport.  So, when she wins the chance to visit the famous Willoughby Whale Hotel - a ginormous structure built on the back of a flying whale - Zeina grabs it. Even clashing with Jackson, spoiled heir to the Willoughby fortune, can't dampen her excitement.  But a series of clues makes her question what she's been told about this dazzling world of inventors, explorers and mighty sky whales. Zeina and Jackson must put aside their differences to uncover the secret plot around them as they embark on the journey of a lifetime.
*Winner of the Northern Writers' Award 2020*  'A thrilling tale of intrigue and adventure in the clouds, full of wonderful creatures, mind-boggling gadgets, bravery, kindness and hope' Thomas Taylor, author of Malamander
Reviews
Jennifer
Zeina Starborn and the Sky Whale is a fabulously imaginative, intricately detailed and thrilling dystopian adventure, featuring the fabulously named Zeina Starborn. Just her name alone tells the reader that we are about to meet a unique, intrepid, ambitious character with a destiny to fulfil. The book's glorious cover plunges you into a futuristic steampunk setting: flying whales harnessed to buildings, what look like flying scooters, clouds of dark smoke and the jarring conflict between modern, sleek skyscrapers and old, ramshackle brick buildings. It is completely enticing from the second you lay eyes on the book.
The world built around Zeina Starborn is a commentary on the negative way the climate is changing and is so relevant and real to its current readers. The whole of the eastern Continent is divided into classes; here they are determined by if you live Below or Above the rising smog line. 'Belows' live in pollution, with respiratory masks to survive while 'Aboves' rise to live in lifts above the 30th floor to live in luxury and precious fresh clean air.
It is such a modern, meaningful and clever class/conscience theme to explore within the book. Zeina is a Below, but with an airship engineer for a father, she gets to see, admire and long for a world above and away from the smog and dullness of daily life. Then she wins a competition to visit the magnificent Willoughby Whale Hotel, high up in the Upper Atmosphere, and meet famous ad revered adventurers such as her heroine Viviannne Steel. The glitz, glamour and expensive, luxury surroundings, however, hide a more unsavoury truth about how the Aboves sustain their privileged lifestyle.
Zeina discovers the reality of just how the skywhales are 'tamed' to carry the hotels of the rich and powerful (like huge, imposing cruise liners) and that the dreaded Smog Rat sky pirates may not be the enemy she has been told that they are. Alongside the heir to the Willoughby fortune, Jackson, she must decide on the right course of action - to follow the path of those she looked up to or create a path of her own, trust her new bond with Jackson despite their differences and chart a course challenging the unjustness of the world around, above and below them.
This is a gripping, exciting, fast paced story with lively, likeable determined and feisty young characters. A really fantastic treat of a fantasy.
256 pages / Reviewed by Jennifer Caddick, teacher
Suggested Reading Age 9+
Other titles