Anna Wilson introduces The Wide, Wide Sea
Posted on Thursday, July 8, 2021
Category: Author Videos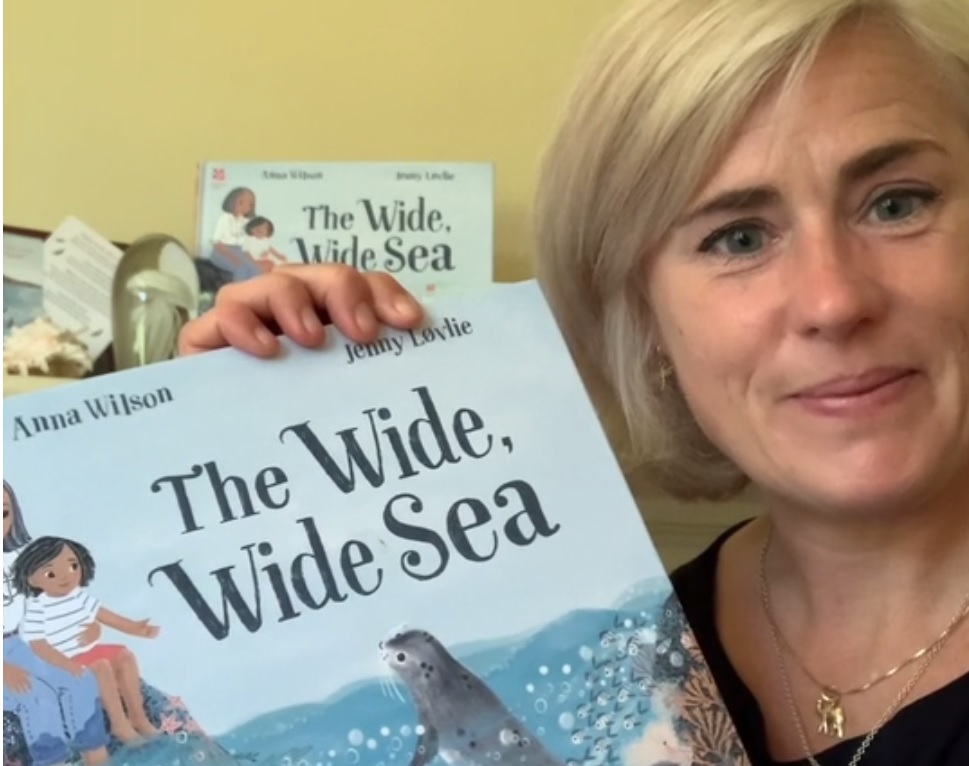 The Wide, Wide Sea, published by Nosy Crow in collaboration with the National Trust, is an empowering story about preserving our beaches and protecting our sea animals from plastic pollution.
The picture book by Anna Wilson and Jenny Løvlie has strong environmental themes and includes beautiful seascapes, reminding us that we all have role in keeping our beaches clean and supporting our wildlife and the environment; even young children can make a difference. 
In this video, Anna Wilson introduces us to the beach that helped inspire her new picture book and reads from it.
More about The Wide, Wide Sea
Anna Wilson lives in Penzance, Cornwall, with her family, cats, chickens, ducks and a tortoise called Hercules. She has written numerous wonderful picture books and fiction titles for Pan Macmillan, HarperCollins, Stripes and Nosy Crow. A keen wild swimmer, Anna's passion for animals and the natural world shines through in all her work.
Illustrator Jenny Løvlie grew up in Northern-Norway on Ekkerøy, a tiny peninsula sticking out into the Barents Sea, where she was the first child to be born in 12 years. Summers were spent in the great outdoors under the never-setting sun, climbing rocks, watching the seagull-chicks hatching and rock-pooling and the dark winters reading, drawing and making.  Jenny studied Illustration & Animation at Kingston University in London, and graduated with a BA Hons in 2014.
We spoke to Anna Wilson and Jenny Løvlie about their picture book, The Wide, Wide Sea.
Q&A with Anna Wilson:
1. What brought you into writing picture books for children?
I started my career as a picture book editor for Macmillan Children's Books a long time ago! When my daughter was born, I thought I would have a go at writing one myself. My first book, Over in the Grasslands, illustrated by the wonderful Alison Bartlett, was written when my daughter was one and I quickly followed it with another called It's a Bear's Life, illustrated beautifully by Suzanne Diederen. I then had a big gap while I concentrated on writing middle grade fiction, so The Wide, Wide Sea with Jenny Løvlie's incredible illustrations is my first picture book for twenty years!
2. Can you tell us about your latest picture book, The Wide, Wide Sea; did your own love of water help to inspire it?
Absolutely! It's been my lifetime's ambition to live near the sea, so I am very happy now that I can walk down to the shore so easily every day. I love the roar of the sea in the winter and its green-blue glassy clarity in the summer. I love that even if it is too rough to swim I can enjoy walking by it - or even surfing in it, as I am now discovering for the first time! When I'm in the sea I feel like a non-human animal. I feel freer and happier than I do on land.
I started thinking about this a while ago, and so this story started as a conversation with my agent and editor about how I really wanted to write about these feelings. Of course, I realised that a book about swimming wasn't enough of an idea for a children's story, so I started to think more deeply about my connection to the ocean and why I love it and respect it - and why I want other people to love it and respect it, too.
3. Why did you choose The Wide, Wide Sea as its title?
Whenever I sit and stare out at the sea (which is most days!) I am mesmerised at the thought of how much of our planet is covered by the oceans - and by how small I feel in comparison to the expanse of water before me. It's a bit like looking up into a starry sky at night. I think that is the sentiment that informed my choice of the title - that the oceans are vaster than the land, and that we humans, who live on the land, have a huge responsibility to the wonderful wide, wide seas that surround us.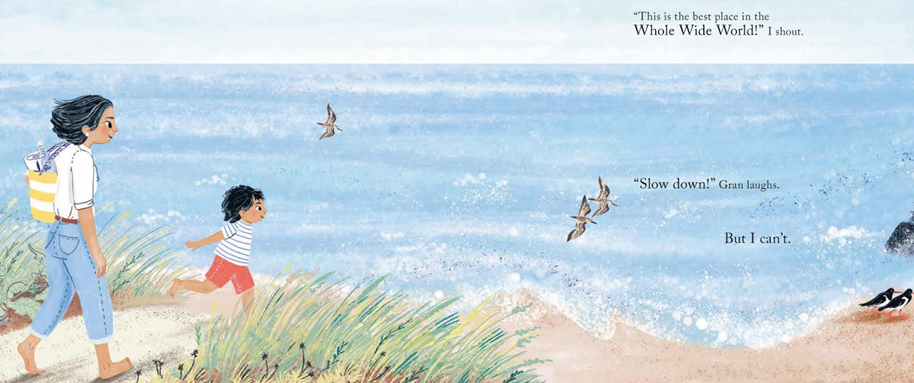 4. The story focuses on the child's relationship with a seal - why did you choose that creature for this story?
I chose the seal because between the months of May and September, a friendly seal always pops up in the bay where I swim and has a good long look at me. Once I was swimming and I heard a loud snort behind me - the seal was almost touching my feet with his nose, as if he wanted to chase me back across the bay. I felt as though he was reminding me that the sea is his home and that I am lucky to be allowed to swim in it too! This made me think about how we share our oceans with so many creatures and we have a responsibility to keep the seas clean.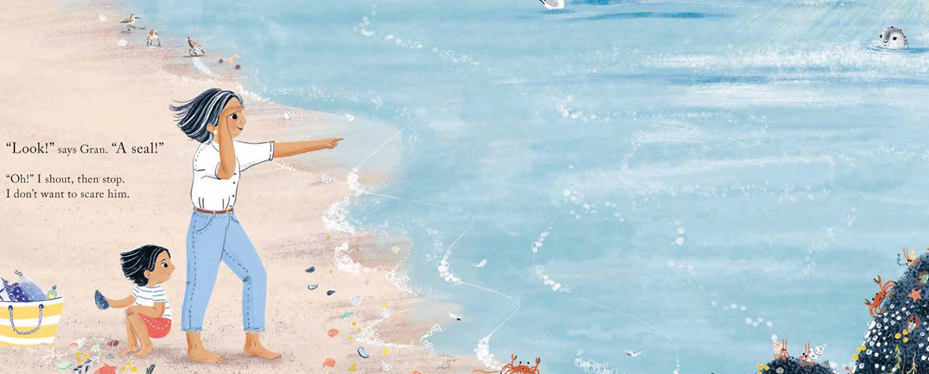 5. The story tackles litter and plastic pollution. Do you feel it's important that young children are introduced to environmental issues at a young age?
I do, because sadly the children of today are the people who are going to grow up to inherit the problems caused by the generations that have come before them. If we can gently encourage this new generation to love and respect their planet, we might have a better chance of saving it.
The coastline where I live has changed a lot in the past 25 years. The land is slipping into the sea, and the sea itself is rising. This is going to have an impact on the habitats of humans and non-humans alike. Some people are going to have to move out of their houses as the land falls away beneath them, and many birds and other animals are going to lose their homes as well.
But I have to say that the thing that makes me most worried - angry, actually - is the plastic pollution. I can't understand why someone would go for a lovely day out to a beautiful beach and then leave a load of litter behind after them, ruining the beach for the humans and wildlife who come after them. Animals eat litter that is left behind and it makes them sick. Of course I don't want to frighten children, but I think that if handled in a sensitive way, these messages can be put across to even the youngest child, who can then make the right decisions about littering and about responsible plastic usage.
6. How have you made this a positive story for children?
I have tried to make it positive by the ending, in which lots of people come together to clean up the beach. In this way I hope I have shown that the good news in all of this is that we can all do something by choosing to do little things to help every day.
Firstly, we can reduce our consumption of the sorts of things that cause plastic pollution by refusing to buy any more single-use plastics. This means avoiding buying anything that comes in the kind of plastic packaging you would throw away. Take a reusable water bottle out and about with you instead of buying bottled water, for example, and use reusable wax paper or a Tupperware or tin box to pack your picnic.
Secondly, we can try to reuse old packaging, so if you have bought something in plastic or tin foil, see if you can wash the packaging and use it again and again. Tin foil pie dishes can be used for baking, for example, and plastic trays can be used as seed trays if you are a keen gardener!
Thirdly we can recycle as much as possible, this of course means separating out packaging and recycling it in bins, but it also means taking old clothes and toys to the charity shop so that someone else can enjoy them, instead of simply throwing them away.
Lastly, we can all get involved in beach and river 'clean-ups'. You can do this as a family by taking a bag with you on a walk and collecting litter to recycle when you get home. Or you can get involved in a community clean-up like the people in The Wide, Wide Sea who run down to the beach to clean it up together.  Go to https://www.river-cleanup.org/en or https://www.nationaltrust.org.uk/lists/pitch-in-with-a-beach-clean to find out more about organised clean-ups near you. (Always go with a grown-up and wear gloves or use a litter-picker to avoid injury.)
7. What do you enjoy about Jenny Løvlie's illustrations?
The best thing was when we met each other (in the days before lockdown!) and I was describing the cove where I swim - Jenny just started sketching and it was like magic, seeing her drawings bringing my words to life on the page. I felt as though she had been able to read my mind and see exactly how I had hoped the book would turn out. I love her depiction of the beach and the birds and the ocean creatures - and the seal, of course! I particularly love the double-page illustration of the sea birds and the pictures where the child seems to turn into a seal in their imagination.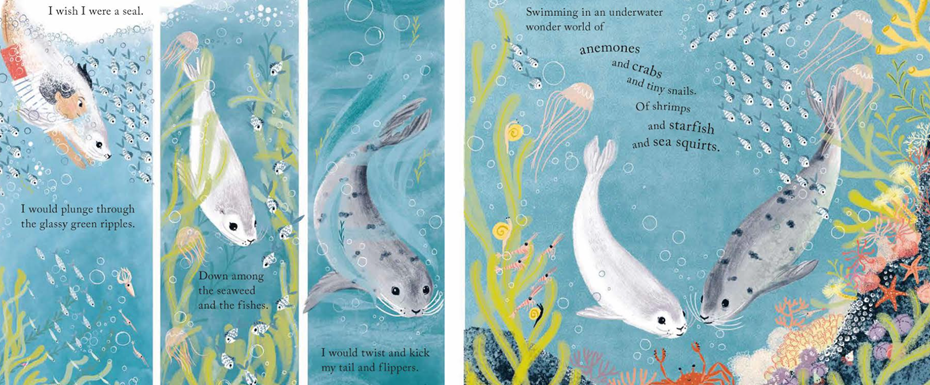 8. Do you have any suggestions for how teachers might use the book in the classroom, or families at home?
I think the first thing I would do in the classroom would be to get the children talking and discussing how they think they could make a difference. There are also some fun activities you can do, making your own mini underwater worlds in a jam jar, for example, or making mini beaches in a biscuit tin lid with sand and shells and so on. Then these could be the starting point for the children to write their own stories or write about how they would like to see the beach looked after for years to come.
As a family, it might be an idea to go on a beach clean-up or a river clean-up or just become more aware of littering and help to keep their neighbourhood clear of litter. Around where I live the local children made posters and put them up to encourage everyone to take their litter home.
9. Have you ever been involved in clean ups or campaigning for the environment?

I go on my own mini beach-cleans all the time. I always have a small bag with me as I go out with my dog every day, so I need to have bags in case she needs to do a poo! I make sure I have spare bags so that I can pick up any litter I see and then I take it home and recycle it whenever possible.
I haven't done any campaigning in terms of going on marches or anything like that, but I do sign petitions for campaigns that I believe are important, such as 'No Mow May' and wildlife protection schemes and so on. And I do my bit (I hope) to spread the word about looking after the environment in the books that I write. I also write a nature almanac for children every year which has lots of tips and ideas in it about how to look after our beautiful planet.
Q&A with Jenny Løvlie
1. What drew you to illustrating Anna Wilson's text for The Wide Wide Sea?
I was drawn to the beautiful, lyrical language and the subject matter is very close to my heart. Having grown up by the sea myself, I felt true kinship with the characters and their story. I loved that the focus was on helping the ocean and the community coming together to look after and protect their beach and the animals living in the sea. In the village I grew up in, there's a big beach clean every year to get it safe and ready for animals and people to enjoy in the summer.
2. How do you decide how you will illustrate each page?
I make a thumbnail grid and start sketching out each spread in the squares, making sure that each page turn is surprising and interesting, yet still flowing nicely from page to page.
3. Are there things you need to research for your work, for example drawing seals in this picture book?
I always start a project by doing a lot of research, but it's especially important for a narrative nonfiction picture book like The Wide, Wide Sea. I had to make sure that the species of seals and birds were all drawn correctly. The landscape is inspired by the Cornish coast and the coast where I grew up in Northern Norway.
4. And do you need to do much experimentation, for example for illustrating the sea?
I use a lot of layered textures and colours in my work, and that takes a lot of experimentation to get the right look. I also spend a lot of time creating the colour palette to ensure the colours are consistent all the way through. For this particular project, the human characters took the longest to work out!
5. How do you create your illustrations? Do you work digitally?
I start off sketching in my sketchbook, then I move onto the computer. I draw in photoshop using a Wacom Cintiq.
6. Which is your favourite spread or moment in The Wide, Wide Sea?
I love the big bird spread! I had such a great time drawing them all. My other favourite is the stormy illustration with the seals playing in the deep.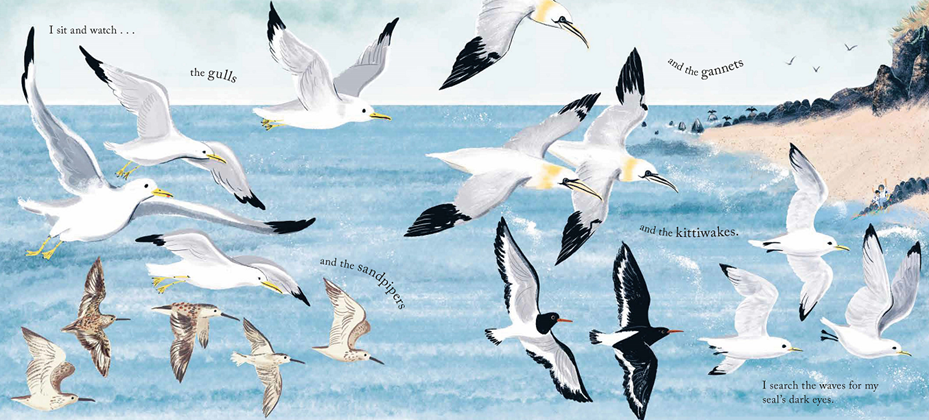 7. Like these characters, do you love to be by the sea?
I do! I was born by the Barents Sea and played on the beach every day growing up. I also had a similar encounter with a Greenland seal when I was about the same age as the child in the book.
8. What has been your stand-out moment as a children's books illustrator?
There are many moments that stand out to me, but the biggest thing that's happened so far in my career is winning the Waterstone's Book Prize for best illustrated book for The Girls in 2019!