Claire Marris Profile
Posted on Wednesday, March 3, 2021
Category: Meet A School Librarian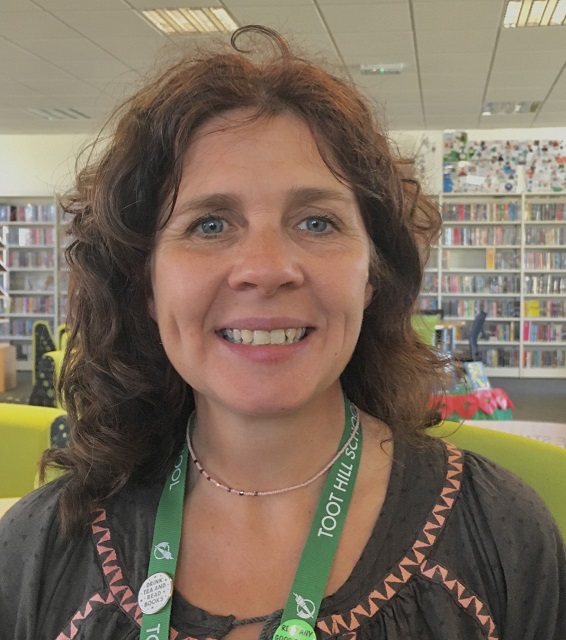 Claire Marris is the Library Manager at Toot Hill School, an 'Outstanding' (Ofsted, January 2012) 11-18 secondary school, with a student population of over 2,000, situated in the market town of Bingham, Nottinghamshire.
Background:

Claire's secondary school years were spent in Walton Girls School, Grantham, and she attended Grantham College for further education in sport studies. She spent four years in the fitness industry before flying off to America to join the Au Pair in America program.

She did a Sport Science degree in her early 30s, and worked for a while as a Physiotherapy Assistant on the Stroke Unit, Lincoln County hospital. She had the opportunity, aged 40, to go to Uganda and teach cricket with Cricket Without Boundaries, which opened the door to cricket coaching and led her to achieve a level two cricket coaching award.


What was your route into becoming a school librarian?

Life took a turn and I secured the position of Library Assistant at Toot Hill School, which was actually a lifesaving point in my life to get me back on my feet and moving forwards and the rest is history...

I have been working at Toot Hill School for nearly eight years now. I don't have a Library services background but have always had a keen interest in reading. At school I wasn't allowed to be a Library Assistant because I was sporty and only the academic students got to be in the Library! I did do my school work experience in Grantham Library which I enjoyed.

However, I moved towards the fitness industry but it's surprising how you can transfer skills from a fitness background, adapt that passion into encouraging reading with teenagers which felt natural and rewarding; like sport, the more you practice the better you become at it. Being a School Librarian requires you to be very driven, energetic and a supportive role model.

Back in 2013 I was employed as the Library Assistant, a position that had over 60 applicants. Under the leadership of the Library Manager, who had been at the school for 17 years, I was taught all aspects of becoming a competent school librarian. This included familiarising myself with YA literature, using and understanding the Eclipse Library System, increasing my knowledge of the Dewey Decimal System and cataloguing, monitoring and processing stock, and above all, supporting students and encouraging reading for pleasure.


Where are you now?

Toot Hill School is a mixed Academy based in the small town of Bingham on the site of the Leisure Centre so the school has full access to the sports facilities. It is an affluent area with a high level of Higher Priority Attainments (high SAT results) feeding from two Outstanding Ofsted Primary schools in the town; many of the students come from surrounding villagers. There are 1933 students including post 16.

In 2016 I was offered the role of Library Manager, which gave me the opportunity to express myself further in the Library. I wanted my role to become more involved with other school departments: inviting authors that inspired creativity, a Reading Week to encourage reading for pleasure as a whole school concept, and the Year 7 gifted book initiative.

I feel diversification is part of the role of the school librarian so being involved with PSHE days and other events enables the Library to raise its profile within a school setting and therefore becoming a much valued role and area. I hope to continue the growth of a reading culture in the school and feel elated that I completed Chartership in June 2020.


How would you describe your library and your relationship with the students?

The school's Learning Lounge, as the library is known, is housed in its own building on the school campus. It is a welcoming space with an emphasis on reading for pleasure. It has around 11,000 books and is full of comfy chairs, whilst tables, hard seating and computers are limited (students have access to a separate IT suite). The Learning lounge is a safe comfortable space to come and chill with a book or two, maybe complete one of the many quizzes we have going on or just hang out with friends and socialise...quietly and sensibly.

I think libraries have had to diversify their role in school to adapt to the needs and wants of students. The last manager decided to take the computers away from the area so the space is purely books with two computers to look at Eclipse and use the internet, if required, for project or club session. I would like to have a small bank of laptops available and look to hopefully achieve this over time.

I would say the students would say I am firm but fair, probably a little quirky but approachable. I adhere to strict rules in the space to preserve the resources and the area and generally this is respected.


And how would you describe your approach to your work - in one sentence?

Dedicated, focused and have a consistent work ethic.


What are your school's priorities for the library?

To house the year 7 and 8 Reading Lessons and to follow the schools ethos of Work Hard, Be Kind - a supporting role and space for students to grow, learn, create and be inspired.


How do you support teachers and teaching across the curriculum?

In conjunction with the English Department, the Learning Lounge provides timetabled lessons for all KS3. In addition, we offer a series of induction sessions during the autumn term for the new Year 7 students and a refresher session for Year 8 students. Because the school is so large, I have created an in-school mobile library for the sixth form to ensure no student lacks access to great books.

I have bought into numerous wider reading resources that I constantly email the teachers about and keep them updated - Issues Online, Complete Issues and Britannica School. For example, for Mental Health Awareness week I would email them about the non-fiction and fiction resources available in the LL on our Shelf Help and then would email links to Complete Issues and Issues Online.

Although I don't run the reading lessons, I do organise an activity that involves wider reading/research skills, fiction book alternatives and debate once the class complete a class read before moving onto the next book.

I also organise book displays and quizzes that feature curriculum-based subjects. For example I currently have Around the World in 180 Days (180 days because that is approximately how many days they are at school), which features countries studied in the Geography Curriculum for different year groups and try to link this with different activities that might be running in the LL. Ethiopia was one of the countries we went to because it's the country that Boy 87 (gifted year 7 book) is set in and Geography features Africa in its curriculum...all about linking.


What are the biggest (non-COVID) challenges for you?

Putting the school library on the map - I felt I needed to raise its profile; build links and create a better reading culture in the school. In order to do this it's vital to get the teachers on board so by supporting the curriculum and reading initiatives - year 7 gifted book and Reading Week; I feel that the area is getting there.


What are your budgeting priorities and how creative do you need to be with your funds?

I am fortunate that the library has a good budget and the school budget covers the year 7 gifted book. One of the main priorities is author visits, which in normal circumstances, I would aim for three a year as I believe these events are invaluable and inspiring. Also, I recently bought into Britannica School which is expensive but a great wider reading and research tool. It's easy to use and has great functions, different levels and safe searching for students.


Have you continued use of the library during the pandemic? How? Is there anything you've tried that you will continue post COVID?

We have had to put into place restrictions and COVID procedures, but are open to all year groups when the school is open - strict quarantining of books and separated year group sessions. We are in a bubble with Year 7 so they have full use of the area.

I never realised the possibilities of our library management system - Eclipse (thanks to Elizabeth Hutchinson!). Being able to add reading lists and links to resources has been enlightening so I will continue to keep that updated and in full use.

I created a Wakelet resource which I adore. It's fabulous for creating a platform to store all resources you make and share with the students. There is an option to have the resource go public or private which is useful when doing read aloud videos for students.


How has technology helped?
My role is currently very reliant on technology. It has been very important to make resources available for students online. I have to say I haven't gone down the route of e-books as I don't want to encourage this platform as it will distract from the service I offer when the students are in school, and I believe that students already spend too much time looking at a screen and I don't want to encourage this. However, I do point them in the direction of ones they can access online.

I have made lots of other resources available for students, which include our library podcast called Lounging with Books, the Wakelet resources that I mentioned earlier which is full of quizzes, useful information and links to our podcast, read aloud videos for Reading for Pleasure lessons and Reading Classics group and wider reading resources - Britannica School.


What next for your library, when schools are back to 'normal'?

I feel this pandemic has injured our service and will take some time to build the reading culture back up to where I had it. I would like to bring back events that we have had to cancel or postpone - author visits, scholastic book fairs, our World Book Night parent and student event, after-school clubs etc.


Can you share three simple things you have tried out that you'd recommend to other librarians?


1. Make the most of your library management system.

2. I don't run Accelerated Reading but have created my own reading challenges which are purely voluntary. One of our challenges is called BookTrust Challenge which utilizes the school packs given by BookTrust. We read the books, create ten questions for students to answer, and award credits and prizes. This raises the profile of the book/author and encourages the student to read the book from start to finish and have a better understanding of the story rather than skim-reading a book.

3. Create areas of interest in the library. We have a Shelf Help, LGBTQ+ display, Career Focus display and Career shelves, Graphic Novel/Manga corner, Classic Corner - current Reading Classic display, BookTrust Challenge shelves - current BookTrust Challenge display and FQR shelves. I feel this helps students locate books they might want to read.


What have been your biggest successes and innovations to date?

The two reading initiatives I introduces - Reading Week (which is currently being rolled out on a four year plan) and Year 7 gifted book (now in its third year).


What's the one thing you do that has the most impact, and how do you know / measure its impact?

 Reading Week has a huge impact; book loan statistics increase and the buzz going round school is great. I get lots of positive feedback from the teachers about how relaxed and engaged the students are after the ten minutes of reading at the start of each lesson and most students enjoy it and find it hard to put their book down after the ten minutes. I think as a result of this week, reluctant reading students have read a book from start to finish which is something they wouldn't necessarily choose to do.


How has being a member of the School Library Association (SLA) helped you in your role?

 I use SLA to access a range of CPD courses. The last one I did was for EPQ which was great and inspired me to write my own guide for students and create a Wakelet page which I have shared with students/staff at Toot Hill.

I also try to join some of the live events they offer like 'meet the author', which are really interesting and entertaining. They have lots of great resources to use and share. Generally, knowing you have that platform as a support and resource is invaluable, particularly in the current pandemic situation.


What are the three books you've read recently that you'd love to recommend?

Savage Her Reply by Deirdre Sullivan (Little Island) - poetic retelling of an Irish fairy-tale; beautifully written, but dark and eerie.

Daisy on the Outer Line by Ross Sayers (Cranachan) - new favourite author; challenges me as written in Scottish dialect.

The Soup Movement by Ben Davis (OUP) - hoping this will be put forward as our next year 7 gifted book. Encapsulates the schools ethos perfectly: hard work, honesty, good manners and consideration for others.


You can get a further flavour of Claire's work by following @lounge_learning on Twitter.
External Link