Children's reading for pleasure falls sharply
Posted on Friday, March 19, 2021
Category: News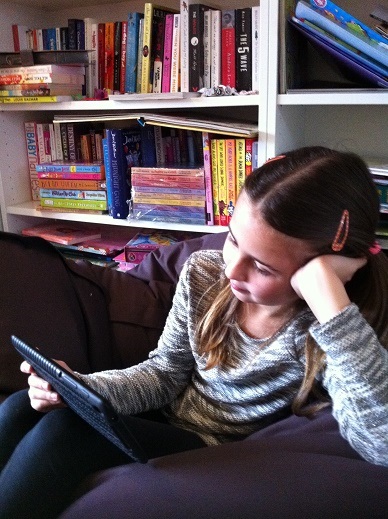 Research into children's reading habits during 2020 has found a steep decline in the number of children reading for pleasure since 2012 as, more than ever, children are choosing screens over books.
The research, by Nielsen Book 'Understanding the Children's Book Consumer' 2012-2020, and shared by publisher Farshore (formerly Egmont UK), shows that only 23% of 0-17s read for pleasure 'daily or nearly every day', down from 26% in 2019 and 38% in 2012.

Meanwhile, the number of children who read for pleasure 'never or rarely' has grown from 13% of children in 2012 to 20% in 2020. And while more than half (56%) of children aged eight to ten years - a key reading age - read for pleasure in 2012, that was cut to one third by 2020.

Should the decline continue, Alison David, consumer insights director at Farshore, predicts that by 2025, just 25% of children aged eight to ten years will read for pleasure daily.

The decline has also been noted among younger age groups. In 2012, 54% of 5-7s chose to read 'daily or nearly every day' for pleasure, which has declined to 31% in 2020

The proportion of 3-4-year olds who read or look at books for fun 'daily or nearly every day' has almost halved since 2012, while reading 'rarely or never' has grown from 10% to 23% over the same time period.
Projections for 2025

By projecting the hitherto average decline in daily reading forward for a further 5 years, we can see what may happen: fewer than 5% of pre-schoolers would engage with books independently on a regular basis by 2025. This highlights the importance of reading aloud to young children: since children this age can't read, they rely on parents or other adults to help them discover and access books.

David points to three key blocks to children developing an interest in reading:
1)  Screen time with children's leisure interests dominated by screen-based entertainment. Time spent online has been growing rapidly and in 2020 during lockdown it leapt ahead, for 5-10-year olds, in particular. Some 69% of 0-17 year olds prefer screens over books, and 32% of four to five year olds would choose a screen ahead of a book.

The ubiquity of devices means spare moments are easily and compulsively filled with screens. Available time to read is vastly reduced and needs to be consciously created in a day.

2)   The second reason thought to be behind the decline in children's reading for pleasure is that children are not being read to often enough by their parents or at school, although research shows that being read to regularly is the most effective way to encourage a child to read for pleasure independently. Publisher Farshore is now campaigning for daily storytime in schools.

3)  And finally, 'reading for pleasure' is being confused with 'literacy' by many parents at home who commonly don't realise that the more it's pushed as a school subject, the less likely a child is to choose to do it. In the school environment, the national curriculum focuses on reading skills above reading pleasure. However, when pleasure drives reading, children achieve more.

Children are helped to love reading by three key things:

1. Being read to, which helps them experience the pleasure and results in them wanting more of it.

2. Having wide choice of reading materials.

3. Having free choice: through making their own book choices, children have an intent to read.

Among parents, the drive to encouraging children to read more would include:
- a reduction in screen time
- including reading as part of their routine
- and they point to the need for 'more interesting books', including better representation and inclusion. Farshore believes that better representation and inclusion will in itself make books, both fact and fiction, more interesting and engaging to children from diverse backgrounds.

The figures suggesting a decline in reading for pleasure were played out in how many books were sold during 2020. While the overall market rose in 2020, that was uniquely down to the covid environment and parents buying books to support children's educational needs. While children's fiction has always been the biggest seller, when you strip out the sales of the new Stephenie Meyer (Midnight Sun, Twilight series) and the Hunger Games prequel (The Ballad of Songbirds and Snakes, Suzanne Collins), children's fiction sales actually declined in 2020.

Children's reading for pleasure is under huge pressure, and it's up to families and schools to try to halt the decline - and to try to begin to reverse it.