Eadaoin Quinn - SLA Honour List
Posted on Wednesday, March 3, 2021
Category: Meet A School Librarian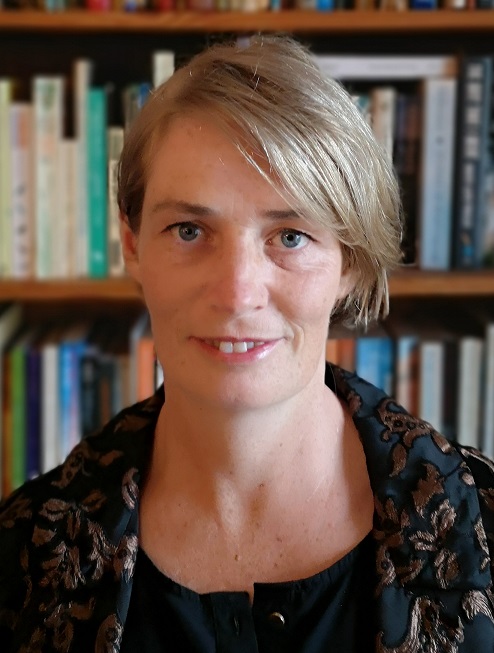 Eadaoin Quinn works in a post primary school in Ireland - the Enniscorthy Vocational College, Co. Wexford.
Eadaoin makes sure the physical environment welcomes all students through the books and resources on display; while her professionalism has won the trust and respect of her colleagues. She says 99% of the work she does is done in partnership.
Teachers remark that students regularly pull novels out of their bags unprompted when they have a chance to read, whether in a supervised class or even detention! There is a strong focus on feedback and impact, with twice yearly surveys, and tracking the level of library use.

The school library is found by the entrance to the school. In addition to the main area of shelving and tables, there is a wallpapered sitting room with sofas and a fire, used as a cosy reading area. There is also a library extension with hammocks in another space on the campus.

The two library spaces share a stock of over 6,000 books, with featured collections built around the interest and profiles of the student body, including sections dedicated to short reads, horses, and books in home languages; 17 different home languages are spoken by EVC students and there are also a number of students from the Traveller and Roma community. Eadaoin's full time role is supported by a student librarian.

Eadaoin has Post Graduate Higher Diploma in Library and Information Studies from University College Dublin and a Post Graduate Certificate in 21st Century Teaching and Learning from Trinity College, Dublin.

The library is open throughout the day, including before and after school, and is used by all students as a place for homework, access to IT and socialising as well as timetabled lessons. First and Second year students have literacy and numeracy classes in the library which are generally planned and delivered jointly by the librarian and teachers, often with input from the SEN department.

A typical lesson might have sustained quiet reading time, bookended by discussion of books read, AR quizzing, the sharing of remarkable vocabulary and the issuing of new books. Use of programmes on tablets, literacy and numeracy board games and paired reading are also regular lesson features.

Teachers always accompany the class group and take an active role, reading their own books during quiet time. A new state curriculum has ensured research skills are now taught regularly in classes across the school, with a special media literacy module, delivered jointly with the English department to older students.

Eadaoin, who is part of the core pastoral care team at the school, strives to make the library relevant to all students and to give them a sense of ownership of the space. For her, being a librarian is a privilege not least because she has time to get to know students, especially during extra-curricular clubs and activities including a Chess Club, the Mile Post Newspaper team, a creative writing group and a film club.

Eadaoin and her library have strong links outside the school. The local primary school regularly visits for picture book reading sessions, lead by older EVC students who Eadaoin has trained, with input from a childcare tutor.

Links with the local public library are also nurtured: First Year students have a library card and learn how to use the public library, which is sometimes used as a venue for school author visits.