Gothic Writing Challenges from Clare Owen
Posted on Friday, October 22, 2021
Category: News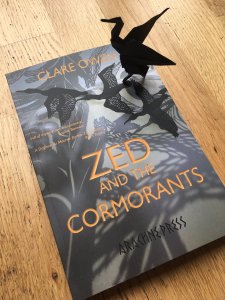 Clare Owen, author of Zed and the Cormorants, shares some Gothic Writing challenges as part of a series of creative challenges this half term.
Arachne Press has set a series of creative challenges this half term to celebrate the launch of its first audio book, Zed and the Cormorants, including these brilliant Gothic Writing challenges from Clare Owen, author of Zed and the Cormorants.
Here's Clare Owen, sharing her top contemporary gothic reading recommendations, and some tips for writing gothic stories, with her Gothic Writing Challenges to follow:
Gothic Writing Challenges from Clare Owen:
1. "She felt the temperature drop. Even with all her layers of clothing. She turned and forced herself to look, properly look into the shadows, but there was nothing. No one. She turned back towards the stove, to the soothing undulation of the flames, and there it was. A face in the mirror." (Chap 28, P130).  
Use this prompt to write your own ghost story. Where does your ghost appear and why? Think about all your senses being on high alert - not just what you see, but what you can smell, touch, taste...
2. "Her eyes adjusted as the tea lights flickered, then settled into a steady glow: the flames taking hold, blackening the wick and turning the opaque wax to liquid. The shadow of a garden fork, propped up against the feeding trough, took shape across the room, its blurred prongs like elongated tombstones." (Chap 21, P103)   
Think about shadows and how they change shape. What might you see in the shadows? What might someone or something else want you to see?
3. "Please not this again... There were sparks fizzing inside her eyelids. Red, hot spits on her hands and face- Breathe... just breathe... It felt like scalding sparklers scoring her skin, dragging it into blisters. Her throat was tight. Her chest was tight. She couldn't get enough air." (Chap 14, P66)
Write about fear: how do different kinds of fear (dread, panic etc) make your body feel? What makes you feel like this?
4. "The cormorant was looking out over the water. It was so still it could have been a carved statue. Varnished. With a marble for an eye. That one lurid green eye, watching - watching" (Chap 13, P62).  
Birds are often used in gothic literature - as omens or messengers or embodiments of grief or fear. Choose any bird from the RSPB website and describe the bird in a few words. Listen to the recording of its song. What is it trying to tell you?
You  can find out more creative challenges at the Arachne Press website.