Longlists for the 2024 UKLA Book Awards announced
Posted on Tuesday, September 19, 2023
Category: Book Awards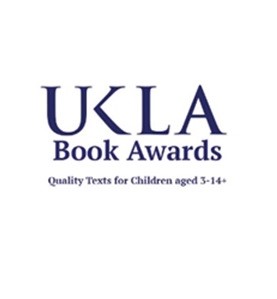 The longlists for the 2024 UKLA Book Awards, covering ages from three years to 14+, have been announced. The 84 judges covering the four categories now have until mid-March to read the longlisted books, discuss them with their group leaders, and share them with pupils. All the groups will then meet for the difficult task of choosing their shortlist of six books in each category.
The book award aims to encourage teachers' knowledge of high-quality children's books, with a focus on reflecting all identities and promoting diversity through the longlist.
The award is judged by teachers from around the UK; over the summer the judges - who included ex-teachers, librarians and consultants - read the initial 500 submissions across the four categories of these awards.  The longlists will now pass to the teams of teacher judges and their group leaders in Brighton and the South East to choose the shortlists.
Headteachers welcomed the opportunity to receive new books for their schools and for their teachers to widen their knowledge of recent children's titles. Some 54 schools in total will support the awards and, in turn, receive quality texts to inspire learning and reading for pleasure.
For UKLA, giving classroom practitioners the opportunity to read a selection of new children's books is as important as finding an overall winner. Research carried out by members of UKLA (Cremin et al 2008) clearly demonstrated the links between teachers' knowledge of children's books and the likelihood of pupils becoming successful readers. Despite this evidence, teachers are seldom given time to read new books or funding to purchase them when they do.
The longlists for the 2024 UKLA Book Awards are as follows: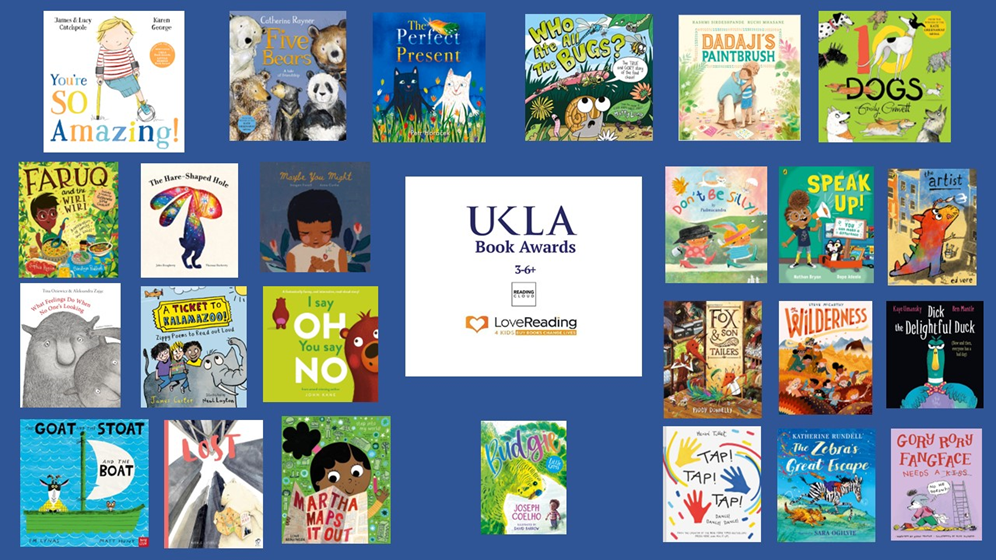 Longlist 3-6+
Speak Up written by Nathan Bryon and illustrated by Dapo Adeola (Puffin)
A Ticket to Kalamazoo! - Zippy Poems to Read Out Loud written by James Carter and illustrated by Neal Layton (Otter-Barry Books)
You're So Amazing written by James & Lucy Catchpole and illustrated by Karen George (Faber)
Budgie written by Joseph Coelho and illustrated by David Barrow (Barrington Stoke)
Fox & Son Tailers written and illustrated by Paddy Donnelly (The O'Brien Press)
The Hare-Shaped Hole written by John Dougherty and illustrated by Thomas Docherty (Frances Lincoln)
Maybe You Might written by Imogen Foxell and illustrated by Anna Cunha (Lantana)
10 Dogs written and illustrated by Emily Gravett (Two Hoots)
Gory Rory Fangface Needs a Kiss written by Ziggy Hanaor and illustrated by Ollie Silvester (Cicada)
Martha Maps It Out written and illustrated by Leigh Hodgkinson (Oxford)
The Perfect Present written and illustrated by Petr Horáček (Otter-Barry Books)
Lost written and illustrated by Mariajo Ilustrajo (Frances Lincoln)
I say Oh, You say No written and illustrated by John Kane (Templar)
Who Ate All the Bugs? Written and illustrated by Matty Long (Oxford)
The Goat and the Stoat and the Boat written by Em Lynas and illustrated by Matt Hunt (Nosy Crow)
The Wilderness written and illustrated by Steve McCarthy (Walker)
What Feelings Do When No One's Looking written and translated by Tina Oziewicz and illustrated by Aleksandra Zajac (Pushkin)
Don't Be Silly written and illustrated by Padmacandra (Scallywag)
Faruq and the Wiri Wiri written by Sophia Payne and illustrated by Sandhya Prabhat (Templar)
Five Bears written and illustrated by Catherine Rayner (Macmillan)
The Zebra's Great Escape written by Katherine Rundell and illustrated by Sarah Ogilvie (Bloomsbury)
Dadaji's Paintbrush written by Rashmi Sirdeshpande and illustrated by Ruchi Mhasane (Andersen)
Tap! Tap! Tap! Dance! Dance! Dance! Written and illustrated by Hervé Tullet and translated by Christopher Franceschelli (Chronicle Kids)
Dick the Delightful Duck written by Kaye Umansky and illustrated by Ben Mantle (Alison Green)
The Artist written and illustrated by Ed Vere (Puffin)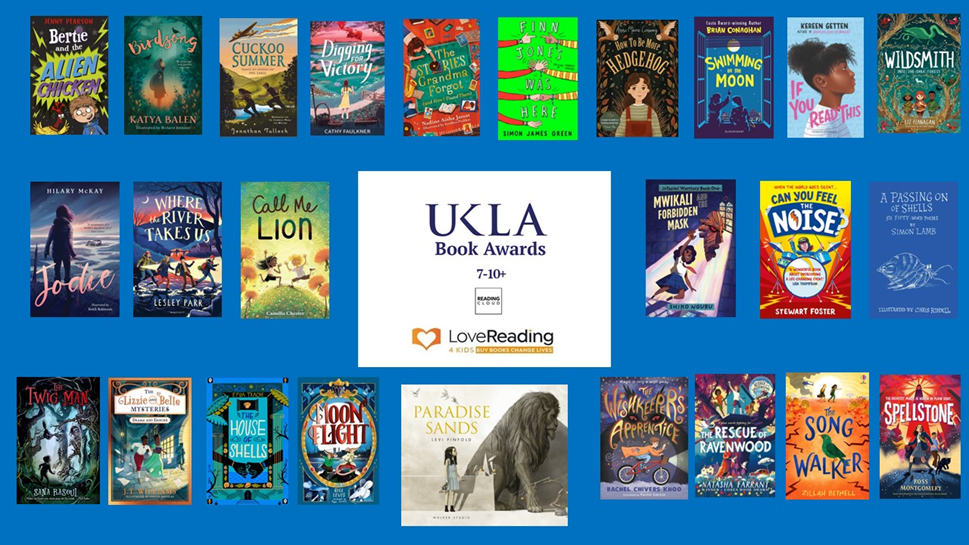 Longlist 7-10+
Birdsong written by Katya Balen and illustrated by Richard Johnson (Barrington Stoke)
The Song Walker written by Zillah Bethell and illustrated by Saara Katariina Söderlund (Usborne)
Call Me Lion written by Camilla Chester and illustrated by Irina Avgustinovich (Firefly)
Swimming on the Moon written by Brian Conaghan (Bloomsbury)
How to be More Hedgehog written by Anne Marie Conway and illustrated by Danielle Dey (Uclan)
The Rescue of Ravenwood written by Natasha Farrant (Faber)
Digging for Victory written by Cathy Faulkner (Firefly)
Wildsmith: Into the Dark Forest written by Liz Flanagan and illustrated by Joe Todd-Stanton (Uclan)
Can you Feel the Noise written by Stewart Foster (Simon & Schuster)
If You Read This written by Kereen Getten (Pushkin)
Finn Jones Was Here written by Simon James Green and illustrated by Jennifer Jamieson (Scholastic)
The Stories Grandma Forgot (and How I Found Them) written by Nadine Aisha Jassat and illustrated by Sandhya Prabhat (Orion)
The Wishkeeper's Apprentice written by Rachel Chivers Khoo and illustrated by Rachel Sanson (Walker)
A Passing On of Shells written by Simon Lamb and illustrated by Chris Riddell (Scallywag)
Moonflight written by Gill Lewis and illustrated by Pippa Curnick (David Fickling Books)
Jodie written by Hilary McKay and illustrated by Keith Robinson (Barrington Stoke)
Spellstone written by Ross Montgomery (Walker)
Mwikali and the Forbidden Mask written by Shiko Nguru and illustrated by Melissa McIndoe (Lantana)
Where the River Takes Us written by Lesley Parr and illustrated by David Dean (Bloomsbury)
Bertie and the Alien Chicken written by Jenny Pearson and illustrated by Aleksie Bitskoff (Barrington Stoke)
Paradise Sands written and illustrated by Levi Pinfold (Walker Studio)
The Twig Man written by Sana Rasoul (Hashtag Press)
House of Shells written by Efua Traoré (Chicken House)
Cuckoo Summer written by Jonathan Tulloch (Andersen)
The Lizzie and Belle Mysteries: Drama and Danger written by J.T. Williams and illustrated by Simone Douglas (Farshore)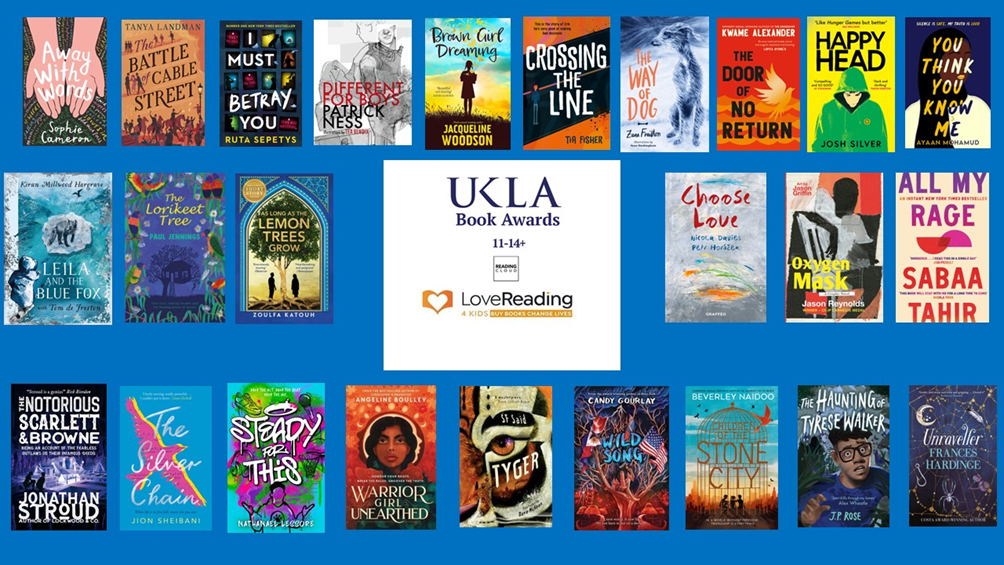 Longlist 11- 14+
The Door of No Return written by Kwame Alexander (Andersen)
Warrior Girl Unearthed written by Angeline Boulley (Rock the Boat)
Away with Words written by Sophie Cameron (Little Tiger)
Choose Love written by Nicola Davies and illustrated by Petr Horáček (Graffeg)
Crossing the Line written by Tia Fisher (Hot Key)
The Way of Dog written by Zana Fraillon and illustrated by Sean Buckingham (Chicken House)
Wild Song written by Candy Gourlay (David Fickling Books)
The Unraveller written by Frances Hardinge (Macmillan)
Leila and the Blue Fox written by Kiran Millwood Hargrave and illustrated by Tom de Freston (Orion)
The Lorikeet Tree written by Paul Jennings (Old Barn Books)
As Long as the Lemon Trees Grow written by Zoulfa Katouh (Bloomsbury)
The Battle of Cable Street written by Tanya Landman (Barrington Stoke)
Steady for This written by Nathanael Lessore (Hot Key)
You Think You Know Me written by Ayaan Mohamud (Usborne)
Children of the Stone City written by Beverley Naidoo (HarperCollins)
Different for Boys written by Patrick Ness and illustrated by Tea Bendix (Walker)
Oxygen Mask written by Jason Reynolds and illustrated by Jason Griffin (Faber)
The Haunting of Tyrese Walker written by JP Rose (Andersen)
Tyger written by SF Said and illustrated by Dave McKean (David Fickling Books)
I Must Betray You written by Ruta Sepetys (Hodder)
The Silver Chain written by Jion Sheibani (Hot Key)
Happy Head written by Josh Silver (Rock the Boat)
The Notorious Scarlett and Browne written by Jonathan Stroud (Walker)
All My Rage written by Sabaa Tahir (Atom)
Brown Girl Dreaming written by Jacqueline Woodson (Orion)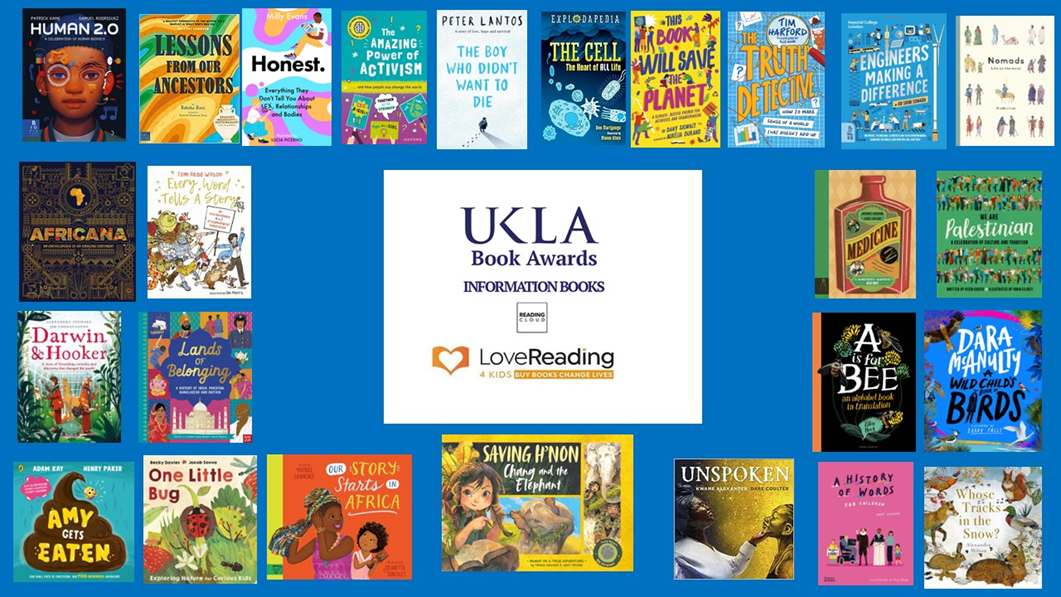 Longlist Information Books 3-14+
Unspoken written by Kwame Alexander and illustrated by Dare Coulter (Andersen)
Lands of Belonging: A History of India, Pakistan, Bangladesh and Britain written by Vikesh Amey Bhatt, and Donna Amey Bhatt and illustrated by Salini Perera (Nosy Crow)
Africana written by Kim Chakanetsa and illustrated by Mayowa Alabi (Wide Eyed Editions)
One Little Bug written by Becky Davies and illustrated by Jacob Souva (Little Tiger)
Lessons From Our Ancestors written by Raksha Dave and illustrated by Kimberlie Clinthorne-Wong (Magic Cat)
Very Short Introductions for Curious Young Minds: The Amazing Power of Activism written by Lily Dyu and illustrated by Ekaterina Gorelova and Ana Seixas (Oxford)
Honest written by Milly Evans and illustrated by Lucia Picerno (Hot Key)
The Truth Detective written by Tim Hartford and illustrated by Ollie Mann (Wren & Rook)
A is for Bee written and illustrated by Ellen Heck (Pushkin)
Medicine written by Briony Hudson and illustrated by Nick Taylor (Big Picture Press)
Human 2.0 written by Patrick Kane and illustrated by Sam Rodriguez (Big Picture Press)
We Are Palestinian written by Reem Kassis and illustrated by Noha Eilouti (Templar)
Amy Gets Eaten written by Adam Kay and illustrated by Henry Paker (Puffin)
Nomads: Life on the Move written and illustrated by Kinchoi Lam (Cicada)
The Boy Who Didn't Want to Die written by Peter Lantos (Scholastic)
Our Story Starts in Africa written by Patrice Lawrence and illustrated by Jeanetta Gonzales (Magic Cat)
Explodapedia: The Cell written by Ben Martynoga and illustrated by Moose Allain (David Fickling Books)
A Wild Child's Book of Birds written by Dara MacAnulty and illustrated by Barry Falls (Macmillan)
Whose Tracks in the Snow? Written and illustrated by Alexandra Milton (Boxer Books)
Saving Hn'on: Chang and the Elephant written by Trang Nguyen and illustrated by Jeet Zdung (Macmillan)
A History of Words for Children written by Mary Richards and illustrated by Rose Blake (Thames & Hudson)
This Book Will Save The Planet written by Dany Sigwalt and illustrated by Aurélia Durand (Frances Lincoln)
Engineers Making a Difference written by Shini Somara and illustrated by Manual Šumberac and Adam Allsuch Boardman (What On Earth Books)
Darwin & Hooker written by Alexander Stewart and illustrated by Joe Todd-Stanton (Bloomsbury)
Every Word Tells a Story written by Tom Read Wilson and illustrated by Ian Morris (Words & Pictures)
@The_UKLA  #UKLA24   #teachersbookawards