Needle wins Little Rebels Award 2023
Posted on Wednesday, July 19, 2023
Category: Book Awards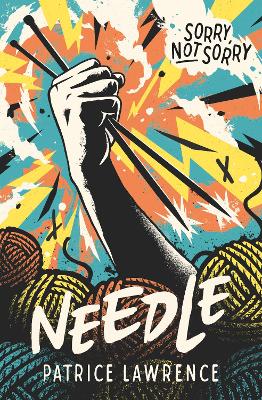 Needle by Patrice Lawrence, published by Barrington Stoke, has won the prize for the 2023 Little Rebels Award for Radical Children's Fiction.
The winner announcement was made at the Little Rebels Award Ceremony. It followed a panel discussion on creating political fiction and distilling 'big ideas' for children, chaired by Jake Hope and attended by many of this year's shortlistees, including Annemarie Anang, Lisette Auton, Az Dassu, Elys Dolan, Natelle Quek, Varsha Shah and Patrice Lawrence.
Needle tells the story of Charlene Yewless, a young, looked after, teenager who gets caught up in the criminal justice system through a single, grief-driven, act. Charlene's journey spotlights a range of urgent social justice issues including the treatment of young people by the UK's welfare and legal institutions and the 'adultification' of Black girls. The format is a short form novella published by indie publisher, Barrington Stoke, specialists in dyslexia-friendly fiction.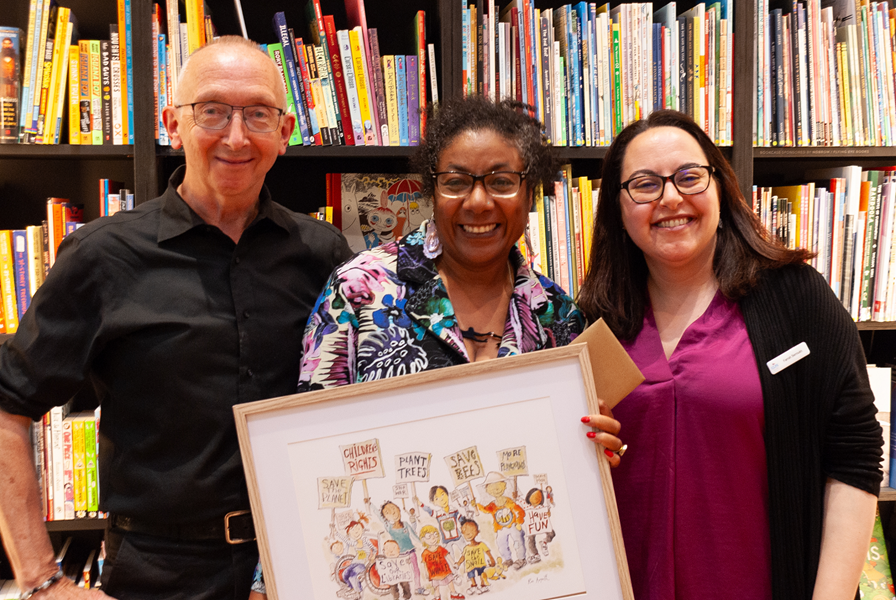 Winner Patrice Lawrence (centre) is awarded the Little Rebels Award by judges Jim MacSweeney and Farrah Serroukh
Little Rebels Award judge Jake Hope described Needle as "A masterpiece of control". He added, "The prose feels very tactile and sensory. And it's very timely in terms of ageing up and Child Q". Judge Farrah Serroukh said that Needle offers "a really important representation of a child in care and the complex challenges of being part of the British care system". She went on to praise Patrice Lawrence's "exceptional skill in conveying the vulnerability of the main character and nuances of her character and the wider cast, resulting in a heart breaking insight into the ways in which children in care are often so poorly let down".
Patrice Lawrence was presented with the award by Little Rebels Judge, Farrah Serroukh. In addition to the £2k prize money, the winner also received £250 through the new, annual, Gill Lewis Award, a sum which was matched this year by the 2022 Little Rebels Award Winner, Sarah Hagger-Holt. The £500 additional money will be donated by Lawrence to a charity of her choice (which is also in keeping with the ethos of the award.)
This is the 11th year of the Little Rebels Award. The award celebrates radical fiction for children aged 0-12. Given on behalf of the Alliance of Radical Booksellers, the award is administered by radical children's online bookseller, Letterbox Library and radical bookshop, Housmans. It recognises children's books which explore political ideas, challenge the status quo, or promote social justice, social equality and a more peaceful and fairer world.  In 2022 the award was won by Sarah Hagger-Holt for Proud of Me (Usborne).
The 2023 Little Rebels Award Judges were: Gay's the Word bookshop manager, Jim MacSweeney; author-illustrator (and former award shortlistee), Emily Haworth-Booth; reading development and children's book consultant, Jake Hope; Research and Development Director at the Centre for Literature in Primary Education (CLPE), Farrah Serroukh.
The Little Rebels 2023 Shortlist in full:
You Need To Chill! by Juno Dawson, illus by Laura Hughes (Farshore): A picture book challenging assumptions and anxiety around gender identity or, as it says on the back cover, a story about "love, identity and allyship".
I Am Nefertiti by Annemarie Anang, illus by Natelle Quek (Five Quills): Nefertiti is proud of her name so when her new teacher shrinks it to 'Nef', she feels herself shrinking too. A clever treatment of a 'casual' aggression which will resonate with so many people of colour.
Ajay & The Mumbai Sun by Varsha Shah (Chicken House): A group of children living in the Mumbai railways come together to fight the excesses of corporate capitalism - child labour, corruption, Western hypocrisy, social inequality - and all through the power of the pen!
Mayor Bunny's Chocolate Town by Elys Dolan (Oxford University Press): Mr Bunny is back (see the Little Rebels Award shortlist 2018). This time, his ambitions are set on becoming mayor of Coop Town through a strategic campaign of fake news, empty policies, scare mongering and rubbishing the opposition.
The Secret Of Haven Point by Lisette Auton, illus by Valentina Toro (Puffin Books PRH): A cast of disabled characters are full agents in an adventure shot through with magic. Challenges assumptions about disabled people and navigates big ideas such as separatism and a social model of disability.
Fight Back by A.M. Dassu (Scholastic): The 2021 winner, AM Dassu's new book is a realist novel in which political activism is core. Witness Aaliyah and her friends take on Islamaphobia, racism and free expression through sit-in protests and public speaking.
Needle by Patrice Lawrence (Barrington Stoke): A rich range of pressing social justice issues includes the treatment of young people by our welfare and criminal justice institutions and the 'adultification' of Black girls. All contained in a short form, 'reluctant reader', novella.
Free downloadable reading guides for each of the shortlisted titles are available through the Little Rebels Award website, enabling educators and carers to discuss and plan activities around the social justice topics raised in the shortlist.