Pupil Library Assistant of the Year 2023 announced
Posted on Friday, June 30, 2023
Category: News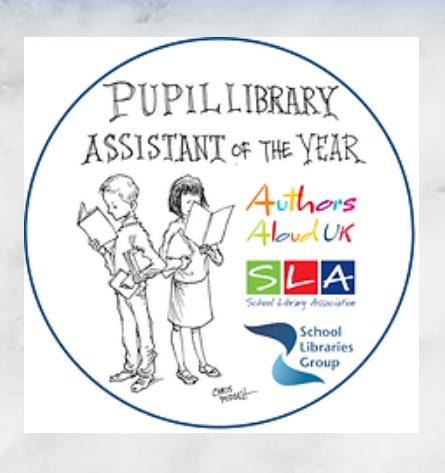 Megan Urmston from Abbeyfield School in Chippenham has been named Pupil Library Assistant of the Year (PLAA) 2023, with seven shortlisted students from across the UK honoured at a special ceremony for the National Pupil Library Assistant Award in London on Friday 30th June.
Megan was selected from eight finalists at secondary schools across the UK, including a special school for children with autism, a science college and a girls' school in London.
Megan is not only passionate about her own school library but school libraries as a whole, having written a letter to her local MP regarding the Great School Libraries campaign. In the letter she stated that a good school library "enables highly skilled library staff to support student learning, attainment, information literacy, wellbeing and be just as key to the development of the student body as curriculum teaching staff and pastoral leaders".
An Abbeyfield School student also won the award in 2020; Aaron Prior, then a Year 10 student at Abbeyfield, won alongside Sam Steele-Jessop, then a Year 13 student at University Technical College Norwich.
Barbara Band, chair of the PLAA Judging Panel, said: "Megan's nomination showed a love of reading together with an array of tasks carried out to support and promote her school library.  It was clear that not only had she had a significant impact on the library but that working as a Pupil Library Assistant, had also enabled her to develop valuable life skills, too."
Ten Authors Aloud UK authors were amongst the guests at the event including Steve Cole, best-known for his Young Bond, Astrosaurs series and his collaboration with Astronaut Tim Peake. He said, "I know from author visits that good school libraries are vital for pupil development, and this award recognises and celebrates their transformative power. The best pupil library assistants don't only become great assets to staff; by taking on library tasks and mentoring others they grow in confidence, ability and motivation that helps them progress strongly to adulthood."
The eight pupils were nominated by their school librarians for their outstanding work in the school library. They had to demonstrate their quality across five different areas, including how they are a role model for other students.
The eight pupil finalists included:
• Jai Castle - Kings Langley Secondary School in Hertfordshire
• Tom Devine - St Hilda's CE High School in Liverpool
• Chloe Everitt - Hounsdown School in Southampton
• Jacob Fellows - Norton Canes School in Cannock
• Toby Hutchinson - John Fernley College in Leicestershire
• Talia Marcus - Inscape House School in Stockport
• Zeinab Sabri - La Retraite Roman Catholic Girl's School in London
• Megan Urmston - Abbeyfield School in Chippenham
Open to pupils who assist in secondary school libraries across the UK, the award recognises the impact of their work at their school and equally the value of the experience to the student's lives. Entries were judged by a panel from the children's book world and school library community.
Nominations for the 2024 award will open in the Autumn term and for the first time, there will be a category for Primary-aged pupil library assistants.