Sign up for the Summer Reading Challenge 2022
Posted on Wednesday, June 1, 2022
Category: News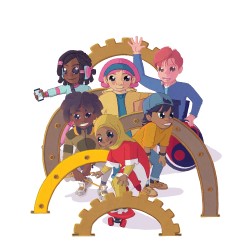 This year's Summer Reading Challenge is Gadgeteers, supporting science and encouraging children to discover amazing science and innovation in the world around them!
The Summer Reading Challenge will launch on 25th June in Scotland and 9th July in England and Wales, encouraging children aged from 4 to 11 to continue reading throughout the summer holidays. The aim of the Challenge is for children taking part to read up to six books, collecting special stickers and rewards along the way.
Children will need to be a member of the library to sign up for the challenge but joining the library does not take long and is free. All reading counts including audiobooks, eBooks and eComics!
The Reading Agency, which runs the Summer Reading Challenge, has teamed up with the Science Museum Group for a special science-themed Challenge this year, Gadgeteers, to inspire children to look at science in all its forms, from fashion and sport to music and food.  Gadgeteers will feature amazing books, awesome rewards, and plenty of ideas for experiments and activities to discover the science in the world around us.  This year's illustrator is Julian Beresford.
Younger children can join in The Mini Challenge, aimed at children three years and younger. Children will receive a sticker collection card when they register and a sticker for every book read. If they read six books within the Mini Challenge, they'll receive a special gold medal sticker and a certificate.
Find out more about The Summer Reading Challenge
Here are the recommended books to read for The Summer Reading Challenge: Gadgeteers