Terri McCargar Profile
Posted on Wednesday, March 3, 2021
Category: Meet A School Librarian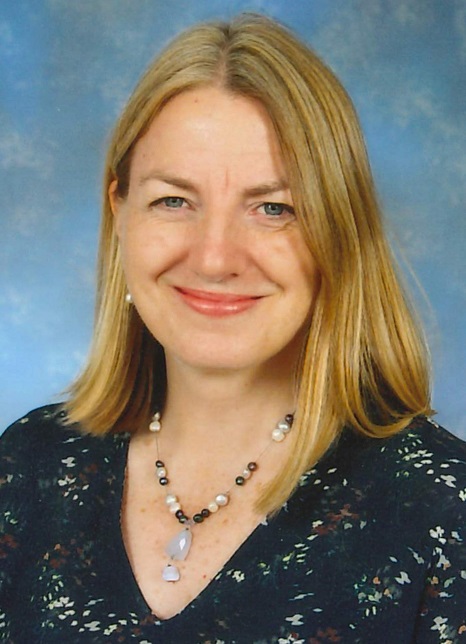 The library at Latymer Upper is a large, open-plan space on the ground floor of the school's Science building. It features over 13,000 books and print resources in addition to a digital collection of eBooks, audiobooks and 40 online subscription databases.
Terri McCargar is the Head Librarian at Latymer Upper School, a co-educational, independent day school with over 1300 students, in West London.
The library at Latymer Upper is a large, open-plan space on the ground floor of the school's Science building. It features over 13,000 books and print resources in addition to a digital collection of eBooks, audiobooks and 40 online subscription databases.

The library is open from 7.30 am to 6 pm during term time and is staffed by two full-time professionally qualified librarians, a part-time library assistant and a full-time graduate trainee library assistant. There are also pupil library helpers, whose primary role is to bring more student voice to the Library's collection and service, particularly with peer recommendation and help with planning Library displays and events.

You can get a further flavour of Terri's work by following @Latymer_library on Twitter.

We asked Terri to tell us more about her work as a school librarian:



What was your route into becoming a school librarian?

I actually played at being a librarian as a child, pasting card pockets into some of my books and "stamping" them! Later, I spent my college summers working for my school district, processing new books for school libraries. Despite these early signs, I never set out to become a librarian. After my undergraduate degree in English, I worked for 10 years in educational and children's publishing in London, as a book editor. After qualifying, I worked as a children's librarian in public libraries (Richmond-upon-Thames) for nearly three years before I finally got a dream job (Assistant Librarian at Westminster School, where I had a fantastic mentor in Selma Thomas) and knew I'd found my true career.


Where are you now?

I'm the Librarian at Latymer Upper School - an independent, co-educational, academically selective day school in Hammersmith, West London. There are 1260 pupils in Years 7-13 (including around 400 in Sixth Form).

It's a really buzzy school, where it's cool to be smart - and arty or sporty or whatever else. The school is very proud of its bursaries programme, which aims to offer one in four pupils a means-tested bursary by 2024. In 2018, Latymer Upper won three TES Independent School Awards, including Independent School of the Year.

I've been here for 10 years now and feel very at home. I worked with senior colleagues when I arrived to expand the team, creating the new posts of Assistant Librarian and later, a graduate trainee scheme. Our team now comprises two full-time professional librarians, a part-time library assistant and a full-time graduate trainee.


How would you describe your library and your relationship with the students?

Our library is large and open and at the heart of the school, physically, and I hope for many, psychologically too. In many ways it is a microcosm of the whole school. Besides individuals coming for private study or reading, we work with other departments to display students' work and invite clubs or societies to mount displays. Although our current fixed layout makes hosting classes or events challenging, we have done both, including quizzes and special Harry Potter, World Book Day and Battle of the Books events...

The Library is regularly used as a collection point for food banks, Care4Calais donations, and children's book drives. Many of our activities (our book clubs, Kids' Lit Quiz) also promote friendship, empathy and tolerance. Generally, we try to keep the Library friendly but calm, a respite from the hurly-burly of school life outside. It is the only place at school where any student (or member of staff) can come to find peace and quiet, and I know how important that is to so many of our students.

I have always been interested in the wider life of the school. Besides attending plays, art exhibitions and talks, I enjoy taking part in whole-school activities - I've done fun runs and dance-a-thons, performed as a tree in the Staff Panto, and accompanied a five-day Year 7 residential trip to Belgium during Activities Week. I think this has definitely helped raise my profile; students see me as part of the school, not just someone they associate with the Library building.


And how would you describe your approach to your work - in one sentence?

I am quite driven; I'm always looking to make the library more user-friendly and to foster independent discovery, whether it's genre-fying our fiction catalogue or developing and promoting an online library.


What are your school's priorities for the library?

Supporting teaching and learning, both of the taught curriculum but also preparing students for a flexible approach to their future, so that they are ready for university but also encouraged to foster their own curiosity and lifelong learning. The Library has such an important role to play here in stimulating connections beyond the curriculum and helping students navigate the collection to become truly independent learners.


How do you support teachers and teaching across the curriculum?

First by building a rich collection in print and online that supports the curriculum and students' wider reading and interests, not just in Fiction.

I teach three Library lessons to the incoming Year 7 each autumn. In terms of information literacy skills, I have collaborated with teachers in several departments (EPQ, Art History, Computing, Geography, History, World Perspectives, Global Goals, Physics) to develop specific lessons for different year groups, usually on finding and evaluating sources or referencing and academic honesty. I've worked closely with the Head of History of Art to teach research skills to Year 12 students and arranged group visits to the National Art Library to support their Personal Investigations.

I have run training sessions for teachers; for example, demonstrating relevant subscription resources for middle school pupils to Global Goals teachers, for them to demonstrate in turn to classes. I have also arranged for external speakers and trainers to address staff, e.g. on avoiding plagiarism, or training in online subscriptions.


And what are the biggest (non-COVID) challenges for you?

Reaching all the students is a challenge; we get a lot of footfall but I hope as part of future curriculum planning to see a more structured approach to teaching information literacy skills. That could be through timetabled "library" lessons with the younger years (which we don't have currently) or simply getting more classes into the Library (historically impossible because of the sheer numbers of individuals in for private study). There is a lot of goodwill and mutual respect among colleagues; it's exciting to be part of that ongoing conversation.


What are your budgeting priorities and how creative do you need to be with your funds?

When I arrived, I was dismayed to find the budget was less than half that of the school I'd just come from, and it was clear from the shelves that the collection had been chronically underfunded. The library building was brand new, however, and senior leaders had ambitious plans for it, so I made a case for what was needed to get the collection up to scratch over the next five years. (It certainly helped that I could talk with the authority of my experience: besides the knowledge of another school's budget, I'd been responsible for the children's book budget for 12 branch libraries in Richmond.)

My line manager was receptive, and luckily I have had enough budget since to prioritise the physical collection and the expansion of our online resources without having to get too creative. There are some online resources that are so subject-specific that I may ask the relevant Heads of Department to cover or share the cost, even if we administer the subscription centrally, and that helps ensure Library funds for other resources or author events.

Have you continued use of the library during the pandemic? How? Is there anything you've tried that you will continue post COVID?

Oh, yes! During lockdowns 1 and 3, I worked from home to provide an online service remotely. Like many school librarians, I found myself busier than ever in the first lockdown. Knowing our contribution is not always visible, I wrote a blog post for the Great School Libraries campaign: "Librarians Supporting Schools in Lockdown"

Though I continued to order and catalogue new stock throughout the year, I focused on sourcing eBooks and other online resources during the first lockdown. I also set up a new Google site for the Library, creating link pages for all our online resources. We had some eBooks, but I expanded our existing online library, with new subscriptions to Very Short Introductions and to ePlatform's collection of (mostly fiction) eBooks and audiobooks. To encourage reading for pleasure, I updated our recommended reading lists for different year groups on our catalogue. A local, independent bookseller, with whom we work on author events, made a "Latymer" page on his website with our updated reading lists too - to make it easy for parents to find and order books online, including the Carnegie shortlist. We ran a small, virtual Carnegie Shadowers' Book Club, using Google Meet.

Shocked by the killing of George Floyd in my home city, I reflected on how to promote anti-racism and drew together a lot of the brilliant book lists being created and shared by other school librarians to first audit and improve the diversity and representation in our own library collection. The Anti-racism and Black Voices wakelets I shared with our school community became part of a larger effort at school to mark Black History Month and to acknowledge the BLM movement last year.

In the autumn term, we returned to site and resumed lending with a Click and Deliver service. Sixth Form study with reduced numbers was permitted at set tables, but not browsing. By the October half-term, we had moved to Click and Collect, with all students allowed to come to the Library's front desk to request or collect books individually. We introduced a rota to allow all year groups study access to the library one lunchtime per week. We launched our annual Book Challenge for Years 7-8 and 9-10, based on the Trinity Schools Book Award (TSBA) Shortlist and set up two corresponding weekly book clubs, which met virtually after school, throughout the autumn and spring terms.

We began to experiment with virtual author visits for our TSBA book clubs. Although these were on a smaller scale of 10-20 students, there were advantages: they felt more intimate, with students able to speak directly and meaningfully to the author. Location was no longer a barrier: we met authors virtually from Toronto, Vancouver, Rotterdam and around the UK, and in one Meet, we also had students joining from India and Brazil after being stranded with their families by travel disruption. Authors' fees were reduced too, which meant we could invite more authors (seven so far). All the Meets were recorded. I also asked some authors to record a 10-15-minute talk aimed at a whole year group to be shared as an Assembly. We now have a library of these virtual author visits, which students can access later or revisit.

I also purchased and promoted school tickets to some online literacy conferences and literary festivals, which gave our whole school community access to a range of wonderful author talks to access from home, live or recordings. I anticipate keeping many of the new ideas we adopted, especially virtual author visits, although I can't wait to put in-person author visits back into the mix!

The other change we made during the Autumn term was to reinvent the Library's huge windows, which face the Piazza, as our main display area. Since students couldn't come in to browse as usual, we wanted to bring the collection to them. There are examples, like this display for National Non-Fiction November, on the Library's Twitter posts (@Latymer_library). Our graduate trainee, an Arts graduate, got an opportunity to flex her creative muscles with these displays!

I also teamed up with other departments to promote various lockdown challenges to pupils, including the Drama department's wonderful "Kitchen Sink Dramas" challenge and a #Bookfit Challenge with the PE department for Children's Mental Health Week.


How has technology helped?

Our entire service this past year has relied upon technology! I was very fortunate; our school had prepared and equipped us well for remote working. Teachers and students all had school-issued devices and were used to Google Classroom and Drive. Our library catalogue (Oliver) is also hosted externally, and students had already been trained in how to access it for themselves.

When our new Assistant Librarian joined in May 2020, I trained her via Google Meet for months before she was able to visit the Library for the first time in July. As I cited in my lockdown blog post for Great School Libraries, I developed so many new tech skills during the first lockdown, including: creating a simple Google site; hosting and recording video meetings; making YouTube playlists of my Screencastify tutorials demonstrating how to use the catalogue or how to access our eBooks and audiobooks library; delivering a virtual library induction for new staff; setting up a Google Classroom for our virtual book clubs (Carnegie, TSBA); using Wakelet to collect and share content quickly and attractively with a range of audiences.


What next for your library, when schools are back to 'normal'?

We'd like to evaluate the impact of a new supervised, silent study room at school and conduct some UX (user experience) research to make the library layout more flexible and better able to support different uses, including class visits and events. In the meantime, I can't wait to get our Assistant Librarian into classrooms to deliver book talks and activities - she's a natural!



Can you share three simple things you have tried out that you'd recommend to other librarians?

Make the OPAC (the library catalogue) clear and accessible - a bit of an old-school tip, but I think it's so important that students feel empowered to find information for themselves. We have three dedicated search terminals in the Library in normal times. Even though these have been switched off this last year, students accustomed to using them were already familiar with our catalogue for remote learning.

2. Try virtual author visits! I recommend trying live visits with a small group first who have all read the book. Collate students' questions in advance so you can avoid duplication and structure the talk, then share back with the students so they can ask the questions themselves without hesitation when it's their turn.

3. Screencastify is a great tool for recording screencasts for online tutorials and training. Ours is set up to save recordings to our Google Drive but it's easy to publish to YouTube or export too.


What have been your biggest successes and innovations to date?

Using the Trinity Schools Book Award as the basis of our 7-Book Challenge for Years 7-8 and 9-10 has helped drive fiction borrowing and encouraged students to read more and to try books they might not have otherwise picked up. Students also engaged more with writing reviews and taking part in book club discussions, as they earned form points for doing so. Nine out of the top 10 most borrowed books in the Autumn term were TSBA books.

Running the club virtually throughout the year meant that we were able to carry on without too much disruption when lockdown returned, and to add eBook access where possible (although we found the majority of our students preferred to source their own print copy).

The TSBA Creative Response competition also encouraged students to reflect deeply about the books and gave them some time away from their screens to be creative; we've received alternative chapters, poetry, models, animations, cushions and collages, and hope to mount a display in the Library windows when we return to site.



What's the one thing you do that has the most impact, and how do you measure that?

Providing remote access to nearly 40 subscription resources online has had the biggest quantitative impact. Usage statistics for these resources skyrocketed during the first lockdown, unsurprisingly - a whopping two to ten times higher than in previous years.

In terms of qualitative measures, I get the most feedback - in person and via email - from students and teachers for the work we do with students researching Extended Projects or coursework in the Sixth Form: we show them how to source material from public and special libraries (we have a membership to the London Library and have built relationships with the National Art Library and Wellcome Library); we display exemplars of former students' projects in the Library and upload PDFs to the library catalogue; and I will demo how to use the Library catalogue and our online resources for their research (increasingly, via short video screencasts).

We've also received some lovely comments back from students, staff and parents about our efforts to encourage reading for pleasure. I keep those emails in a special folder for more trying days!!



How has being a member of the School Library Association (SLA) helped you?

The SLA's annual weekend course alone is worth the cost of annual membership! At least one of us attends every year, and we always learn so much and have fun discovering new authors and books.

I was extremely impressed by how quickly SLA managed to pivot to delivering a series of relevant and affordable online webinars too - our team is attending two this month (one on school libraries supporting well-being, the other on copyright).

I also value the book reviews published quarterly in The School Librarian, as well as articles about great initiatives - school librarians are typically so generous in sharing their ideas, wisdom and resources.


What are the three books you've read recently that you'd love to recommend?

Chinglish by Sue Cheung, After the War by Tom Palmer and The Fox Girl and the White Gazelle by Victoria Williamson
External Link