The Harry Potter Wizarding Almanac
Posted on Monday, March 6, 2023
Category: News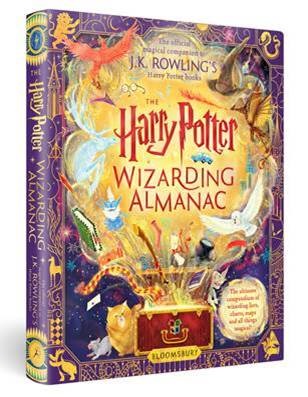 Look out for the first official companion to J.K. Rowling's Harry Potter books,  The Harry Potter Wizarding Almanac, described it as 'the ultimate compendium of wizarding lists, charts, maps and all things magical!' It will be published this autumn by Bloomsbury Children's Books.
Publishing in October 2023 in time for this year's Harry Potter Book Day on 12th October, The Harry Potter Wizarding Almanac will explore the wizarding world of Harry Potter and is aimed at young fans as they set out on their first journey to Hogwarts. There will also be secrets to discover in the gift book.
Publisher Bloomsbury says the almanac is 'rooted in J.K. Rowling's original writing', providing a visual compendium of charts, cross-sections and magical particulars, and bringing together enchanted objects, fabulous foodstuffs, curious plants and fantastic beasts from the wizarding world.  Across its seven chapters, readers can read about about much-loved characters, favourite moments, spells and magic in the world of Hogwarts, from the Sorting Hat to spell-casting.
Seven illustrators have contributed to the book, including Peter Goes, Louise Lockhart, Weitong Mai, Olia Muza, Pham Quang Phuc, Levi Pinfold and Tomislav Tomić.  Mandy Archer, Harry Potter editorial director, says The Harry Potter Wizarding Almanac "is a treasure trove of unforgettable story moments, deep dives into favourite locations and boisterously brilliant wizarding fun".