World Book Day £1 Books 2024
Posted on Wednesday, September 6, 2023
Category: News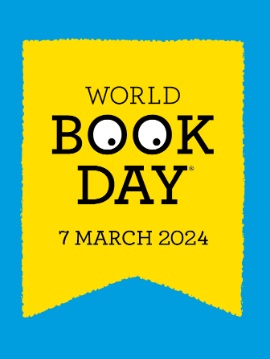 Find out what books children will be able to buy with their £1 book tokens for next year's World Book Day, which takes place on 7th March 2024!  With the range of books on offer including Elmer, Dinosaur Club, InvestiGators, Loki and Dread Wood, there will be plenty on offer for children and teenagers to choose as part of next year's World Book Day celebrations!
Schools and nurseries can register now to receive their £1 World Book Day packs, including tokens, posters and information about World Book Day 2024.  Settings that are already registered will still receive 2024 packs, but are advised to register if you are not sure.
Find out more about each of the authors and their books on the videos created for WBD on YouTube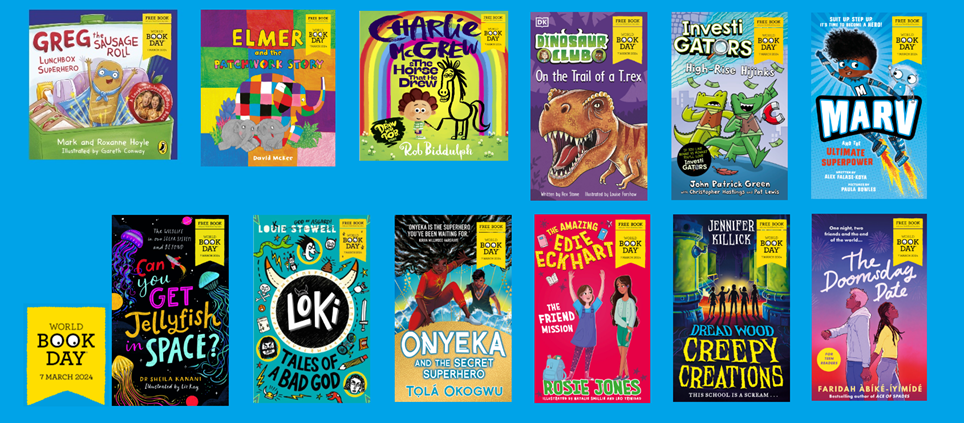 The full list of World Book Day £1/€1.50 books are:
Beginning Category
Greg the Sausage Roll: Lunchbox Superhero by Mark and Roxanne Hoyle (aka Ladbaby), illus Gareth Conway (Puffin)
Greg The Sausage Roll is chilling in the bakery when a little boy comes in with his family, looking for something special to put in his lunchbox to help calm his nerves. In the blink of an eye, Greg gets scooped up and before you can say 'Sausage Roll Call', he's off to school for a super exciting adventure!
Elmer and the Patchwork Story by David McKee (Andersen Press)
Do you know the story about the magic biscuit? Neither does Elmer! But the baby elephants want to hear it, so Elmer and his friends race to remember it before bedtime . . .
Charlie McGrew and the Horse That He Drew by Rob Biddulph (HarperCollins Children's Books).
Charlie McGrew is one creative kid, and when he decides he's going to draw a pet horse, he discovers he must also find ways to keep his new friend happy… This fabulous rhyming picture book has room to draw your own pictures, too.
Early Category
InvestiGators: High Rise Hijinks by John Patrick Green, with Christopher Hastings and Pat Lewis (Macmillan Children's Books)
Crack the case with Mango and Brash in InvestiGators: High-Rise Hijinks, a laugh-out-loud special World Book Day adventure with black-and-white illustrations! This comic book series by John Patrick Green is perfect for fans of Bunny vs Monkey.
Marv and the Ultimate Superpower by Alex Falase-Koya, illus Paula Bowles (Oxford University Press)
When Marvin puts on his superhero suit he becomes the unstoppable, invincible MARV! Marv can run at super speed, fly through the air, and freeze baddies in their tracks, but all these powers are nothing without kindness - the ultimate superpower! This World Book Day 2024, join Marv in five action-packed mini tales as he embarks on his latest adventures
Dinosaur Club: On the Trail of the T.rex by Rex Stone (Jane Clarke), illus Louise Forshaw (DK).
Jamie and Tess are members of Dinosaur Club - a network of kids around the world who share dinosaur knowledge and talk about all things prehistoric. One day, Jamie and Tess discover a secret cave and find themselves back in the time of the dinosaurs! It's amazing, but dangerous, too - they'll definitely need help from Dinosaur Club…
Fluent Category
The Amazing Edie Eckhart: The Friend Mission by Rosie Jones, illus Natalie Smillie (Hachette Children's Group)
Hi! I'm Edie Eckhart. I'm a little bit different. I have a disability called cerebral palsy, so I talk slowly and fall over a lot. It's never really bothered me because I've never known anything else. It's the start of Year 8 and there's a new girl in Edie's class, Mia, who has a hearing impairment. She seems shy and Edie knows how scary it can feel to join a new school. Maybe Edie can be the jam to Mia's jelly? It's time for… The Friend Mission!
Onyeka and the Secret Superhero by Tọlá Okogwu (Simon & Schuster)
12-year-old Onyeka is enrolled at the Academy of the Sun, a school for superheroes called Solari. When she's sent on a mission with her friends to investigate a series of freak weather incidents in a remote village, they aren't expecting to find a top secret Solari with extraordinary superpowers. But is this new Solari friend or foe? There's only one way for Onyeka to find out . . .Perfect for 8+ fans of Percy Jackson, Marvel and DC!
Loki: Tales of a Bad God by Louie Stowell (Walker)
After Norse god Loki played one too many tricks in Asgard, Odin banished him to live on Earth as an eleven-year-old school boy. With Thor, Heimdall and the giant Hyrrokkin pretending to be his family, Loki must record his deeds in a magical (slightly sarcastic) diary to prove he's learning how to become more virtuous. It's a bit of a work in progress. In this diary entry, Loki recounts three spectacular stories.
Can You Get Jellyfish in Space? by Dr Sheila Kanani, illus Liz Kay (Puffin).
You've probably heard of dogs in space. Maybe even chimpanzees. But jellyfish? Almost certainly not! Join Dr Sheila Kanani as she discovers a weird and wonderful cast of animals who have travelled into space, from Ham the chimpanzee to Félicette the cat, and the 60,000 jellyfish who have orbited the Earth (did you know you can also get jellyfish-shaped galaxies?). This fantastical journey into the wild and surprising realms of space weaves together astronomy, physics and biology, and is sure to inspire space-obsessed and animal-loving kids everywhere.
Independent Category
Creepy Creations by Jennifer Killick (Farshore)
Angelo and the rest of Club Loser must venture deep into the tunnels underneath Dread Wood High to rescue their favourite teacher, Mr Canton. But more hideous creations live in the Latchitts' old laboratories . . . and they're hungry! Can Club Loser stop these creatures from escaping into the world and make it out of the tunnels in one piece? Read it and see, if you dare! An epic, pulse-racing, nail-biting, sci-fi adventure, perfect for readers aged 9+.
The Doomsday Date by Faridah Àbíké-Íyímídé (Usborne)
On the day before the world is meant to end, Sanjeet dyes his hair pink… He's determined not to die without ever having really lived, so he's come up with the Doomsday List. Ten things he needs to do before the sky comes crashing down. Sola knows the world's not going anywhere. But, as Sanjeet's best friend, she's decided to help him out. As the seconds tick down to midnight, Sanjeet will need all his courage - and Sola's - to finish the list. Especially number ten. The one that scares him the most. One night, two friends, and a list that will change everything… The world-ending love story that will give you fireworks
Ireland Category
Inis Mara by Tristan Rosenstock, illus Mark Wickham (LeabhairCOMHAR)
The people of Inis Mara had a lovely life and everyone was happy. But when 'an Santóir' becomes the leader, everything goes downhill and he ruins the beautiful island with dirty air. There is a brave girl on the island who inspires everyone to take a stand and Éabha decides to do her best to stop 'an Santóir'. This is a modern adventure story about climate change, the value of working with others, and the importance of the truth.
The Curious Case of the Irish Yeti: Molly Malone and Bram Stoker by Alan Nolan, illus by Shane Cluskey (The O'Brien Press).
Details to come
The new Welsh-language £1 World Book Day book for the 2024 campaign will be announced in November 2023.
Link:  World Book Day