YLG Conference - Reading the Planet, 16-18 September 2022
Posted on Thursday, August 11, 2022
Category: Events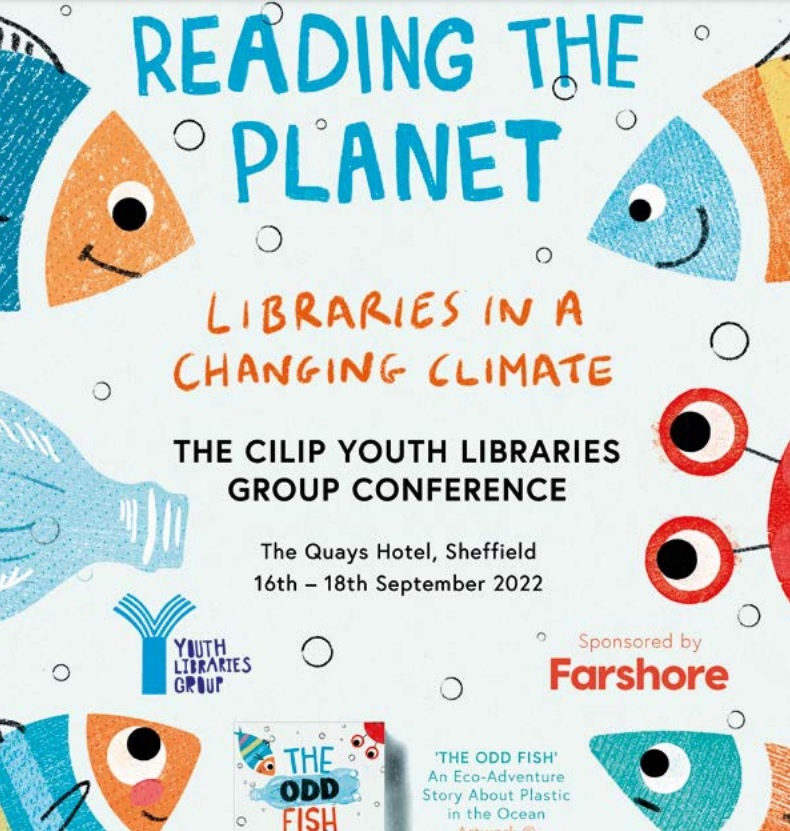 Explore the latest books, meet authors, publishers and other reading specialists, and take a deep dive into the latest developments for libraries, readers and the environment in Reading the Planet: Libraries in a Changing Climate, the focus of this year's YLG Conference in Sheffield, 16-18 September 2022. The virtual conference programme launches on 12 September 2022. 
ReadingZone has a free ticket to give to one person who would like to attend the conference - email your details to  [email protected] by Friday 26th August to be entered into a free draw for the ticket, which includes the conference sessions and virtual conference plus accommodation (excluding travel costs).
Following COP26, the conference theme could not be more topical. Young people's activism around the environment, climate change and more generally on societal change, gives hope for the future and this is a real growth area in publishing with some stunning books and passionate authors. It's so important that the next generation is well informed and able to distinguish between facts and fake news.
Libraries also find themselves in a challenging political climate and attendees will hear from library advocates as well as learning how publishing is planning for a sustainable future, and opportunities for all children to become readers for life. There will be sessions on world literature too, supporting readers in being exposed to a wide range of cultures and lives.

Sessions at the conference will include:
-   The Reading Debate: Empowering young people through stories with SF Said (DFK), Alison David (Consumer Insight Director, Farshore) and the new Children's Laureate, Joseph Coelho
-   Environmental Activism in Picture books with Lydia Monk (Andersen), Caryl Hart (Nosy Crow), Naomi & James Jones (Farshore), Dapo Adeola and Nathan Bryon (PRH)
-   No Longer Forgotten – Black History Activism with Alex Wheatle (Andersen), Patrice Lawrence (Nosy Crow), Sufiya Ahmed (Bloomsbury) and Joanna Brown (Farshore)
-   Informing the Activism with inspiring non-fiction Catherine Barr (Otter Barry Books), Loll Kirby (Magic Cat), Georgina Stevens (Little Tiger), David Gibson (Cicada), and Sarah Klymkiw (Farshore)
Tickets are £225 / £270 for members / non members, plus there are daily rates available (see programme) and there is a virtual conference available, from 12th September, for members who are unable to travel; sessions are viewable to ticket holders for 12 weeks following the event and cost £50 / £65 to members / non members.  This year's conference Exhibition also has a virtual roadshow of videos from each exhibitor and virtual goody bags, too, so no delegates miss out.
To book your in-person tickets, click here.
To book your virtual tickets, click here.
The venue for the conference is The Quays Hotel, Sheffield offering 4* accommodation in the historic Victoria Quays area of Sheffield. Located just 45 minutes' drive from East Midlands Airport, 15 minutes from the M1 and only 2 minutes' walk from the city centre and railway station. Free parking and free access to Leisure club and pool for delegates.
Accommodation is available at the conference hotel at a special rate for B&B of £85 pp (+£10 for double occupancy). To book please telephone the Events team 011425 25500 Option 3 and quote CILIPYLG. The hotel must be booked by Wednesday 31st August.