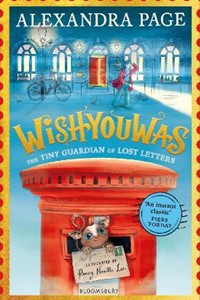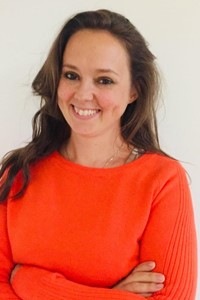 About Author
Wishyouwas is Alexandra Page's first children's book, and draws on her early childhood years being airmailed between England and Zimbabwe and making up stories to entertain her younger sisters and brother. After studying English Literature at University College London, she worked for several years in book production and then in the City, before venturing into writing. Alexandra loves being creative, travelling to far-flung places and swimming in anything bigger than a puddle. She lives in London with her husband and daughter.
Wishyouwas won the WriteMentor Children's Novel Award in 2019 and was also shortlisted for the Times/Chicken House Children's Fiction Competition.
Download a chapter from WishYouWas
Interview
Wishyouwas (Bloomsbury Children's Books)
November 2022
Wishyouwas (now available in paperback) is a big adventure story about some very small, secretive creatures, called Sorters, who have a special job; making sure that lost letters get to where they are meant to be. Author Alexandra Page tells us more about Sorters, rat catchers and letter-writing in this Q&A for ReadingZone, with illustrations by Penny Neville-Lee from the book.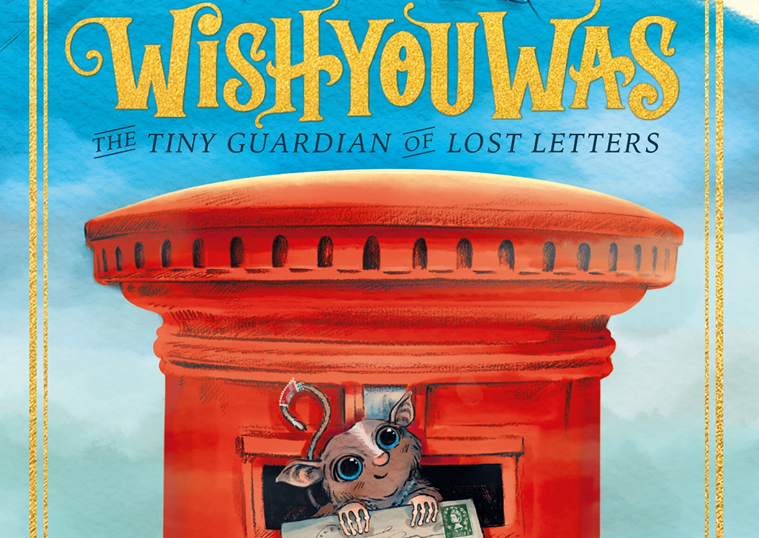 Q&A with Alexandra Page
1.     Wishyouwas is your first children's book - what other kinds of work have you done? 
After university I worked in the Production departments of two publishers, where all the organising that goes into printing the books and making other book products is done. Being surrounded by brilliant books all day was wonderful, but left me little energy to write my own, so I ventured into technology and still work in Cybersecurity, helping my company fend off real-life villains!

2.     Can you tell us a little about Wishyouwas, and its title? 
Wishyouwas is a small, springy, ungrammatical creature who gathers lost letters. He and his kind call themselves Sorters and live in an abandoned tunnel of the Post Office Railway. Everything they have is borrowed from the Royal Mail - even their names! Humans mostly mistake them for rats and it takes the courage and belief of a girl called Penny Black to help save them from the clutches of Royal Mail rat catcher Stanley Scrawl.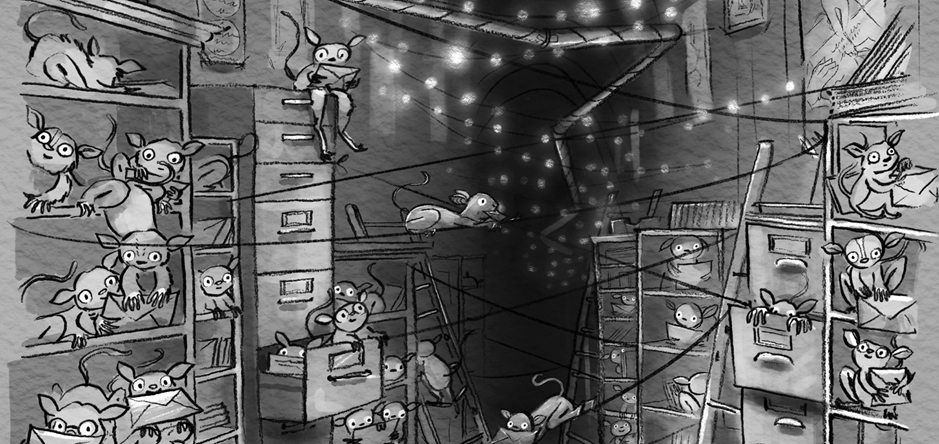 3.     What inspired the story?
 Letter writing has been very important in my life. When I was little my mum moved to Zimbabwe while I lived in England. Sending airmail letters was our only reliable form of communication as phone calls were still too expensive back then. Twice a year I'd be 'posted' to Africa and back again to visit.
Years later, during my first City job, I walked past the building where the first 'Penny Post' was founded and began imagining a story about a girl getting lost in the post. I also remembered once visiting the Post Office railway when I was seven. Moments later Wishyouwas's name popped into my head and by the time I returned to my desk, I had the beginnings of the story.

4.     Do you have a favourite moment in the book that you can share with us? 
It has to be when Penny and Wishyouwas encounter Thiswayup, an ancient biscuit-obsessed Solver who never lets a problem stand in his way. He was a lot of fun to write, but is also a character with secrets that unfold as the story goes on.

5.     What is your stand out sentence from the book, and why? 
When Wishyouwas says: "'I isn't stealing it. I never stole nothing!' he said, stamping one long-toed paw." His mini tantrum always makes me smile and it's a testing moment for his friendship with Penny.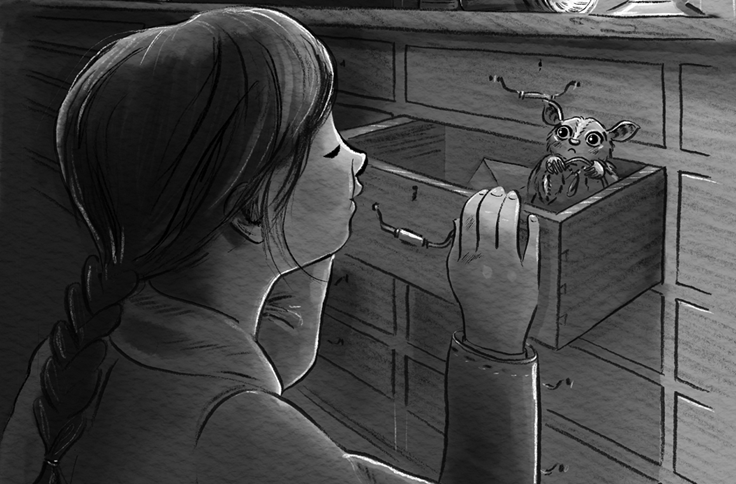 6.     There are some lovely plays on postal words, for example the names of the Sorters. What did you most enjoy creating as a 'by product' of the postal service?
I really enjoyed making things from rubbish as a kid and so imagining how the Sorters might re-use old Royal Mail objects and furniture was a huge amount of fun.

7.     Did you need to do any research for Wishyouwas, for example into the 'lost' tunnels under London? 
Heaps! Long before the Postal Museum and Mail Rail ride opened I scoured their archive and visited the Royal Mail depot in Debden where lots of the old vehicles, postboxes and other paraphernalia are kept. It's a treasure trove of history and stories. I've been on two tunnel walks to experience exactly how it might feel when Penny and Wishyouwas are exploring the underground railway. Lots of online research about the post here and in other countries has helped, too.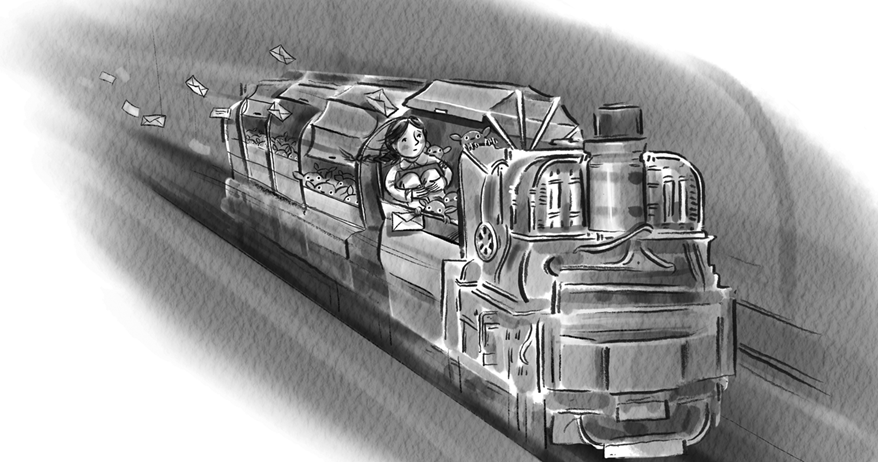 8.     Do you regret that we no longer write and post letters?
I think faster and cheaper forms of communication help us stay safe and connected. I wish email and video calls had been around when I was little. But I think there's something still very special about letter-writing. I've kept every single handwritten letter I've ever received and love to re-read them and hear the voices of the people who are special to me. I write letters whenever I can, often with my daughter who loves adding stickers and wax seals. It feels slightly magical dropping them into a postbox.

9.     The story takes place just before Christmas. What for you are the best things about Christmas? 
Togetherness is the most special feeling about Christmas, for me. Everything goes on pause for a while and being with loved ones makes you feel all warm and glowing inside. That's why Penny Black misses her mum so much at the beginning of the story and how finding the Sorters gives her what she misses most at this time of year - a family to be surrounded by.

10.  Who, outside of your family, would you like to get a Christmas card from this year? 
I'm going to aim high and say The Queen! She must have had to sign so many Christmas cards in her long life. I'd love to be on her list.

11.  Where and when did you write Wishyouwas?  Will we be hearing more about Wishyouwas? 
I wrote most of Wishyouwas on a small island in Indonesia while I was travelling with my husband. I'd been lucky enough to spot a tarsier (a creature upon which the Sorters are based) in the jungle and it inspired me to finish the rest of the story. It might sound strange writing a story about smoggy, 1950s London whilst lying in a hammock on the far side of the world. Perhaps it was because I missed home! I'm currently finishing the sequel, which has many surprises in store for Wishyouwas and the Sorters.

12.  Wishyouwas is packed with adventure - what's the biggest adventure you've ever had? 
During my travels I had so many extraordinary adventures, from trekking in the Himalayas to diving with sharks. One of the most memorable was visiting the Karni Mata 'Rat Temple' in India. Seeing thousands of rats scurrying around my feet, drinking milk from dishes and feeling absolutely at home with humans made me appreciate these clever creatures in whole new ways.

13.  What do you enjoy doing when you're not at your desk? 
Swimming! Outdoors or indoors, I love to dive under the water and listen to the quiet hum beneath the surface. I also enjoy travelling and spending time with my friends, husband and daughter.
Author's Titles