Wishyouwas: The tiny guardian of lost letters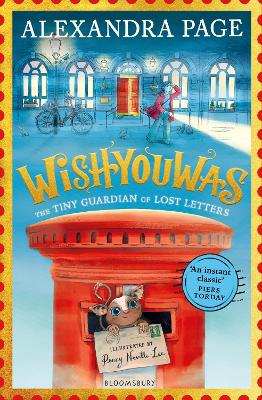 By Author / Illustrator
Alexandra Page, illus Penny Neville-Lee
Genre
Adventure
Age range(s)
7+
Publisher
Bloomsbury Publishing PLC
ISBN
9781526641229
Format
Paperback / softback
Published
29-09-2022
Synopsis
Classic-feeling storytelling with bags of charm. Fans of thrilling animal adventure and enchanting underground worlds will fall in love with Wishyouwas.
It's 1952 in smog-shrouded London. Christmas might be fast approaching, but with her mum away and Uncle Frank busy running the post office, Penny Black is lonelier than ever. All that changes when Penny discovers a small, fluffy, funny, springy and - most importantly - talking creature in the post office one night, trying to make off with a letter. But Wishyouwas is no thief. He's a Sorter, and he soon introduces Penny to a fascinating secret world hidden in the tunnels underneath the city's streets. Self-appointed guardians of lost mail, the Sorters have dedicated their lives to rescuing letters that have gone astray and making sure they get delivered to their rightful owners.
Penny is determined to protect the Sorters, but how long will she be able to keep them safe with Stanley Scrawl, the sinister Royal Mail Rat Catcher, on the prowl? Can Penny save the Sorters and deliver a joyful Christmas?
Find out more from author Alexandra Page
Reviews
Megan
Wishyouwas is a heartwarming, feel-good story set to be a future classic. This is a classic good versus evil story with a fantastic set of characters.
Set at Christmas in 1952, the story starts with the protagonist, Penny, believing she spotted a rat. However, rats most certainly do not talk, let alone engage in conversation. Penny soon discovers that this small, fluffy creature is a Sorter called Wishyouwas. Penny is shown the home and secrets of the Sorters by her new friend Wishyouwas.
Wishyouwas is a beautifully written story with a great pace. The characters are imaginative with fun, quirky names (all named after things from letters/parcels, for example, 'Withlove' and 'Fragile'). This book would make a good read-aloud for ages 7+. I thoroughly enjoyed this book and could not put it down! With themes of friendship, kindness, good versus evil and family.
288 pages / Reviewed by Megan Webb, teacher
Suggested Reading Age 7+
Other titles