Angela Woolfe and Duncan Beedie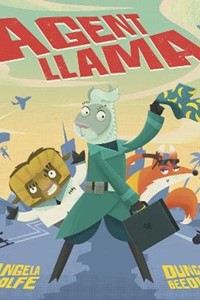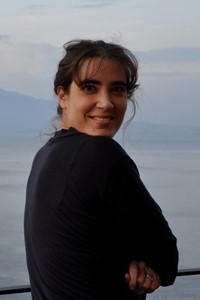 About Author
Angela Woolfe's latest picture book Agent Llama brings us a super cool Bond-style spy. Angela decided to become an author aged 4 after writing a mind-blowing four-line poem called 'The Postman Is Very Good'. She also writes books for older children and has occasionally - she's still not quite sure why - written for grown-ups too. She lives in London with one husband and one daughter.
Duncan Beedie has been drawing and doodling since childhood, sprawled out on his parent's living room carpet with felt tip in fist. He now sits upright to draw from his studio in Bristol, where he lives with his wife, daughter and demanding springer spaniel.
Interview
Agent Llama (Little Tiger Press)
July 2021
Agent Llama is the most stylish of spies, a super sleuth with panache and daring-do, who is on a mission to rescue - a pair of underpants, with bananas on! This brilliant picture book come comic for younger readers is packed with action and plenty to giggle about. We asked author Angela Woolfe and illustrator Duncan Beedie to tell us more!
Read a spread from Agent Llama!
Q&A with Angela Woolfe
1. Agent Llama - Charlie Palmer - is a great Bond-style spy; was she inspired by the films?
She absolutely was! I think everyone enjoys at least one or two aspects of James Bond films, whether it's the gadgets, the ludicrous escapes or the suave and stylish agent himself. There's such a massive amount of fun to be had within the 'rules' of James Bond!


2. Why did you decide to make your spy a Llama?
I don't actually remember deciding that she was going to be a llama… she just sort of popped into my head, fully-formed!
3. How long did you take to write the text, and why did you want it to rhyme?
It didn't take too long to write the original text - maybe only a day or two, because I always find, with picture book texts, that they either work pretty immediately or they don't work at all. Then it was a longer process of honing the text, making the action compact enough and well-paced, and trimming where necessary.
I wanted it to rhyme because I'm obsessed with rhyme! Anything I CAN put into rhyme, I do (and quite often I annoy people by rhyming stuff that really shouldn't be put into rhyme at all…)
3. How did you go about creating the world for Agent Llama?
So much of this was the work of the brilliant illustrator, Duncan Beedie. I could 'see' the world in my head as I was writing it, but it's nothing short of a miracle that he managed to conjure it all up so like I imagined it! I wanted to depict a kind of colourful, crazy world that was 80 per cent Bond, 10 per cent Indiana Jones and the Last Crusade, and 10 per cent Looney Tunes, and Duncan has - incredibly - got this exact mix onto paper.
4. As a spy, Agent Llama has some great gadgets - which one would you like to have in your backpack?
I'm torn between the sports car in a ping pong ball and the bag of crisps (with jet propeller)… Can I have both?
Editor: OK then, here you go -

5. How did you decide on Agent Llama's mission, to rescue - underpants?
Well, underpants are invariably amusing to me… and I really get a kick out of the idea that there's this incredibly suave, tough, talented superspy who has a very serious and important mission to rescue some pants.
6. What are your top tips for creating a great spy character?
Observe the 'rules' of whatever spy world is your favourite… and then go berserk with them.
7. What do you think of Duncan Beedie's illustrations - any favourites?
I'm blown away every time I look at the illustrations! He's absolutely the 'Q' of illustrators - a zany genius. I have so many favourites, but probably my top three are the plane heading for the mountain, the swimming pool opening up as Charlie falls in, and the expression on Bogdan's face when he says, 'Smokey bacon - even better!'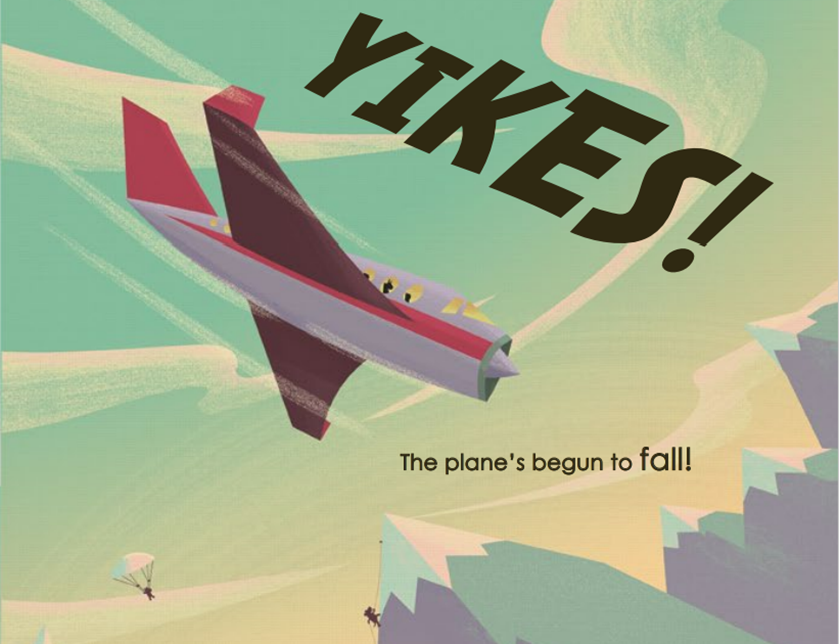 8. Do you have more adventures planned for Agent Llama? 
I do indeed have more adventures in the pipeline for Charlie Palmer, Agent Llama, but I hope you'll understand if I say they're Top Secret, for Llama's eyes only… I'm also working on some young fiction and - always - on some other rhyming picture books…
Q&A with Duncan Beedie
1. Why did you want to illustrate Agent Llama?
When I first got wind of the story for 'Agent Llama' I was instantly excited. I had a very productive meeting with the art director Rebecca Essilifie and we both waxed lyrical about our favourite films and how the spy/action genre would influence the look and feel of this book. I had also just worked with Little Tiger on a previous title and was thrilled to be working with them again so soon.
2. How did you decide on the retro-style look of the illustrations? Is this something you've had much practice in?
The overall style of this book was a relatively new approach for me. I was heavily influenced by the 60s/70s Bond films in my initial research, particularly the artwork of Frank McCarthy. His posters just erupt with a ludicrous sense of fun and adventure, so they were the perfect starting point.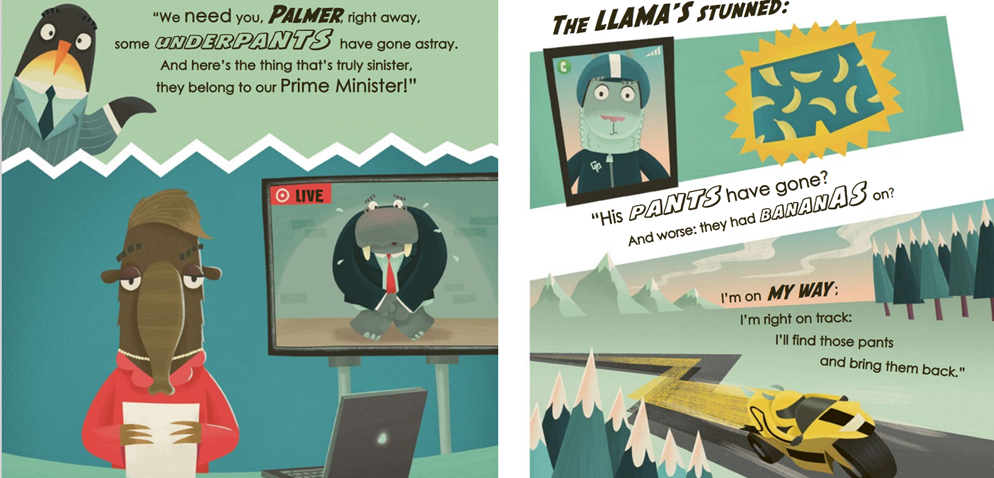 3. Did it take a lot of doodling to decide on the look of your characters? Any favourites?
Charlie Palmer went through a couple of different looks in the early stages, mostly regarding her build and shape. Ultimately it was all about her super-cool quiff, and for that I took inspiration from Tilda Swinton - she's the human embodiment of the suave, confident Agent Llama.
4. How did you go about creating the setting?
As we were emulating the classic spy genre, we wanted to include a number of exotic settings. The dramatic changes from Alpine ski-ing to rooftop pools, and underground lairs really helped the story zip along too. So once again, the world of James Bond became a heavy influence.
5. How did you approach the comic-style layouts? Have you worked on comics before?
I was an avid comics reader as a child/teenager, far more so than books. But, as I always say: 'reading is reading.' If it weren't for The Beano and 2000 AD then my literacy would have nose-dived when I was younger.
I used to draw my own comic strips as a child, but in terms of picture book illustration, this was new territory. Rebecca and I worked by the mantra that Agent Llama had to be a hybrid of graphic novel and picture book in terms of style, but without ever alienating the younger audience. It was a tricky balancing act, but I think we pulled it off.
6. Do you have a favourite spread?
There are so many pages I had fun illustrating, but the most challenging, and therefore more rewarding, was the swimming pool scene. I spent a long time playing with the lighting and textures to give a sense of a luxurious rooftop pool at dusk. It was worth the effort though.
7. What are you working on currently?
Oooh, I genuinely don't know if I'm allowed to tell you as I think it's a secret. Put it this way, if I did divulge my latest project, I fear a certain quadruped might rappel through my studio window with a brussels sprout smoke bomb. Have I said too much?!
(Editor: Ha ha!)
Author's Titles