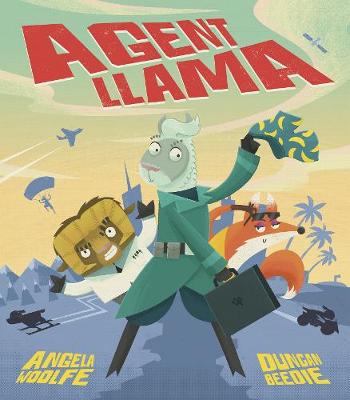 By Author / Illustrator
Angela Woolfe, Duncan Beedie
Genre
Spy stories
Age range(s)
5+
Publisher
Little Tiger Press Group
ISBN
9781801040020
Format
Hardback
Published
08-07-2021
Synopsis
Meet Palmer. Charlie Palmer. Awesome spy and fluffy llama. Her top-secret mission? To save the world and rescue a pair of . . . UNDERPANTS! A hilarious and super stylish adventure - James Bond for little ones!
Here's a fabulous introduction to Agent Llama by author Angela Woolfe, plus spreads
Reviews
Emma
Agent Llama - Charlie Palmer - is unlike any other spy hero that you have met. She is a sassy Llama with the most incredible bag of tricks up her sleeve - think of her as the Llama version of James Bond! Charlie Palmer is given the job of solving who has stolen the Prime Ministers' underpants - which happen to be decorated with bananas! Charlie's adventures take the reader on an 'edge of your seat' adventure to discover just who the culprit is.
I adored reading this book to my year two class - it is perfect for reception upwards to year 3. They loved the bright illustrations by Duncan Beedie and the rhyming text had them roaring with laughter. The addition of having the text in bold when there is action is a beneficial teaching point as it teaches the children about the tone and emotion of the text. Often, I had the class share the book with me where the bold text meant that they could shout out the word. The addition of making the main characters female was a good talking point as the heroes and villains of spy stories are often male – the class definitely had a lot of discussion regarding this.
This is a book that will be loved by children over and over again.
Picture book / Reviewed by Emma Nelson, teacher
Suggested Reading Age 3+
Carol
Charlie Palmer is no ordinary Llama. She is a secret agent on a special mission to find some missing underpants! I loved Charlie Palmer, 00-LLama, a strong, female, secret agent hero.
The Prime Minister has lost his underpants and Charlie is called in to solve the mystery in a story action-packed enough to match any James Bond mission. Awesome illustrations add to the thrill of this fast paced adventure.
This is a fabulous action picture book is aimed at young children aged 3-6 yrs but I do think that some of our Year 5 and 6 children would really enjoy this, too. A great classroom read aloud with opportunities to explore onomatopoeia, character description and scene setting.
Picture book / Reviewed by Carol Wright, school librarian
Suggested Reading Age 5+