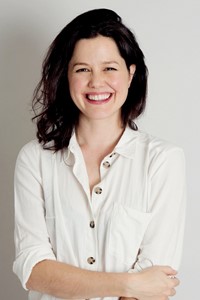 About Author
Anna Kemp's latest picture book, Mammoth (illus Adam Beer), explores trying to fit in - when your really stand out. Anna's bestselling picture books include Dogs Don't Do Ballet, Rhinos Don't Eat Pancakes and The Worst Princess (all illustrated by Sara Ogilvie). Her books have been shortlisted for several prizes including the Roald Dahl Funny Prize, Waterstones book prize and Oscar's book prize. Her picture books have been adapted for stage and screen.
Anna grew up in a street with a gang of kids and spent her childhood sticker-swapping, playing Pac-man and co-ordinating BMX displays. Later, she went to Oxford University to study French and Italian and gained a PhD in French Women's Writing from King's College, London.  She now lives and works in Oxford.
Interview
Mammoth (Simon & Schuster Children's Books)
June 2021
Anna Kemp and Adam Beer's new picture book, Mammoth, is a tender and funny story about trying to find your feet - and new friends - in a strange, new environment. We asked author Anna Kemp what inspired the story and how it developed.
 Q&A with Anna Kemp
1. Your ideas for picture books such as Dogs Don't Do Ballet aren't traditional picture book stories - what makes a great picture book idea for you?
I have a lot of bad ideas, but occasionally I'll have a good one! My favourite ideas have a good balance of humour and heart. I hope that my stories are touching without being too sentimental and a splash of humour usually helps with that!

2. Can you tell us about your latest picture book, Mammoth?
Mammoth tells the story of an ice-age megabeast who wakes up in modern day New York. He is baffled by this strange new world but, worst of all, he cannot find his herd. He does his best to fit in and to make new friends, but he just gets a lot of funny looks and sometimes angry shouting. But then he hears a faint trumpeting sound in the distance and decides to follow it. Will he find his herd, or will he be brave enough to join a new one?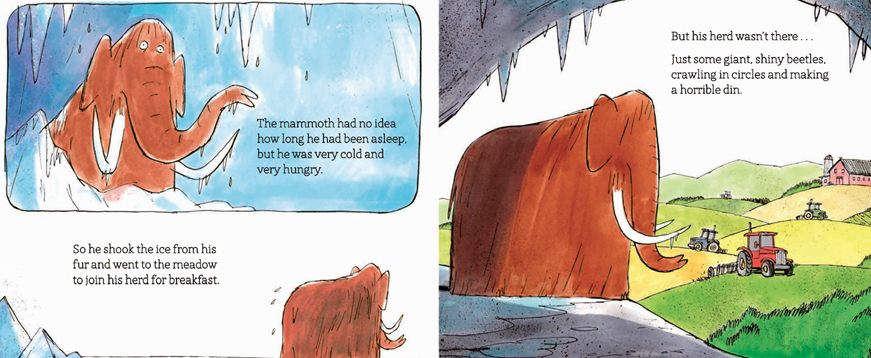 3. Why did you choose a Mammoth as your main character?
Mammoths are wonderful beasts! Huge, hairy, tusked - what's not to like? It was easy to see how a mammoth would make an appealing picture book character - so big and powerful, yet also lost and vulnerable - and Adam did a fantastic job of bringing our mammoth to life.
4. And why take him to New York? 
The original title was Mammoth in Manhattan. I liked the alliteration and the contrast between the prehistoric hairy beast and the shiny modernity of New York. I've only spent a few days in New York and don't know it well, but I've seen enough movies to know it is the perfect place for a monster to go on the rampage!
5. Mammoth is a bit of an outsider - something you've explored in other picture books, why do you return to this theme?
That hasn't been a conscious choice exactly, but you are right that it is a recurring theme in my books. I suppose I'm drawn to stories about kindness and courage. So my outsider characters are either brave enough to strut their stuff regardless (like Biff, Princess Sue, and Sir Lilypad) or they are shown kindness and compassion by a child character in the book (as in Dave the Lonely Monster and Mammoth).

6. What is your favourite moment in the picture book?
Ooooh that's difficult! I love the ending when the Mammoth is part of a big beautiful parade through the centre of the city. Adam's artwork here is so joyful. I am also very fond of Adam's excellent poo joke in the Guggenheim Museum.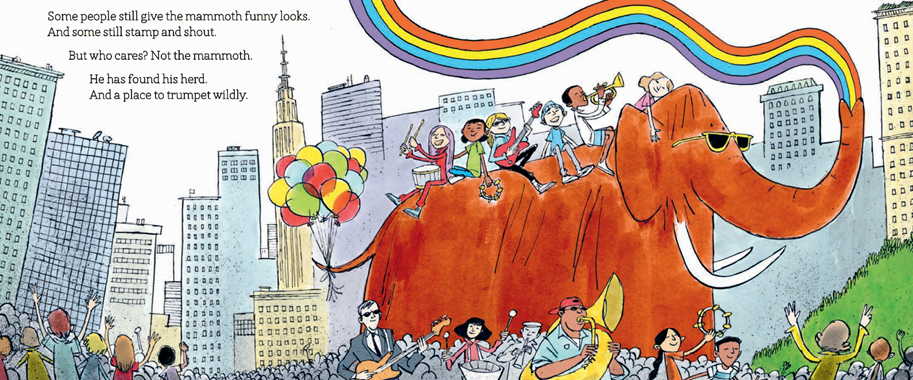 7. What would you like your young readers to take from Mammoth's story?
I hope that children find it funny. I want them to laugh and to share a laugh with their grown-ups. There is nothing better than a family giggle. I also hope that my readers will feel for the mammoth, maybe identify with those moments of being lost and lonely, and share his happiness when he finds new friends.
8. What do you think of Adam Beer's illustrations, and how he's interpreted your text?
Adam is a HUGE new talent. He has that rare combination of humour and heart which was so important for this story. There was a risk of the story sliding towards the sentimental, but it never does because Adam creates humour on every page. His artwork also has a kind of comic-book scratchiness that gives it an edge.
9. Do you ever draw sketches to help develop your picture book ideas?
No. I've been very lucky to work with brilliant illustrators who will always create images that are so much better than anything I could think up. So, unless a joke depends on a specific play between image and text, I don't make suggestions.
10. How long does it take you to write a picture book? 
The first draft of a picture book might only take a day, or it may be something that I develop and return to over months or even years. I've got lots of half-baked ideas knocking around in my folders and occasionally I'll pull one out and have another crack at it.
My favourite part of the process is always seeing the first roughs of the artwork. I'm always thrilled and surprised by what the illustrator has imagined.
11. When and where do you prefer to work? What would be your dream writer's shed?
I work best first thing in the morning and my brain gets foggier as the day wears on (and the coffee wears off). Pre-Covid I used to like working in cafés or libraries to have a bit of a buzz around me. I don't think I'd like working in a shed, even a comfy one - too lonely!
12. What are your favourite ways to relax? 
I like to see my friends, to nap, and to vanish into a page-turner. Once Covid restrictions lift I am most looking forward to seeing my toddler reunited with his Canadian grandparents. They haven't seen each other for two years now and I can't wait to see them cuddled up together with a good picture book.
Author's Titles