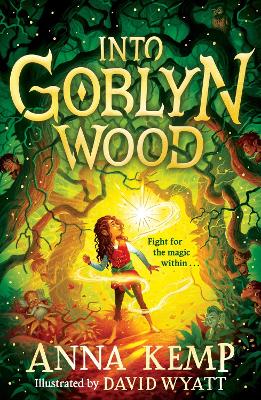 By Author / Illustrator
Anna Kemp
Genre
Fantasy
Age range(s)
9+
Publisher
Simon & Schuster Ltd
ISBN
9781398503830
Format
Paperback / softback
Published
01-09-2022
Synopsis
Fairies are real, but their power is waning . . . Embark on the adventure of a lifetime and discover the magic of Goblyn Wood, with the first book in a major new fantasy series for fans of Nevermoor and Podkin One-Ear!

Are you ready to enter Goblyn Wood . . . ?  Hazel has always known she was different, but she doesn't know where she came from. When her best friend Pete is kidnapped by strange creatures, she must gather her courage and enter Goblyn Wood, a forest inhabited by fairies. But their magic is being drained away, and Hazel soon realises that her own power is the key to saving both Pete and her new friends. Embarking on an epic journey of discovery, can Hazel restore the balance of the fairy realm?

The debut fiction novel from Waterstones prize-shortlisted Anna Kemp - enter this rich and immersive new fantasy world and meet a powerful new hero.
Find out more from author Anna Kemp
Reviews
Donna
'. . . Can Hazel unlock her own power to save the Fairy realm?'. That was the part on the blurb that drew me into this book. I could not put it down and finished it in only a few sittings. Hazel, an 11-year-old orphan, lives at the Ditchmore School for the Wretched with other unfortunate children. She had been told that her mother had left her there when she was two years old. She was left with a pendant around her neck that couldn't be removed, no matter how hard they tried; nothing could break the chain. It was magical and grew as she grew.  When she and her only friend, Pete, escape into Goblyn Wood, Pete, is taken..kidnapped! Hazel now has to cope within Goblyn Wood, where the Wild Children are. It is an untamed, wild and dangerous place - filled with a magic unheard of.
Into Goblyn Wood is overflowing with twists and turns and the fairy hierarchy (who knew that existed?). The brilliantly illustrated cover by David Wyatt is definitely worth a mention. It makes you want to pick up the book and read it immediately.   It was easy to lose myself in Anna Kemp's magical world. Excellent description, believable characters and a wonderful story for those who, like me, absolutely love stories with a sprinkle of magic! And what an ending!!!!!!!!!!  I can't wait for the next one!
320 pages / Reviewed by Donna Ritchie, teacher
Suggested Reading Age 9+
Sally
I loved Into Goblyn Wood from start to finish. The reader finds themself drawn into a fascinating and highly original fairy world, rich in detail and with colourful, engaging characters. The story is fast moving, cleverly constructed and well written. It's a real treat!
320 pages
Suggested Reading Age 9+
Jan
The plot is fast moving and full of surprises. My kids really cared about Hazel and are desperate to accompany her on her continuing mission. They really loved Into Goblyn Wood and can't wait for the next book. Well done Anna Kemp for creating such an original and enchanting world.
320 pages
Suggested Reading Age 9+
Other titles