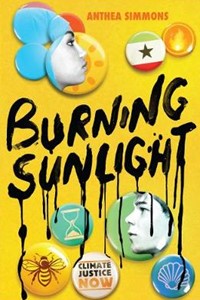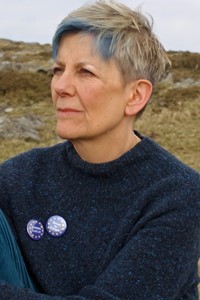 About Author
Anthea Simmons lives in Devon with her polydactyl cat, Caramac. After a  successful career in the City and a spell of teaching, she finally  knuckled down to write at the insistence of her son, Henry. She is the  author of Share, The Best Best Baby, I'm Big Now, and Lightning Mary, which won the STEAM Children's Book Prize. She campaigns for European values and a fairer democracy.
Interview
Burning Sunlight (Andersen Press)
April 2021
Author and campaigner Anthea Simmons explores activism around climate change in her latest novel, Burning Sunlight, a story that will help inspire young people to consider the issues that affect them - and how they can fight for change. 
In this video, Anthea Simmons tells us more about Burning Sunlight, and reads from the book:
Q&A with Anthea Simmons
1.  How did you get started in writing? What other kinds of jobs have you done?
I've always written a bit…I read English at Oxford and my tutors thought I would stay on and do a DPhil, but instead I got a job in the City on the floor of the Stock Exchange. I was amongst the first women to be trained as stockjobbers (now long gone!).
Anyway, after a full-on career, I quit in 2001 and taught in a tiny rural prep school for a bit. I had a rule that if I set children a writing task, I did it too and I let them rip it apart to show them that you don't always write perfectly first time and things can be honed and improved. I adapted lots of Shakespeare, too, which worked really well.
My son kept nagging me to write a book so in 2008 I went on an Arvon Foundation course with Malachy Doyle in Devon. I wrote my first picture book - 'Share' - as a 20-minute exercise. Malachy said I should send it off so I did. 'A' for Andersen, first on my submission list and they said yes! The rest is history as I have stayed with them, 'graduating' to middle grade fiction.
I write a lot for the online citizen journalism paper I edit - West Country Bylines. Very political!
2.  What are your career highlights as an author?
Winning the STEAM prize for middle grade with 'Lightning Mary'…but I was also really moved when I chanced upon a video of a little boy in south Korea reading 'Share' to his baby brother.
3.  What is Burning Sunlight about?
It's about young climate change activists, about friendship, about being different and about grief and difficult family relationships. Mainly, though, it's about getting off your backside and doing something!
Basically, Zaynab has been dragged over to the UK because of her father's work and finds herself in rural Devon, angry and grieving for her Mum, who has died. She makes friends with a really shy, artistic boy and together they blow the lid on a greenwashing story.
4.  Why did you decide to bring activism into your writing?
I have been heavily involved in the pro-EU movement in the UK as one of the lead organisers of Devon for Europe (one of the biggest grassroots groups). I've been on all the marches, spoken at one of them, spoken in public loads of times, organised lots of coaches to get people up to London on numerous occasions etc etc. It absolutely took over my life and we got so close to a People's Vote.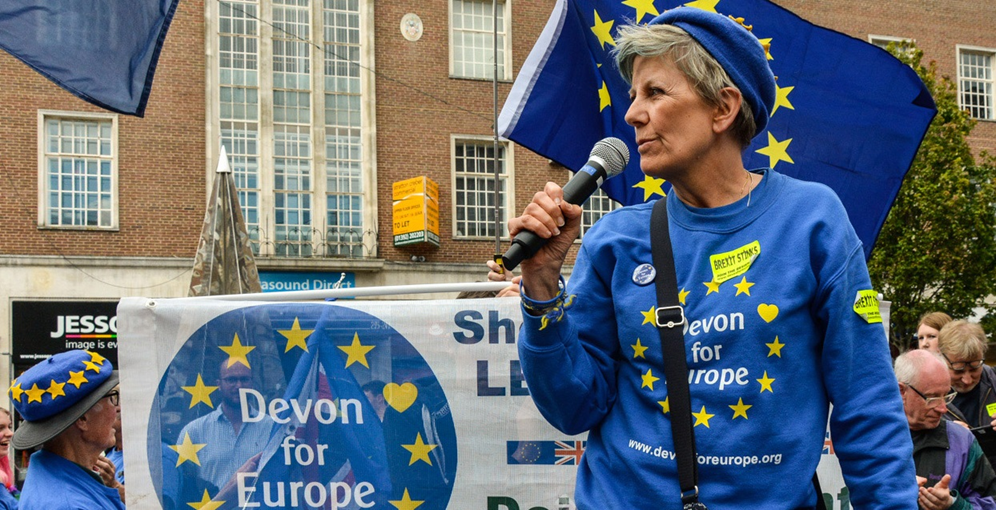 Anyway, I loved seeing young people on those marches and then I started going to climate strikes and protests as well. Really young kids have a very clear view of how we are trashing the planet and what needs to change. I wanted to give them a voice and to, hopefully, inspire others to get active.


5.   Why did you want to write about climate change, and its impact on a community in the developing world?
I think we tend to forget that what we do here has knock on effects elsewhere and if we don't change our consumption habits, we are speeding up the destruction of other people's homes and livelihoods, even to the extent of making life in their countries non-viable.
I chose Somaliland because a) it's very high on the list of countries threatened by desertification; b) it has British connections (not all positive…) c) hardly anyone knows about it because it does not officially exist!
6.  How did you research it?
A pro-EU contact had a connection to a Somalilander who had worked as an interpreter for the Foreign Office and he was incredibly helpful. He was in Hargeisa and I was in Devon, but we managed plenty of phone calls, a skype and emails. He was very helpful.
The internet is, of course, a fantastic resource and, finally, two great girls - Zaynab and Haleema Ravat (just a coincidence that I had chosen Zaynab as my main character's name!) read the finished book and checked it out for authenticity.
7.  How optimistic or not are you about our current approach to the environment and climate change? 
Hmmm. A government that tears up acres and acres of ancient woodland for a train that saves very little time, has a big roadbuilding programme and supports a new coal mine, doesn't really sound to me like one that is hugely committed to the environment. I hope they prove me wrong. We would have been much better placed to get to grips with issues as members of the EU and I like the EU's vision and research effort.
Globally, I think it's a huge relief for the planet that Trump has gone and it appears that the Chinese are making a serious effort. But I feel very bleak about the way big money and dictators like Bolsanaro or heavily fossil-fuel dependent countries like Australia are handling things and the rate of species decline is terrifying. None of it's easy, but it has to be done or our kids have a dreadful future ahead of them.
I campaign through West Country Bylines. We run a lot of environmental stories and, once lockdown restrictions go, I'll be out talking about the book…maybe via Zoom, still. In fact, Covid has given me some hope, in a weird way. It's changed the way we shop, travel and work and I just hope we keep all the best climate-friendly bits of lockdown as these will really help the planet.
8.  Although Zaynab doesn't always get it right, do you hope that Burning Sunlight will help inspire young people to be more politically aware and active about the environment?
I hope it will make them feel that apathy is not an option. It's good to be engaged, to care, to DO stuff. So, yes, I hope she is inspirational. Of course, not everyone can be like her…a confident public speaker, feisty etc but the planet needs all of us and all of our skills and love to fight for its wellbeing!
9.  This book is publishing at a time when women's rights and our right to protest are also under pressure - but which battle, for you, is the most pressing?
I am very profoundly concerned by the moves to silence protest in the UK. So many people have justifiable grievances and no way to express them, especially with a government determined to evade scrutiny and happy for its MPs to chunter out pre-written scripts and tell lies. Not good.
I think that right needs defending first. BLM, XR, Reclaim These Streets, anti-corruption, pro NHS, anti-privatisation, anti-austerity and, now, anti the proliferation of nuclear weapons. There's a lot to protest about. Brexit impact. The unpublished Russia Report. Windrush. The Excluded! Social justice generally.
10.  Where and when do you prefer to write?
I write at a desk in an 'office' between my kitchen and drawing room and I write whenever the words are ready to come out. I have a rule that if I start to write, I cannot get up from my desk until I have written 1000 words. That means that some days I don't sit down! Actually, I am writing almost every day for West Country Bylines, so I'm clocking up the wordage one way or another!
11.  What are you writing currently - and how have you found writing during lockdown?
I am gradually building up a poetry collection (I had one published in 2013) with the working title 'Legacy'. It's hard not to think about not being here anymore…death…covid etc. So, yeah, it's partly messages to my son, partly messages to the planet, I guess!  I am also gestating a young adult novel, about a dystopian future, sadly.
A couple of people who read pre-publication copies of 'Burning Sunlight' have asked if they can have a sequel as they have grown attached to Zaynab and Lucas and want to know what hey do next. I fear that will depend on book sales!
12.  What do you do to escape?
Climb a tor on Dartmoor, bake sourdough and read some great contemporary fiction like Deborah Levy or Hari Kunzru. And I get in my studio to paint, when I can. It's been hard to escape, hasn't it? I'd love to really escape but then there are the airmiles to consider! Best travel in my head…
Author's Titles