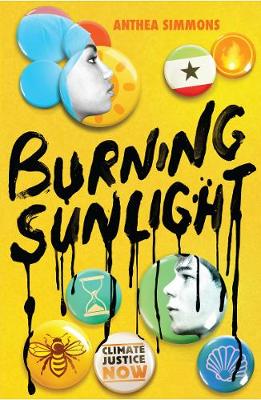 By Author / Illustrator
Anthea Simmons
Genre
Environment
Age range(s)
11+
Publisher
Andersen Press Ltd
ISBN
9781839130441
Format
Paperback / softback
Published
01-04-2021
Synopsis
Zaynab is from Somaliland, a country that doesn't exist because of politics and may soon be no more than a desert. Lucas is from rural Devon, which might as well be a world away. When they meet, they discover a common cause: the climate crisis.
Together they overcome their differences to build a Fridays For Future group at their school and fight for their right to protest and make a real impact on the local community. But when Zaynab uncovers a plot which could destroy the environment and people's lives back home in Somaliland, she will stop at nothing to expose it. Lucas must decide if he is with her or against her - even if Zaynab's actions may prove dangerous...
Here's our Q&A with author Anthea Simmons
Reviews
Ruth
Burning Sunlight is a brilliant read on many levels. Firstly, the author has caught the emotional mood swings of a teenager extremely well. As a parent, it almost made for uncomfortable reading but feels authentic and honest and offers the reader a fresh account of a teen struggling to come to terms with loss, relocation and her maturing viewpoint. Her relationship with her father is particularly challenging and develops over the course of the story. Secondly, it is the story of friendship with main characters who draw strength from their connection in a community which does not always welcome their point of view. Lucas provides a contrast to the passionate Zaynab, despite ultimately sharing a common purpose. This provides the reader with examples of young people at different stages of developing ethical thinking. And thirdly, it is extremely topical as it explores climate activism for teen readers (indeed, for all readers).
The story clearly explains the global impact of the current climate crisis with hard hitting, believable evidence. Using the experiences of the main character in Somaliland, the impact of individual and corporate actions on global warming drive the narrative throughout the book. Part fiction, part information, this book offers the secondary school age reader a page turning, thought provoking and life style challenging read.
An essential and highly recommended addition to a school library or family book shelf. Burning Sunlight would make an excellent school book club choice as I am certain it would generate a lot of discussion amongst young people.
320 pages / Reviewed by Ruth Cornish, school librarian
Suggested Reading Age 11+
Other titles