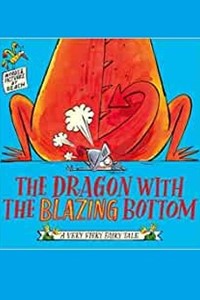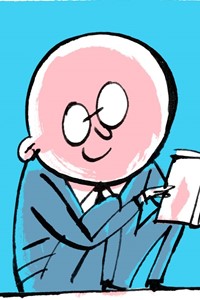 About Author
Before becoming an illustrator, Beach worked as a pizza chef; if you can think of it, he has probably put it on a pizza. Beach also hosted a weekly hip hop show on Occitan-laguage radio. He has illustrated lots of serious text books for children, and lots of childish books for grown-ups. Beach and his family live in Lincolnshire.
Interview
The Dragon with the Blazing Bottom (Simon & Schuster Children's Books)
September 2021
Dragon has lost his fire, but the knight Sir Wayne thinks he has the answer.... However, things don't work out quite as planned in this hilarious new picture book, the first in a series by author and illustrator Beach.
In this Q&A, Beach tells us more about The Dragon with the Blazing Bottom 

1.  How did you go from being a pizzachef to creating books for a living?
I've done a few different jobs but pizza chef was definitely my favourite before this one. I do seem to be drawn to activities where you have to use your hands to make stuff. Although pizzas are a lot quicker to make than books and they usually taste better, too.

2.  Why did you decide you wanted to write a picture book? 
Picture books are the best books it's possible to make. They are the only books I can think of that are read out loud, by two people who are completely different in age and who understand the world in completely different ways and yet who share and enjoy this one moment together. As a creative person, how could you not want to be a part of that?

3.  Who is your favourite picture book creator?
I think I have favourite books rather than favourite creators.
And my list of favourite picture books is as long as your arm (possibly both your arms). 

4.  Can you tell us about your new picture book, The Dragon with the Blazing Bottom? 
It's a story about a dragon who loses his fire and a knight who helps him find it again (although not quite in the place he's expecting).
The idea came when I was thinking about knights and dragons and the fact that although they are supposed to be enemies, in reality they both need each other: a dragon can't be a dragon if he doesn't have someone to breathe fire on, and a knight can't be brave without a dragon to fight. So I started exploring the thought that a knight might actually want to help a dragon breathe fire again so that they can both get back to fighting. And once that idea was underway I began to think about what the consequences might be of a knight trying to help a dragon when he doesn't quite understand how a dragon works.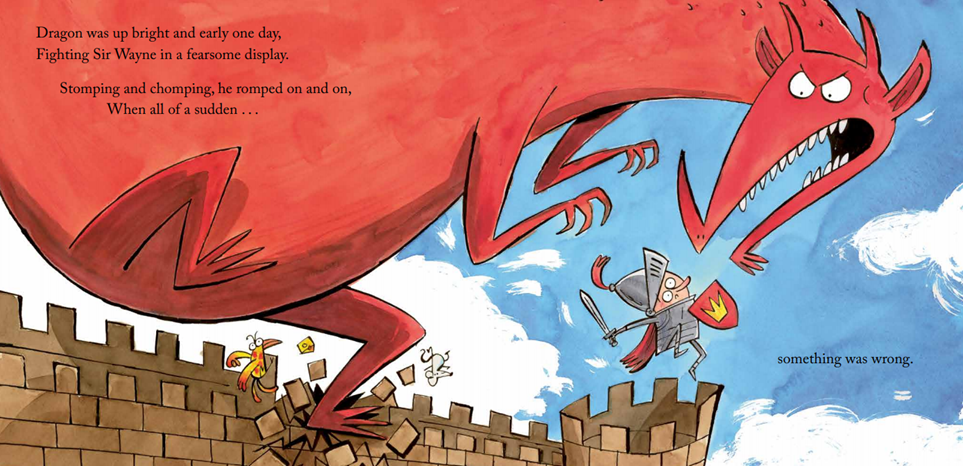 5.  There are lots of giggles to be had on these pages, especially with the extra details. Do you prefer picture books that make children laugh?
I think my favourite picture books are the ones that surprise me or take me somewhere unexpected. Which often makes them funny too. As a reader there's a particular joy in seeing a small child understand a joke for the first time as it means they are suddenly seeing a story from two different perspectives – what should have happened and what is actually happening.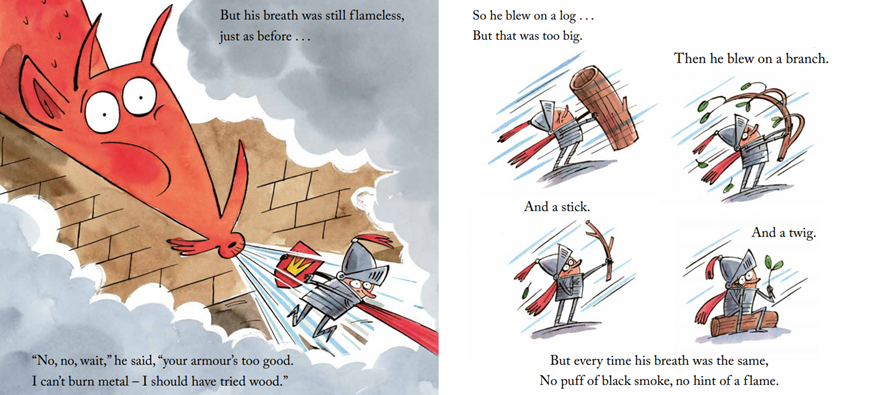 6.  Did writing / illustrating it make you laugh?
Haha, this is such a good question. The short answer is 'no' but your question did make me think about how weird it is to spend all day trying to write jokes but not actually laugh at them yourself. But my editor is very funny so I spend a lot of time laughing at her jokes instead.

7.  Dragons are fabulous creatures - how did you decide what yours would look like? 
Both dragon and knight arrived in my sketchbook fully formed. As soon as I saw them I knew that's what they looked like and I couldn't imagine them any other way. While we were making the book the art director suggested making Sir Wayne's nose a little smaller, but other than that they remained pretty much the same.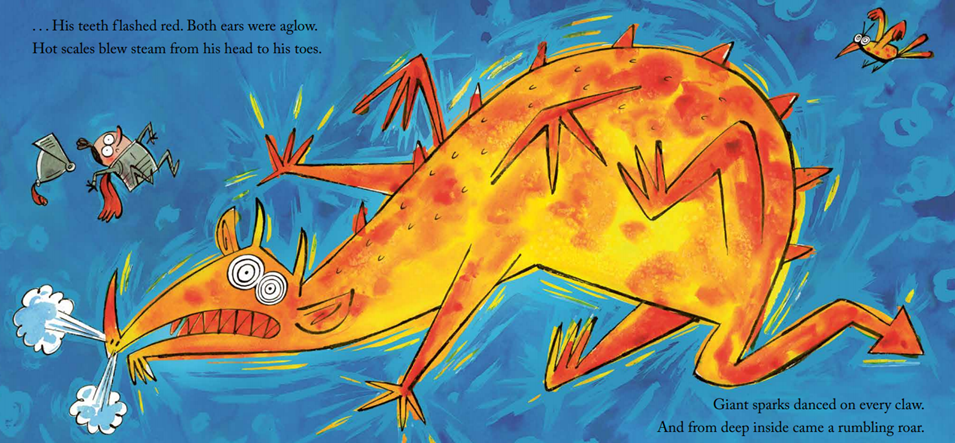 8.  Do you do lots of doodling of characters and scenes while you're writing?
I doodle quite a bit while I'm writing, but it's fairly aimless. I do it more to clear some space in my head rather than to plan out how the book might look.

9.  How did you create the final illustrations?  
I drew the black lines in pen and ink and then went over them with watercolour. I love the idea that children can look at a picture and understand straight away how it was made. And all children draw with pens and paints so this is just a grown up version of that.

10.  Will we be hearing more about Dragon and Sir Wayne?
Yes! I'm just finishing off the second book as we speak. I think the plan is for it to come out next summer. It's been lovely getting to spend more time with the characters.

11.  Where and when do you do your best writing?
I actually do my best writing while riding a bike. I make up lines in my head and then try and string them together as I'm pedalling along. I can usually get to around 8 or 10 lines before I start to worry that I might forget them and have to stop and record them on my phone. 

12.  What do you do to relax when you're not at your desk / studio?
I also like riding my bike and NOT trying to write a book at the same time. And I still love making pizza. 
Author's Titles