The Dragon with the Blazing Bottom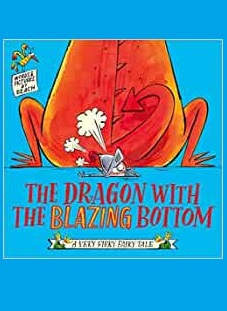 By Author / Illustrator
Beach
Genre
Funny Stories
Age range(s)
3+
Publisher
Simon & Schuster Ltd
ISBN
9781471197222
Format
Paperback / softback
Published
02-09-2021
Synopsis
The first in a fabulously funny and hugely commercial series about a dragon who has lost his flame - but may just find fire elsewhere . . . Perfect for fans of The Dinosaur That Pooped series.

Sir Wayne's dragon has lost his flame. Are his teeth TOO clean? Is his tongue TOO pink? Perhaps his diet is to blame. Not to worry - Sir Wayne has a meal plan of EPIC proportions, including a big lump of lava, one burning bush, some sparklers and fireworks - the ones that go 'WHOOOOSH'. Oh, and one VERY mouldy old piece of cheese - almost as green as the snot from a sneeze . . . What could possibly go wrong?!
A hilarious and dynamic character-driven picture book, with a truly explosive ending! From the hugely exciting new picture book talent, Beach.
Find out more about the author and illustrator, Beach, in this video
Reviews
Ashley
The Dragon with the Blazing Bottom is a funny book that had the Year 2 class and their teacher in stiches. The children loved the rhyming aspect and guessing what word came next. They loved the images, particularly the one with the dragon's flaming bottom! Of course, the biggest laugh came at the word 'FART!', this caused much hilarity. The vocabulary used is imaginative and some of the class have used such vocabulary in their own writing - words such as 'fizzed', 'flashed' and 'collapsed'. In terms of using the book for an extended writing topic, I would be reluctant as it doesn't have the depth of story required. But as a fun, picture book for 5 - 8 year olds to read, it is fantastic!
32 pages / Reviewed by Ashley Clayton
Suggested Reading Age 5+
Elen
The Dragon with the Blazing Bottom is a funny, fast-paced rhyming picture book that will have young children giggling at the hapless dragon's inability to breath fire - before producing flames from an unexpected source, his bottom! And what child doesn't enjoy stories about bottoms?
When Dragon suddenly finds he can't breath fire anymore, his friend Sir Wayne begins to search for the problem. Are his teeth too clean, his breath not bad enough? Sir Wayne comes up with a solution - a cauldron of delights that are bound to get the dragon shooting flames again. And it works - but not quite how they expected...
This is a really funny story to share with children from three years upwards - they will roar with laughter at the ending! The rhyming text makes for a great read-aloud and the illustrations are bright and bold, making them good for sharing. I loved all the funny details, too, in the illustrations.
I would definitely use this to inspire children to invent their own recipes for a fire-breathing dragon!
Picture book / Reviewed by Elen Green.
Suggested Reading Age 3+
Other titles