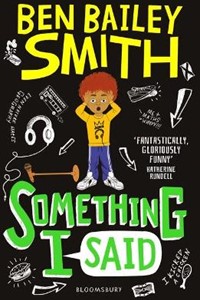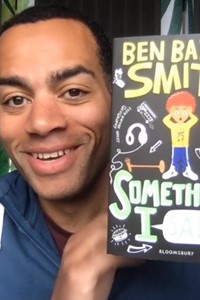 About Author
Ben Bailey Smith - who has written his first novel for children, Something I Said - began his career as a rapper known as Doc Brown before diversifying and moving into mainstream TV and film acting, stand-up comedy, screenwriting and children's books (I Am Bear & Bear Moves). He has a host of notable television performances under his belt, including creating the CBBC's BAFTA winning 4 O'Clock Club.
Read an extract from Something I Said
Interview
Something I Said (Bloomsbury Children's Books)
June 2021
Ben Bailey Smith, better known as rapper Doc Brown, has found a new niche in writing funny books for children - don't miss his hilarious new book, Something I Said!
Something I Said Book Trailer:
Here's a letter from Ben Bailey Smith to his readers:
Dear Reader
I won't lie to you, I've had a strange life. And, perhaps coincidentally, a lot of that life has revolved around children.
Firstly I was a child - I know, strange. Then as a teen I began working with young children as a playworker.
Then I became qualified in youth management and ran a children's charity for seven years. Then I had my own children without having fully matured myself and, inspired by all these youngsters, I created a BAFTA winning television show for - you guessed it - children. Then some other stuff happened.
Then four years ago I started writing for youngsters. Silly rhymes for early readers. The opportunity to make up funny stuff that I would've laughed at as a kid? But for a profession? Sold.
The point is, for the vast majority of my increasingly silly existence I've been squarely focused on making young people smile. I don't know why, it just brings me joy. Maybe I secretly want to be one again, or forever. So when I decided to try writing a middle-grade novel, I felt certain of two things: I was going to write it from the perspective of a middle-grade kid and it was going to be funny as hell. I just needed the minor requirement of a story.
I thought of two interesting things I'd been in my silly life: a comedian, and a boy.
Wait.
What if a 13-year-old boy became a successful comedian? Not in a fantasy way, but in a real life, oh man can you believe that happened kind of way. That could be funny, right?
Yes. Yes it could.
In fact it's the funniest book you'll read this year. You have my personal guarantee on that, or your money back. I'm kidding of course. There will be no refunds. Look. At any price, Something I Said is a bargain, because for the same price you don't just get funny, you also get a nice double scoop of heart and high drama.  Fly through it, flick back, fly through it again and laugh, cry, feel the love, laugh some more and, most of all, enjoy.
Ben
And here's Ben Bailey Smith himself to tell us more about Something I Said, with a reading from the book! (a really funny bit!)
Find out more about Something I Said, including the first chapter to download
Author's Titles