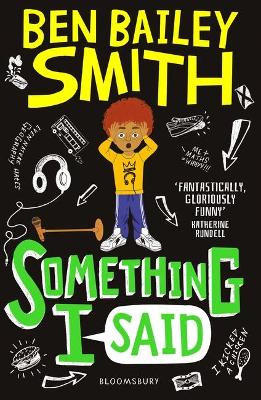 By Author / Illustrator
Ben Bailey Smith
Genre
Funny Stories
Age range(s)
9+
Publisher
Bloomsbury Publishing PLC
ISBN
9781526628688
Format
Paperback / softback
Published
10-06-2021
Synopsis
From comedian, actor, rapper and screenwriter Ben Bailey Smith comes the biggest middle grade debut of the year - a blazingly funny, big-hearted story about family, friendship and how far one boy will go to get a laugh.For thirteen-year-old Carmichael Taylor, life is one big joke - in a good way. He just can't understand why no one else seems to find everything as funny as he does.
When Car is filmed stumbling into performing a piece of hilarious stand-up at the school talent show - targeting his family, school and friends - the footage ends up creating international infamy. But with the promise of fame and fortune comes trouble, and it's up to Car to decide what or who he's willing to risk to chase his comedy dream. A heart-warming and hilarious look at family, friendship and what really matters - perfect for fans of David Baddiel and Frank Cottrell-Boyce.
Watch Ben Bailey Smith introduce Something I Said
Reviews
Nathan
Something I Said is a joke-filled story from beginning to end. Carmichael Taylor, Car, is a 13-year-old boy with hidden comic skills and sarcasm. His perception of the world is one big joke but often people don't find things as funny as he does - 'If life is a joke, make it a good one.' Against his wishes, Car ends up performing at his school talent show; however, the 'spoken word' performance escalates to an entertaining and hysterical stand-up set focused upon his school, family and friends. Unbeknown to him, his friend, Alex, films this whole performance which ends up reaching international platforms and brings international fame.
Car is faced with several difficult and life changing decision throughout the story. The biggest dilemma: Does he follow his newfound stand-up comedy dream and risk relationships with his family and friends? The story finishes with an important heart-warming and conscientious message of value and respect as well as exploring mindset skills of believing in yourself and appreciating your strengths. As a result, this story provides a brilliant hook and stimulus for class discussions.
Ben Bailey Smith has written a unique, funny and pacey book that children in upper key stage two upwards will enjoy and relate to. From kicking a chicken to the 'two-second' rule, this story is a great page turner. I would highly recommend this book and intend to use this as a class read for my year 6 class in the summer term.
368 pages / Ages 9+ / Reviewed by Nathan Cox, teacher
Suggested Reading Age 9+
Renée

- Age 11
What the Something I Said is about: This book is about a 13 year old boy called Carmichael Taylor and how far he went just to get a laugh. It all starts at his school talent night, when he is provoked by his older brother (Malky) and his friends. This causes him to get annoyed. His unexpected performance was recorded by his best friend Alex and uploaded to youtube.
What I liked about the book: I like the humour in the book and I admire the personalities and the characteristics of each character as they were all very different. I also enjoyed the storyline, how it was funny in some parts and very interesting and engaging in others and all the emotions this book makes you feel. It was a very interesting book to read as I have never read anything like Something I Said.
368 pages / Reviewed by Renée
Suggested Reading Age 9+
Other titles