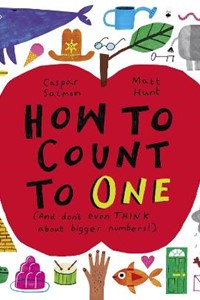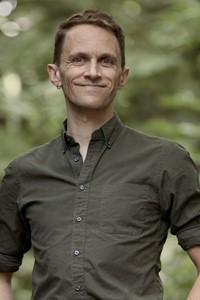 About Author
How to Count to One is the surprising and hilarious picture book by Casper Salmon, illustrated by Matt Hunt.   Caspar Salmon writes and broadcasts about this and that for a living - mostly cinema - and enjoys seeing friends, swimming, and reading. He lives in leafy north London, having grown up in France, and has two gorgeous children.
Matt Hunt was born in Redditch, Worcestershire in 1988. Starting out as a fine artist, he graduated from the Birmingham School of Art and from these roots developed a love for children's illustration. He currently shares a house with his wife Hayley and two cats. Matt works in mixed media, utilising paint, pens, crayons, and digital. He loves to create new and interesting characters and write stories for them. He's influenced by old movies, classic illustration, cartoons and books.
Interview
How to Count to One (Nosy Crow Books)
March 2022
Children who are familiar with a traditional counting book is like will shriek with laughter at Casper Salmon and Matt Hunt's fresh approach to learning to count - while still learning about numbers and our world.  We asked author Casper Salmon and illustrator Matt Hunt to tell us more about How to Count to One!
Q&A with Casper Salmon

1.   What kinds of picture books do you enjoy the most - both reading and writing?
I enjoy books that I think have brilliant writing, which feel like proper fiction rather than objects for patronising children with. Books with a bit of an edge, a touch of mystery or ambiguity, are also a bit of a treat.

2.   Can you tell us a bit about your new book, How to Count to One?
Yes - the book was born from the way I parent my children, who love nothing more than to correct me: for me to be in the wrong, and be the silly one, and for them to be right, seems to be a fun reversal of roles to them. I am also quite anarchic as a father, and tease my kids a fair bit, so the book kind of reflects that dynamic, which I think children find quite unusual, funny, and rather stimulating.


3.   It's not hard counting to one - so is the idea maths by stealth? Or just to have fun?
It's really just about fun! I wanted to take the mickey out of all the wishy-washy, condescending books I've seen for kids, that invite them to learn with the help of cute objects. This book is (hopefully!) the opposite of all that, and will encourage a more riotous reading time with kids.

4.   It's a very interactive read, so how did you go about writing it / designing it?
I wrote my own parts of text, and in sending off the book to my publishers I included, in brackets, descriptions of the images I thought we should see. Of course, those pictures changed over time with Matt's beautiful, lively illustrations, which in turn involved a bit of a rewrite at times.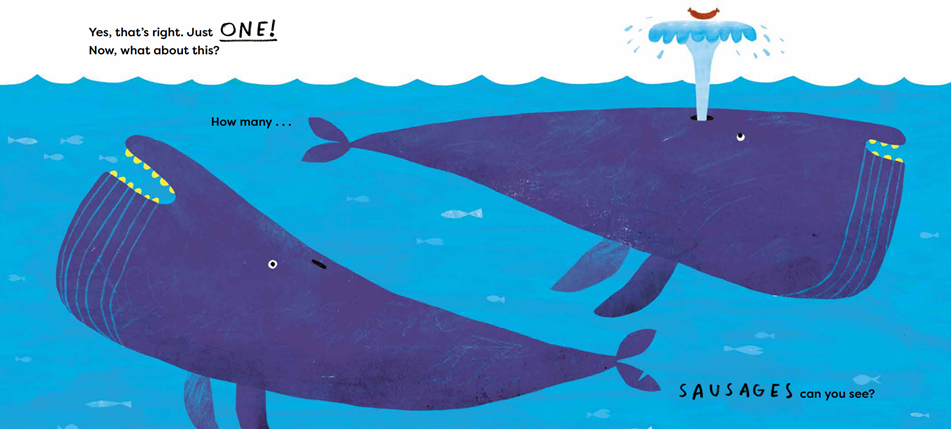 5.   What kinds of reactions do you get from children to the book? Do you have any suggestions for how to share it?
Not very many children have read it so far! The ones who have done seem to enjoy it, and I am pretty happy that the way of sharing it is kind of dictated by the book itself. I think parents and carers can choose whether or not to lean into the narrator's slightly more unhinged, tyrannical qualities, but I think kids can really get down with a reader who has a demented agenda and starts to unravel over the course of the book.

6.   Are you planning any other kinds of counting or interactive books?
Possibly some more books involving a bit of interaction, yes - I like the idea of writing in this quite punky, silly vein. I think I'm done with counting, but at the moment I'm mulling over an idea for a book which would similarly require kids to participate and correct the narrator.

7.   What did you think when you saw the finished book, brilliantly illustrated by Matt Hunt?
I was delighted. In truth, I had been scared that the pictures would be too cute - my original idea for the book was for it to be quite crazy and challenging - and I think Matt's illustrations are inviting, colourful, agile, without being syrupy.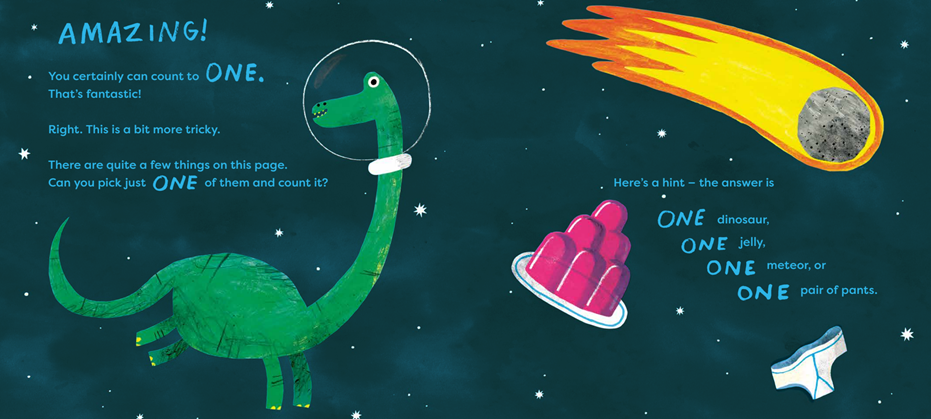 8.   What comes next, what have you got planned?
I'm trying to think of what to write next! I've had an idea for a ghost story for older children, and I want to write another picturebook, so those are my priorities at the moment. I also have ideas for a few things for grown-ups, so I need to have a bit of confidence that I can get those done.

9.   What kinds of activities do you enjoy when you're not creating picture books?
I'm a film nut - I write about film and culture as a journalist, which I enjoy. I love hanging out with my children and friends, going to France (where I grew up and where my parents still live), swimming in the open air, reading, writing, tennis, dating, going for a dance, being silly on the internet, and singing.
Q&A with Matt Hunt
1.   Why did you want to illustrate this project?
I thought the book had a really great concept. It's take on the traditional counting book but with an interactive comedy twist. The humour was a big appeal for me.

2.   How much freedom did you have in terms of style and how to illustrate the text?
Loads of freedom! I wanted to evoke the sense of a classic counting book, so it makes it even funnier the more bizarre the scenarios become.

3.   Were there any challenges in making this book - for example, squeezing so many single things onto one page, or drawing a rollerblading duck...?
The real challenge was counting up all the individual item as I was illustrating them so we eventually had 100 items to count at the end!

4.   Any favourite spreads?
I do like the whale/sausage spread - but I really like the last spread with the trophy. It's a really fun end to the book and the handwritten font was great to work on.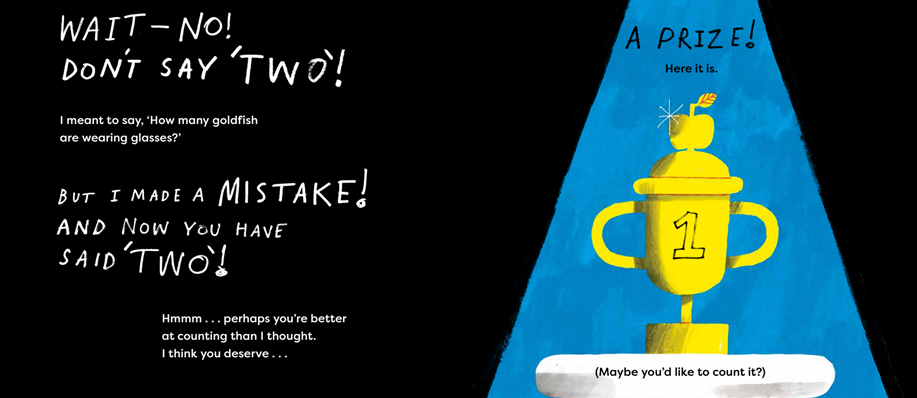 5.    How do you create your illustrations?
My illustrations are very much digital collage. I'll start with a bunch of hand drawn/painted elements. These are scanned into the computer and then layered up and refined with more drawings and textures, all done in photoshop.

6.   Where do you work and what else are you illustrating?
I'm very lucky to work in my garden office/studio. At the moment, I'm working on a bunch of projects! A VERY large poetry anthology, a slightly smaller book about dinosaurs and whenever there's time, writing and drawing some of my own book ideas.

7.   What are your favourite escapes from your desk / studio?
Definitely playing with my little boy Maxwell (He's a good source of comedy too when I'm looking for illustration ideas).

Author's Titles