How to Count to ONE: (And don't even THINK about bigger numbers!)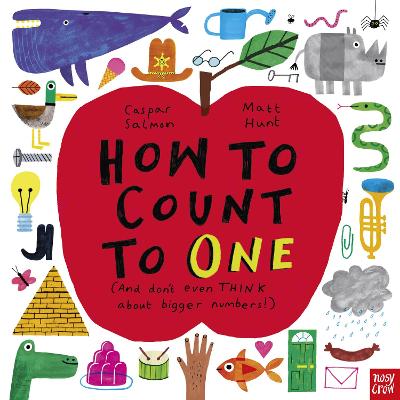 By Author / Illustrator
Caspar Salmon, Matt Hunt
Genre
Funny Stories
Age range(s)
3+
Publisher
Nosy Crow Ltd
ISBN
9781839941924
Format
Hardback
Published
17-03-2022
Synopsis
A hilariously bossy picture book about counting that children will love to outsmart!  You know how to count, right? GREAT! There are LOADS of fun things to count in this book. Whales, baboons, rainbows, pyramids . . . There's just rule. You must ONLY ever count to ONE. So don't even about THINK bigger numbers. OK?!
Get ready to show off your skills in this fun new counting book! But all is not as it seems . . . is this book really only about counting to 'ONE'? Because there are SO MANY fun things that you could count. But - wait - maybe there's a way to outsmart the book . . . and count all the way up to 100!  A fun and interactive read-aloud experience, perfect for fans of B J Novak's international bestseller The Book With No Pictures.
Casper Salmon reads from How to Count to One
Reviews
Kyle
How to Count to One is a hilariously bossy book about counting that children will love to try and outsmart. Building on the success of other reader interaction books, this text is full of bright and colourful objects which children would love to count...but there is only one rule. You must only ever count to one.
From the first page, it is clear to see that the audience are spoken to directly and this allows instant engagement in the text. The children are lured into an easy start, to simply count one apple. Not too much of a problem seeing that the apple is the only image on the page. This simplicity continues on page two when children are encouraged to count something bigger...an elephant. From page 3, however, older readers will start to realise the humour that is going to be woven into the story.
Upon turning the page, children are greeted by two large blue whales and automatically your mind is fooled into thinking that is what is going to be counted....Casper Salmon has other ideas though and instead, children need to find and count the one sausage on the page. With every turn of the page, a similar idea is revealed. From ducks to worms to works of art, children are lured into thinking a greater number is about to be counted but instead they are instructed to stick to one and only one.
I found myself chuckling to myself with every twist and turn and certainly felt like Casper Salmon was writing directly to me. I know the children I teach will find this text hilarious, especially as they love nothing more than seeing me make mistakes. Casper has ensured the engagement remains high thanks to the well worded story and the text is supported beautifully with the simple, bright and appealing illustrations by Matt Hunt.
I will be making use of this text within my year 1 classroom but will also be recommending it to my EYFS colleagues. Great work.
Picture book / Reviewed by Kyle Matravers, teacher
Suggested Reading Age 3+
Ashley
How to Count to One is totally different from any counting book I've read before. The children in my reception class loved it, and obviously counted to more than one as I turned the pages and read to them!
The possibilities in this book for engaging the children in maths and counting are numerous, and it could be used in a variety of ways. The children found it funny at times, a little bit silly and at times one child was a little enraged that the author thought counting to one was difficult!
I would recommend this book as a must have in all EYFS classrooms!
Picture book / Reviewed by Ashley Clayton, teacher
Suggested Reading Age 3+
Other titles