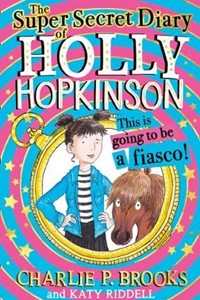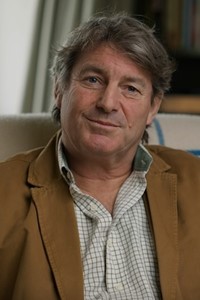 About Author
Charlie Brooks left Eton to become a stable lad for racing legend Fred Winter. After riding in the Grand National, and winning the Cheltenham Festival as an amateur jockey, he became the youngest racehorse trainer in England.
He has broadcast for Radio Five and Bloomberg TV and hosted his own sports programme, 'The Charlie Brooks Show'. He is a columnist for the Daily Telegraph and lives on his farm in the Cotswolds. His autobiography, Crossing the Line, was widely acclaimed.
Interview
The Super Secret Diary of Holly Hopkinson: This is going to be a Fiasco
(HarperCollins Children's Books)
May 2021
The Super-Secret Diary of Holly Hopkinson: This Is Going To Be a Fiasco (Holly Hopkinson, Book 1) is a funny story about family life, with a dash of magic, and the occasional moment of mayhem!  
'These are the memoirs of ME, Holly Hopkinson, aged almost ten, except without any of the rubbish adults usually put in, thank you very much.'  Enjoy this reading by author Charlie P Brooks:
Q&A with Charlie P Brooks
1.  What brought you into writing for children, and what is your day job?
I wanted to entertain my daughter, and have something that we could read together. I also wanted to show her that I'm not a complete doofus, because I can't answer half the questions in her homework. She's very kind to me and says she loves Holly - I just hope she really does. [She is the Little Bean to whom the book is dedicated.]
My day job is working on our farm, where we rear horses and sheep. The farm yard looks exactly likes Grandpa Hopkinson's, although we don't have a recording studio in ours. I also write a bit about horse racing for the Daily Telegraph, which is how I knew about High Five and that sort of horsey stuff.
2.  Can you tell us a bit about your debut, The Super Secret Diary of Holly Hopkinson: This is going to be a Fiasco?
Holly is furious, absolutely furious, when Dad loses his job and the Hopkinson family have to leave London and go and live in a derelict farmyard in the Cotswolds. She is convinced that she will be devoured by the feral children in the countryside. But help is at hand. Her bohemian Aunt Electra gives her a Magic Pocket Watch for her birthday, with which she can hypnotise adults and make them do anything she wants. Although it doesn't always work which leads to some bad situations.
3. What was the hardest thing about writing your first book?
I suppose the hardest thing was getting the story to come together so that it would work over three volumes and flow properly. I was so lucky to have the brilliant people at Harper Collins, who gave me so much help and encouragement. It just wouldn't have worked without their help. In fact, without them it WOULD have been a fiasco.
4.  Why did you write Holly's story as a diary? What do you like most about her as a character?
As a writer, I find structure really, really difficult. I remember at school we were always told that you had to write an essay skeleton before you started the essay. I find that hard to do. I also like writing through the voice of a character, and so the great thing about a diary format is that Holly can tell the story herself. And she does it so much better than I would.
What I love about Holly is that she is so up for everything. She thinks big and isn't afraid to throw herself into her plans. But she also wants to help all of her family with their problems. And of course I love Holly because she's just like my daughter.
5.  Have any of the characters been inspired by people you know? 
Beanstalk (see below) is totally inspired by our miniature shetland pony. Holly's dad is just like me. Grandpa is also like me, because all he really wants to do is buy more horses and watch racing on TV eating a big lunch. But I think my favourite supporting character is Mum. She has a tough time, but she works so hard 'computing' to London and she loves her family.  Things go well for Mum in Volume II.

6. What did you think of Katy Riddell's illustrations for The Super Secret Diary of Holly Hopkinson? Any favourites?
My daughter loves reading books when the pages are broken up by sketches and massive words and squiggles. Katy's illustrations do that wonderfully. And I think its great that the Holly diaries will all be illustrated by Katy. It feels right that a young female artist is bringing the words to life.
My favourite image is Mrs Smartside opening the village fete. I can see exactly what Mum and Mrs Chichester are thinking.
7.  Holly gets a special gift for her birthday, a magic watch. If you were given a magic watch, what would you want it to do?
I would use it to hypnotise horses so that I could ask them if they were keen on the idea of being a great racehorse. I would also use it to get everyone to give donations to food banks round the country especially Chipping Topley.
8.  In the book, Holly's family moves from London to the country. How would you cope with a similar move?
I would cope very well. I love the countryside and not a huge fan of big cities, I only have to listen to the birds in the country to be happy.
9. What have you got planned next for Holly? Are you writing anything else?
I've written two more volumes of Holly's diaries - and she is going to be very busy indeed. Her business empire expands rapidly. The BIG surprise, however, is what Grandpa got up to when he was younger. Something that Holly gets very involved in. I've also written the first volume of a trilogy based on our dog, Mildred, who is a setterpoo. Again, the story is told through Mildred, who likes things that whiff a lot such as tripe, sniffing socks and rotting fish.
10. Where and when do you do your best writing?
I like to get up very early in the morning, when its very quiet, to write. I can then submerse myself in the world I'm writing about. I have a shed in the wood which is really perfect.
11.  Where are you looking forward to visiting the most, post pandemic?
All of the people who I have missed so much. I'm also so frustrated that I can't go round schools reading Holly's diaries with Beanstalk, who had shoes specially made - so I'm looking forward to that, too.
Author's Titles