The Super-Secret Diary of Holly Hopkinson: This Is Going To Be a Fiasco (Holly Hopkinson, Book 1)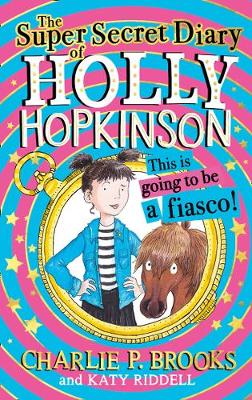 By Author / Illustrator
Charlie P. Brooks, Katy Riddell
Genre
Friends and family
Age range(s)
7+
Publisher
HarperCollins Publishers
ISBN
9780008328085
Format
Hardback
Published
29-04-2021
Synopsis
A charming domestic comedy, with a dash of magic, and the occasional moment of mayhem!
These are the memoirs of ME, Holly Hopkinson, aged almost ten, except without any of the rubbish adults usually put in, thank you very much.   My dad just lost his job, which means me and the rest of my family have to leave London and move to the middle of nowhere, which is a TOTAL DISASTER! There's no Wi-Fi, the local kids are FERAL and there's animal poo EVERYWHERE.  But then for my birthday, my eccentric aunt gave me a magic pocket watch, which I can use to hypnotise and CONTROL people. I actually wanted a new phone, but I won't complain because this new power is REALLY FUN and has led to the MOST unexpected things - including a visit to the QUEEN.  Maybe the countryside isn't so bad after all...
Q&A with author Charlie P Brooks
Reviews
Ellen
The Super-Secret Diary of Holly Hopkinson: This Is Going To Be a Fiasco is an engaging read with gorgeous illustrations from Katy Riddell.  The story takes the form of Holly Hopkinson's diary as she and her family move out of London and into the country. Although things look bleak for Holly, she does end up making friends and even an enterprising business or two, particularly once she's gifted with a magical pocket watch that she can use to control things.
I liked Holly's no-holds-barred approach to improving the lot of herself and her family, although there are areas of discussion raised, such as Holly's attitude to one of her new friends who doesn't speak very much, and there are also oblique references to gambling.
Although Holly does get what she wants by using the pocket watch, it doesn't always go to plan - a good warning about being careful what you wish for....
Overall this is a fun family adventure with some great characters that moves along at a good pace, setting the scene nicely for the next book in the series.
336 pages / Ages 8+ / Reviewed by Ellen Green
Suggested Reading Age 9+
Other titles