Charlotte and Adam Guillain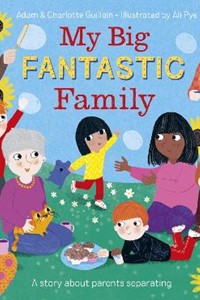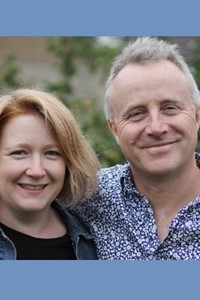 About Author
Adam and Charlotte Guillain's new picture book, My Big Fantastic Family, explores some of the questions raised in blended families and is the latest in a range of picture books created by the duo.
Charlotte and Adam met in Zanzibar working with Voluntary Services Overseas. Charlotte's house was near the sea - perfect for swimming with dolphins and hanging out with bush babies.  Adam lived in a rainforest, where he spent his time playing the guitar or cooking egg and chips. Since then, Adam and Charlotte have made up lots of songs and stories together. Walking to school with their children, playing games such as I'm Thinking of an Animal, led to lots of story ideas and their first books with Nosy Crow.
Interview
My Big Fantastic Family (Nosy Crow Books)
August 2021
The latest picture book by authors Charlotte and Adam Guillain, illustrated by Ali Pye, is an exploration of blended families and the positive changes - as well as the challenges - that these can bring.  We asked Charlotte and Adam to tell us more about My Big Fantastic Family.
Q&A with Charlotte and Adam Guillaine
1.  How did you start to create picture books together?
It kind of crept up on us. We were both writing anyway and then we had our first baby. Suddenly our house was filled with picture books and we became huge fans. One day we were feeding our son George spaghetti and we started playing with the word 'spaghetti'. Before we knew it, there were three monsters, Betty, Hetty and Netty and our first book Spaghetti with the Yeti came from there. We've always tried to keep ourselves fresh by remembering how playful that initial process was.
2.  Do you also work with other author / illustrators?
Because we are both writers we don't collaborate with other writers and, in truth, we don't work directly with any of the wonderful illustrators we're lucky enough to be paired with either. Our relationship is always with our editors. We're very privileged that these have included editors such as Alison Green, Alice Bartosinski and Victoria England, who have all brought so much to the stories we've worked on and taught us so much. It takes a team to create great picture books.
3.  Which picture books have stood out for you as among your favourite collaborations?
My Big Fantastic Family is our favourite collaboration, not because it was easy and straightforward, but because so much thought, reflection and love from so many people went into it. Our editor Alice Bartosinski deserves a lot of credit for her input on shaping this story and challenging us to produce the best and most complementary text possible to sit with Ali's nuanced and emotionally observant illustrations.
4.  Who does what when you work on your books together?
When we have an idea, it's usually clear which one of us will take the lead on getting down the first draft. After that, we walk and talk and discuss how things are going then bat it to and fro through several versions.
5.  Can you tell us about My Big Fantastic Family, and what inspired the story of family separation?
Our starting point was not to write a book about separation but a story that celebrated family in all its modern-day forms. We love the American sitcom Modern Family, which features a diverse range of characters from a wide range of backgrounds and sexual orientations. We knew we couldn't cover all of these, but to have our character Lily-May experience not only the separation of her parents but the introduction of new significant figures in her ever-widening family, was an emotional journey worth exploring. It's also one that we've seen a number of times in our own family and friendship groups.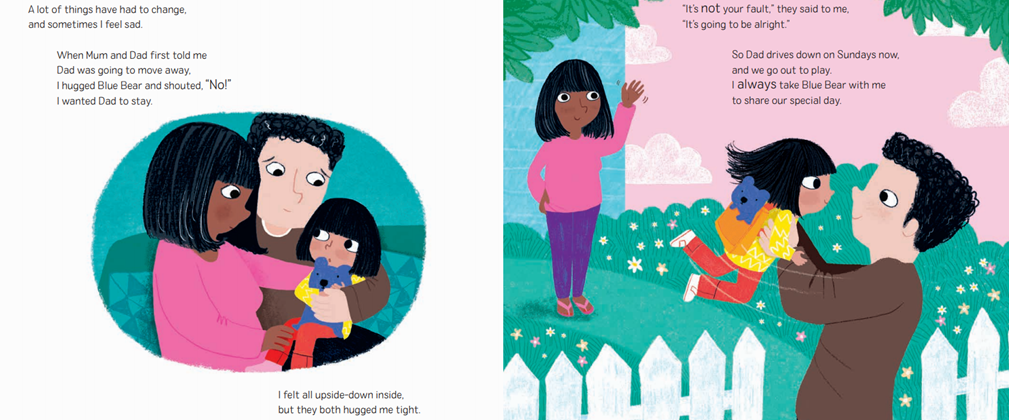 6.  Was it a difficult text to write, as you're covering a sensitive area?
Absolutely! Hence the many, many email reflections between ourselves and our editor Alice at Nosy Crow. We also consulted close family and friends with lived experience of separation and blended families.
7.  Do you feel picture books have an important role to play in helping explain life and the world to young children?
We think that it's the firm belief that picture books play a vitally important role in the world of young children that fuels our passion to write them. It matters that we and all the professionals we work with want to do the best we can for our readership. It's what makes writing for children such a rewarding career - despite all the obstacles.
8.  What would you like young children to take from the story?
The idea that sadness is a feeling and that its okay to have that feeling. But also that hope and love will carry them through, whatever their personal situation.
9.  What do you enjoy about Ali Pye's illustrations?
Ali is uniquely brilliant at conveying nuanced emotions and filling the page with colour, vibrancy, and life. She illustrates with such care and love, and we think her hard work and talent have made this book something very special.

10.  Are you working on any other books together?
We're never not working on books. It's literally our world.
11.  Where and when do you do your best work?
The short answer is whenever we feel inspired about a particular idea. If we're walking and talking at 8 am to flesh out an idea and then get a rough draft written down before lunch, that's usually best.
12.  What other kinds of subjects do you enjoy approaching in your picture books?
New ones. Early on in our careers we mainly focused on writing funny books but these days we're spending more energy on a wider emotional landscape. This is something we want to do much more as well as exploring what can be achieved in enabling creative interactions between adults and young readers in a shared reading experience.
13.  What do you enjoy doing when you're not at your desk or studio?
We both love playing sports and going for long walks with our family and friends. In quieter times we listen to podcasts and explore Netflix - oh yes - and read lots of books! 😊
Author's Titles