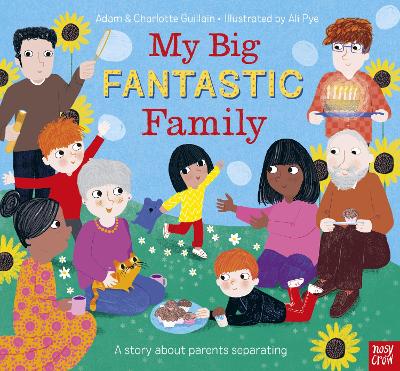 By Author / Illustrator
Adam Guillain & Charlotte Guillain, illus Ali Pye
Genre
Family & Home
Age range(s)
3+
Publisher
Nosy Crow Ltd
ISBN
9781839943485
Format
Paperback / softback
Published
05-08-2021
Synopsis
A sensitive story about how a little girl copes with change after her parents separate.  When Dad says that he's moving out, Lily-May feels all upside-down inside. But now Dad comes on Sundays, and they ride their bikes really fast and make secret dens together. Lily-May plays more just with Mum now, too - and when Mum's new partner Peter comes over, they play pirate ships!  Sometimes, there are tricky moments - Lily-May hates it when Mum has to work late - but a birthday party with Lily-May's big fantastic family helps her realise just how many people love her.
This reassuring celebration of non-nuclear families will help children to understand that they will always be loved, even if parents separate or divorce. Beautifully written in rhyme by the award-winning authors of the bestselling George's Amazing Adventures series, this uplifting story with a diverse cast of characters embraces all the positive aspects of becoming part of a blended family after a divorce or separation.
Every Nosy Crow paperback picture book comes with a free "Stories Aloud" audio recording. Just scan the QR code and listen along!
Q&A and video introduction by authors Adam and Charlotte Guillain   
Reviews
maria
A fantastic text covering the topic of parent separation. This can often be a tricky and delicate topic to address with children, particularly younger children and this story covers the events and emotions brilliantly. Lily-May had some changes in her life. Dad left their family home and now she lives with mum. Lily-May didn't want Dad to leave, she shouts and hugs her bear tight. Her emotions of feeling upside-down will be familiar to many children. Her parents reassure her that it's not her fault and everything will be alright.
Dad visits on Sundays and along with her special bear, they have exciting days out together. Lily-May spends more time playing with Mum too. Peter then joins the family as Mum's new partner. Again, a situation many children will be familiar with. The story builds on this in a positive way, as Lily-May now has more of everything... more grandparents, step-siblings, noise!
As with all separated families, there are issues, and the story addresses these too. Mum's working late and Peter is left to look after her alone and also has to cook. It's not the same and the food's not right. Lily-May wants Dad. Her emotions build and her heart thumps hard as she begins feeling mixed up again. Peter makes her a drink in her special cup, reads a story and tries hard to resolve the situation. When Mum returns, everyone shares hugs and laughter.
The next day, it's back to Dad's and he has a surprise for Lily-May. A cat! That night, her special bear is lost and could not be found. It's been left at Mum's. After a phone call, with bear tucked up in her bed at home, she begins to stop crying. The following day, Mum and Dad chat and plan a birthday party - everyone is invited! During the party, Lily-May reflects on all the changes and how there's so much more of everything, including presents!
By the end of the story, Lily-May is more settled with her goodbyes, and knows that she belongs anywhere she's with her... big fantastic family! This book is highly recommended for any children experiencing separation, and also for all children to help them understand the emotions and situations their peers may be experiencing.
32 pages / Reviewed by Maria Faithorn
Suggested Reading Age 5+
Wendy
My Big Fantastic Family is an absolutely marvellous book that every school should have in their toolkit! It tells the story of Lily-May, whose parents separate. Lily relates all the positives that have come from this such as mum having more time to play and read with her, two safe and cosy bedrooms, more people in her new extended family to play with her and have fun with. It also very clearly states that mum and dad's breakup was not Lily's fault in the first few pages - this is crucial as blame is often a worry that many children carry and don't speak up about. The illustrations are lovely, bright and diverse - everyone should be able to see themselves somewhere in these pages. The text is clear, easy to read and written as a rhyme so the book is enjoyable to read as well as look at. A serious issue dealt with incredibly well. Can't recommend this book highly enough for under 7's.
32 pages / Reviewed by Wendy Kelly
Suggested Reading Age 5+
Jessica
'This heart-warming story is a celebration of unconditional family love.' Adam and Charlotte Guillain bring us an important, relevant story about parents separating. This is a reassuring story that broaches a subject that can be difficult to find the words for. We see how a little girl copes with change after her parents part ways as she learns she is so very loved by her 'Big Fantastic Family'. Ali Pye has thoughtfully illustrated this book with BAME characters, making it evermore relatable.
In My Big Fantastic Family, we meet Lily-May who tells us of her devastation when she learned that Dad was going to move away. Now on Sundays, Lily-May runs into her dad's arms as they spend the day together doing exciting things like riding their bikes super-fast. Lily-May tells us that she also gets more quality time with Mum now, too, and with her new partner, Peter. She even has more grandparents and siblings to play with!
This journey isn't without it problems, such as Peter not cooking to Lily-May's taste, but these differences are easily solved and overcome. Ali Pye's illustrations also invite us in to see the positive relationship between Mum and Dad as they co-parent together. Ultimately, Lily-May learns that the changes in her growing family mean there is more love to spread around.
What I enjoyed most about this book is that the depth of conversation delved into after reading it is very much the choice of the audience. This book can be shared with children who can relate to this experience but it can equally be read and enjoyed by any child. My Big Fantastic Family is perfect for subtly supporting children who may be going through family changes. When it is difficult for us to find the words, why not use an expertly written book to address the most difficult of conversations.
Picture book / Ages 3+ / Reviewed by Jessica Bunney, teacher
Suggested Reading Age 3+
Other titles