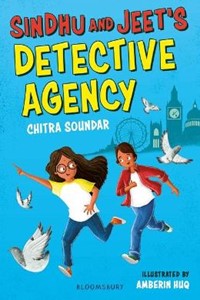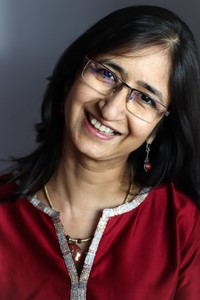 About Author
Chitra Soundar is an Indian-born British writer and storyteller and her new series, Sindhu and Jeet's Detective Agency, is now available. She grew up surrounded by the myths and stories of India and is inspired by its diverse culture and natural beauty. Chitra has over 50 books in print worldwide and regularly goes into schools to tell stories and conduct workshops. Her book You're Safe With Me (with illustrator Poonam Mistry) was shortlisted for the 2019 CILIP Kate Greenway Medal. Chitra is also the author of Manju's Magic Wishes and Manju's Magic Muddle.
Follow Chitra on Twitter @csoundar.
Interview
Sindhu and Jeet's Detective Agency  (Bloomsbury Education)
September 2021
The Bloomsbury Readers series is a range of stories aimed at readers aged 7-11 years, designed to support children as they progress in their reading journey with a variety of illustrated texts by brilliant authors including Chitra Soundar, Patrice Lawrence and Samantha Baines.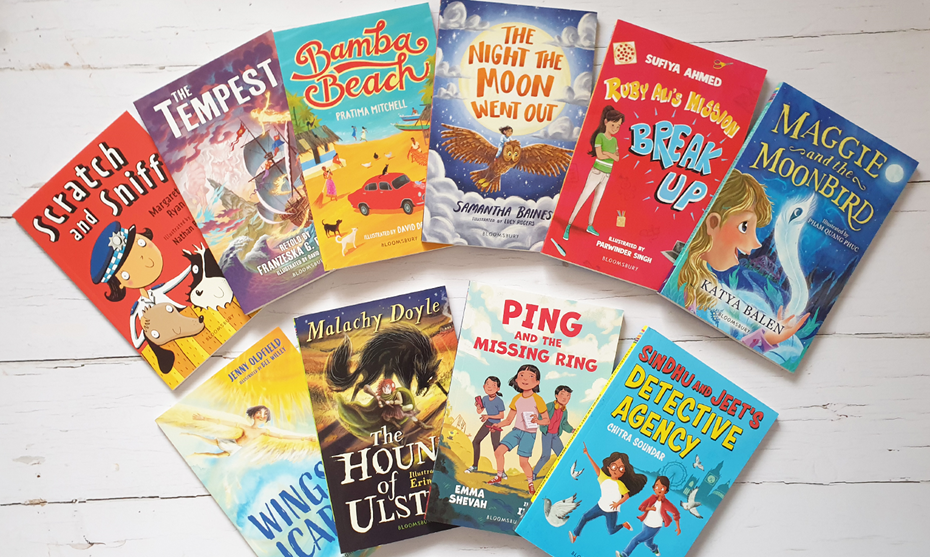 All the stories have been reviewed and book-banded by literacy experts to make sure they are the right level, and include online guided reading notes written by the Centre for Literacy in Primary Education (CLPE). For more information and to access the guided reading notes, visit Bloomsbury Guided Reading.
One of the latest additions to the Bloomsbury Readers series is Sindhu and Jeet's Detective Agency by Chitra Soundar.
Read a chapter from Sindhu and Jeet's Detective Agency 
Q&A with Chitra Soundar
We asked author Chitra Soundar to tell us more about her new book, Sindhu and Jeet's Detective Agency, about the adventures of two children as they help to solve crimes in London.
1.   Why did you want to write younger books for the Bloomsbury Readers series, and why a detective story?
The younger ages are the best memories I have as a kid. In my brain, I'm still between 7 and 9 years old, trying different things, discovering fun and enjoying the company of my family. Even as a child, I loved mysteries and read them voraciously. So, when I got a chance to write stories for this age, I chose to write three short stories that children can enjoy in bite-sizes.

2.  What do you feel makes a great story for this age range?
At this age, children are discovering language and different ways of telling a story. For example, in these stories we've used OWL tables where Sindhu jots down things - like lists and such. Also holidays with parents, imagining exciting things on your trip are all great hooks to connect with a story.

3.  Can you tell us a bit about Sindhu and Jeet's Detective Agency?
Sindhu and Jeet are from India - from my city, Chennai. They are best friends and they are into solving mysteries. Their parents are quite happy with their pursuit and buy them things that will help with their hobby - like Jeet's parents buying him a spy-camera pen and Sindhu's mum joining in the chase.
Sindhu and Jeet's Detective Agency is very observant, they are quick to take action and they not only have detective skills - but they are good at sports and working together as a team.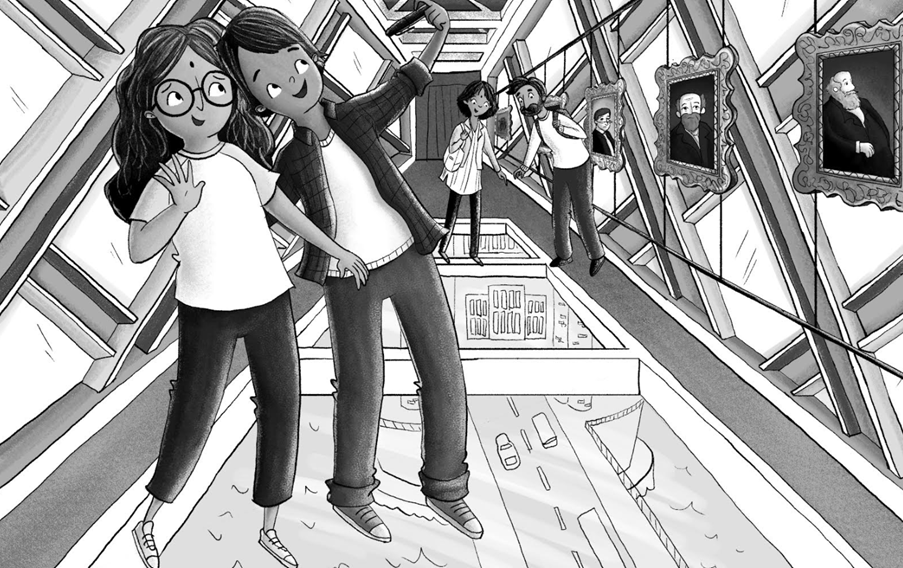 4.  Why did you decide to bring the pair to London for this adventure?
I wanted to see London and its tourist attractions through the eyes of Sindhu and Jeet. And also, it helped me then show British readers a peek into Chennai airport where I've spent many midnights waiting for the early morning flight out to London. I also wanted to hint that Tower Bridge's history includes an Indian engineer and the conch that is just one of the hundred displays in the Natural History Museum, has special significance.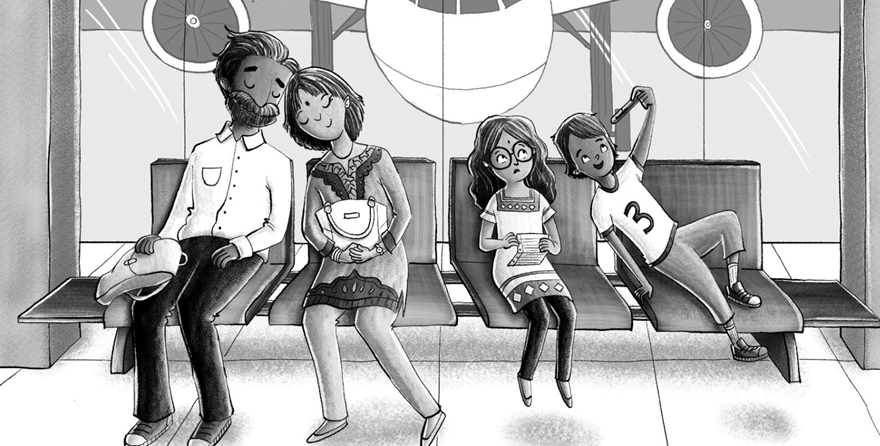 5.  Is it a challenge to plan such rapid mysteries for the pair to solve?
I'm a big fan of short is sweet. I like fast-paced mysteries that can be read in a sitting and be solved - like short stories in mystery magazines or anthologies. The trick is to make sure the whole event can be done within the duration of the sight-seeing visit or in the case of the first story - before the flight took off. So, Sindhu and Jeet had to be alert, understand each other very quickly and act in unison as you see in all three stories. It was a lot of fun planning it and it helped that I'm familiar with all the three settings really well.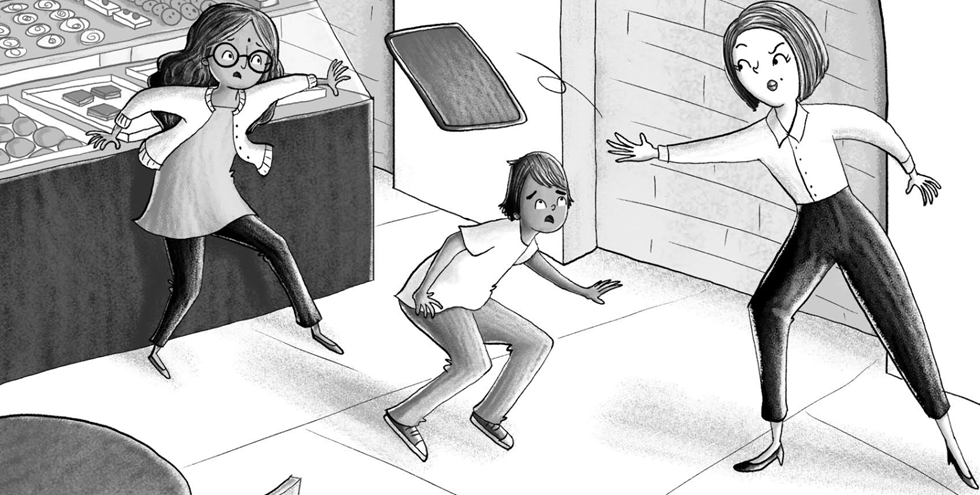 6.  Would you have enjoyed having the same adventures when you were a child?
Oh yeah! I've been in trouble as a child for rescuing puppies during a monsoon storm, getting locked in the library because I wanted to finish a book before they wanted it back, and much more. I would have loved to be really as daring as Sindhu and Jeet - but perhaps I was much more adventurous inside my imagination.

7.   Have you enjoyed seeing the story with illustrations by Amberin Huq?
Amberin's illustrations not only brought the story to life, but also the characters. Even the cover art which shows their chase, is a great hook for children to pick up the book and read.

8.   Why did you want the questions for readers about the story included at the end of the story?
The questions at the back are great discussion starters for not just talking about the stories but also for children to explore their own thoughts and feelings about holidays and mysteries and friendship.

9.   Do you have more Sindhu and Jeet stories planned? What are you writing currently?
I'd love to write more Sindhu and Jeet stories if I am asked to. I'm currently working on some picture book ideas and having fun just spending time with my creative journal.

10.  What do you enjoy doing to relax when you're not writing?
When I'm not writing, I go on long walks by the River Thames, spend time with my nephews - who keep asking me to write more books, and taking photos of birds and flowers. Somehow all of these still filter into my stories - like detectives, a writer is never not writing.
Author's Titles