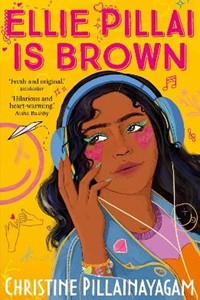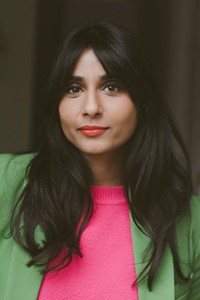 About Author
Christine Pillainayagam's debut book, Ellie Pillai is Brown, is a coming-of-age high school romantic comedy about identity, representation and falling in love. 
Christine a is a writer and retail strategist, who lives in North London with her young family and a collection of records, CDs and minidiscs (remember those?). A mild obsession with The Beatles, and the desire to write a story that reflected her own experiences growing up as a first-generation immigrant, led her to put that love of music and words into a book. Ellie Pillai Is Brown is her debut novel. A singer and songwriter, she also writes a blog: thelittlebrownbook.co.uk
Interview
Ellie Pillai is Brown  (Faber Books)
May 2022
We find out from author and song writer Christine Pillainayagam - our Teen Author of the Month - what inspired her to write her debut novel, Ellie Pillai Is Brown; a funny and warm coming-of-age story about finding oneself, and falling in love.
In this video and Q&A, Christine talks about the importance of representation in books for young people, what inspired her to write this book, as well as how she drew on her own teenage years for the story.  After a reading from the book, Christine shares one of her songs from the book with us.
Q&A with Christine Pillainayagam
1.   Can you tell us a little about yourself and what brought you into writing?
I'm a first generation Tamil Sri Lankan immigrant who grew up in Norfolk in the 80s. As a kid, I really stuck out; not just because I was one of a very (very) few non-white faces, but because I had a penchant for clothes with multi-coloured stripes and a bit of fringing. I was a huge advocate for tie-dye *everything*, and I still believe, as I did then, that patchwork dungarees are eternally chic. I was ahead of my time…
At school, I absolutely loved creative writing. For a long time, I really wanted to be a journalist but I ended up training as a lawyer (that's another story…), then getting into advertising in my 20s (and that's another…). I've had a few different working lives, but writing is the thing I've always come back to.

2.   What is your debut book, Ellie Pillai is Brown, about?
Ellie Pillai Is Brown is a classic high school romantic comedy; a coming of age story about a 15-year-old girl trying to work out who she is. Set in a school in the east of England, Ellie - a singer-songwriter - is sitting her GCSE's, carefully perfecting the art of invisibility, when a set of twins arrive, turning her life, and that of her best friend, upside down. Set to an original pop soundtrack, QR codes can be found throughout the book next to corresponding songs.

3.   Why did you want to explore the world of a teenager, struggling to fit in?
I was inspired to write a YA book by a couple of different things - at the time I was watching a lot of nostalgic high school romantic comedies, some from the 90s, but a lot of more recent ones too, and I didn't see any South Asian representation in either genre. It staggered me that so little had changed since I was growing up. I have two children, both avid readers, and I wanted them to see themselves represented.
The idea for the book had been in the back of my mind for a while, but those two things together, made me think something had to change. I think the teenage years are so formative in how we go on to view the world as adults, there is so much good in that age group, so much they can teach us; but I also know how hard an age it is, and how much being different can hurt, when it should be something that's celebrated. I wanted to celebrate it, and show the beauty and optimism in accepting yourself, and seeing what great things can come with that.

4.   How important is representation in books for young people to you, and how did the lack of representation affect your teenage self?
Representation for younger people is incredibly important to me, because I know what it's like to grow up without it. Not having a mirror for yourself as a teenager is devastating, it makes you feel you don't, or shouldn't, exist in the world - that you can't take up space.
I always accepted myself as lesser when I was a kid, because I never saw someone like me celebrated in magazines, or books, or films; someone straddling two cultures, who doesn't feel they fit into either, someone who wants to know they're not alone. That feeling of being excluded follows you throughout your life, as if you don't really belong anywhere.
Things are changing in beautiful and unexpected ways at the moment, especially in areas like publishing and broadcasting. Inclusion is becoming king, which means more and more children will finally see a version of who they are out there. It fills me with joy to be part of that movement, because if I'd had it when I was growing up, it could have changed the course of my entire life.

5.   Is it any coincidence that your main character, Ellie Pillai, uses part of your surname? How autobiographical is the novel?
Generations ago, my family, the Pillainayagam's were Pillai's - so I made a definite decision to use the name Pillai. Ellie, like me, loves music, writes songs and is growing up in a majority white community - but the similarities end there! I was much more confident than Ellie at school, and the family/ friendship dynamics were very different for me personally.
It does draw on a lot of my experiences and observations as a first-generation immigrant and that sense of being caught between two cultures - but the romance was sadly something that didn't really happen for me at school… If only Ash was real…

6.   Which of Ellie's experiences have reverberated from your own teenage years?
A lot of the microaggressions that she talks about in the book, people staring at you or shouting unpleasant things, are drawn from my real life as a teen. Also, the piano teacher that 'retires' but basically keeps all her students on apart from Ellie - that happened to me too!
Like Ellie and a lot of teens, I also formed some really intense, all-consuming friendships at that age - many of which I still have today. I think the importance of your friends, and the sense of them being the family you choose for yourself, is something that definitely reverberated from my own teen experience. Without those friendships I wouldn't be who I am today.

7.   We love the soundtrack to the book - did you write the songs and music? What's your background in music?
I wrote the songs and music for the book, and absolutely loved the experience of adding that extra layer to the narrative. I've been playing the piano since I was really young, and writing songs for almost as long - music has always been a form of escapism for me and a way that I've been able to cope in different situations.
My background in music is really informal, it's just something I love which brings me so much joy. I wrote the book and a lot of the lyrics before I decided to make the song 'chapters' into real songs, so I wrote it all to spec.

8.   What is your favourite song from the book, and where can we go to find your songs?
You can find the songs on Spotify, Amazon Music and iTunes - and there are QR codes throughout the book which you scan that take you directly to the corresponding song.
It's hard to choose a favourite (like choosing a favourite child!), but the one that came first for me lyrically and melodically was House on Fire - which is at the very end of the book. The idea behind it, was Ellie saying she was a work in progress. That she was going to make mistakes and be imperfect - and she was ok with that. That felt like an important point to make.

9.   Who is your favourite supporting character in the novel, and why?
That's really tough! I love the whole cast of characters, but I definitely have a soft spot for James, who really isn't what you (or Ellie) expect him to be at the start of the book. I also love Mum and Granny. There's so much backstory there, they are just two incredibly brave, kind, loving women. Also, how could I not love Ash? And Jessica? And Hayley? And Elina? And Dad? This is too hard!

10.   Do you have a stand-out moment or quotation from the novel that you can share with us?
There's a bit at the very end of the story, where Ellie describes one of the characters from her GCSE play - she uses a line that really sums up what I think the book is about:
'She's everyone I've ever known, all rolled into one. An analogy for all of us, searching, searching, searching, when all she's ever needed was right inside of her.'
That idea that what we're looking for - is within us, that what we need - is within us, is so important to me. So much of the time we're looking for validation from others, when really, the person we need to accept us is ourselves. The answer is always within!

11.   Other than a great story, what would you like your readers to take from Ellie Pillai is Brown?
I want the kids out there who don't feel they're extraordinary - to know they are. I want the kids out there who don't feel seen - to feel seen. I want to give reassurance, hope, joy and optimism to anyone who has struggled with feeling othered. I want them to know they're not alone, and that their story matters.

12.   Where and when do you prefer to write, and what are you working on currently?
I write in a little garret (which is a small, unheated room in my attic!) at the top of my house, at all hours of the day and night, whenever I can find the time. I'm currently working on the sequel to Ellie Pillai Is Brown, which is out March 2023.

13.   What do you enjoy doing to relax?
Listening to music, playing the piano, reading books, hanging out with my kids - they aren't very relaxing, but they give me more joy and happiness than anything else in the universe.
Author's Titles